DAILY DOSE WTF EDITION
Final Edition November 14, 2017 - Late night stories are highlighted
Updated: November 14, 2017 03:43 AM (EDT)

Yesterday's WTF Issue (click on link)



This College Party Was So Lit That The Entire Damn Floor Collapsed



Holy house party. Six people were injured at a University of North Texas homecoming party when a third floor apartment collapsed under the weight of several lit students. Thankfully, no one was seriously injured and the apartment below was empty.

UNT student, Davion Keys, was one of the dudes who feel through the floor.

"Immediately the water pipes were busted and water was coming from all over the place," Keys told the Houston Chronicle. "I remember being in midair falling and I crawled my way to flat ground and went out the back window."



The residents of the apartment the floor fell into were not home at the time of the incident, but they have started a GoFundMe account to raise money to replace the furniture and miscellaneous items that were destroyed in the accident. According to the GoFundMe page, the ceiling of their apartment was known to shake at times, and the police had been notified multiple times that they "feared the ceiling wouldn't hold up" to the weight of 50-60 people dancing in a small space. The residents do not have renters insurance, so they will be tasked with footing the bill of damaged items on their own. At the time of me writing this, they have received $1,207 of their $6,000 goal.

According to the New York Post, 50 people were displaced following the incident. A general manager at the apartment complex told residents that a structural engineer will evaluate the building and those who were displaced will be reimbursed for lodging expenses.

Phoner: How many people were on it when it collapsed?

http://brobible.com/culture/article/college-party-floor-collapse/
---
'He Killed A Little Animal': Mom Accused Of Putting 6-Year-Old's Hand On Stove Defends Her Actions



MIAMI (CBSMiami) – Suspects don't usually say much to reporters waiting for them outside the jail. But a mother accused of child abuse had an impassioned plea for the South Florida media.

"All the news every day, you see young people – 12, 13, 14 years old – they end up in schools with guns, and in this country it's so easy to get guns," Miriam Rebolledo said.

The 29-year-old mother, who posted her $7,500 bond Friday, is fed up with her 6-year-old son. She says he's troubled and out of control.

"My son is rebelling so much that he killed a little animal," she said.



Police said Rebolledo put her son's hand on a stove as a form of punishment for hitting a student at school.

Rebolledo said she's taken him to psychologist and has tried all forms of punishment but says she can't seem to get through and fears the worst.

"It's so easy to get those guns. You want my son to grow up to be a bully who beats up on kids? And he isn't just going after boys, he bullied a girl," she said.

In court Friday, a judge reprimanded Rebolledo, who is of Colombian descent, saying, "Maybe in Colombia, it's OK to reprimand your child by putting their hand on a stove, but in the United States of America, it's not."

"What am is supposed to do? Just stay home without doing anything for my son?" Rebolledo said.

Emotional and frustrated, Rebolledo kept talking as her husband forcefully pulled her away and into the car.

"I'm a bad mom, but they don't know the truth," she said. "This is the kind of thing a mother has to do so that her son can grow up to be a good person tomorrow."

For now, the judge placed her son in foster care.

Phoner: What did your kid do that made you scared of the person he was going to grow into?

http://miami.cbslocal.com/2017/11/10/child-abuse-miami-hot-stove/
---
Man crashes at event held for emergency responders



A Runnells man is recovering at a metro hospital Sunday night after being ejected from his car during an annual fundraising race this weekend.

DeJoode's annual 69er Farm Race raises money for the Camp Township Fire Department based in Runnells.

Jarod Smith, 35, was injured after his car rolled over during the race. He was flown to the hospital, though the extent of his injuries were unknown as of Sunday night.

Witnesses told KCCI it's the worst incident since the race started five years ago.

"My first concern was, obviously, somebody must have been horribly injured during the race down there," said Joyce Canney, who lives near the track. "It's gotten to be a bit more of an event each year, and, unfortunately, this is something that's terrible that happened."

Craig Thompson of the Camp Township Fire Department said the crash happened when racers had 10 laps left in the race.

Smith received immediate medical attention because 10 people from the Fire Department, as well as an ambulance, were already at the event.

"It seemed to me like a couple thousand people, spectators, pretty large for our area," Thompson said.

"There have been some small car fires in the past, but no serious injuries," he said.

Phoner: How was your accident in the best place possible?

http://www.kcci.com/article/man-crashes-at-event-held-for-emergency-responders/13526043?utm_source=fark&utm_medium=website&utm_content=link&ICID=ref_fark
---
Florida mother's boyfriend killed girl as punishment for getting out of car seat



CRESTVIEW, Fla. - The boyfriend of a Florida woman whose 3-year-old daughter was found dead last week is facing a murder charge after the mother confessed that her boyfriend killed the girl as punishment for getting out of her car seat, authorities said.

Cory Hagwell, 29, was arrested on charges of murder and aggravated child abuse. His live-in girlfriend, Destinee Merrell, faces charges of aggravated child abuse and child neglect.

According to an Okaloosa County Sheriff's Office news release, Adelynn Merrell was reported missing by the couple Friday. Her body was found in a wooded area in Crestview later in the day.

Deputies said the couple initially claimed to have last seen Adelynn playing in their backyard, but Merrell later confessed that Hagwell had kicked the girl in the head and locked her in the master bedroom closet Thursday evening because she had "gotten out of her car seat."

Investigators said Merrell took part in locking Adelynn in the closet.

Merrell's other child was taken to a hospital to be treated for malnutrition. Investigators said the 5-year-old boy weighed less than 33 pounds with the "bones in all regions of his body exposed."

Detectives said an investigation revealed that Merrell had left Adelynn and another child alone and locked in a room in their home on Sept. 1, but the children broke out a window and were found by neighbors.

An autopsy determined that Adelynn died from a skull fracture to the back of the head caused by blunt-force trauma.

Investigators said Merrell told them that Hagwell lost his job about a month ago and started to become more violent toward Adelynn. She said Hagwell would withhold food from Adelynn and put her in the closet for extended periods of time.

Hagwell and Merrell remained in jail Monday and were being held without bond.

https://www.local10.com/news/crime/florida-mother-boyfriend-killed-girl-as-punishment-for-getting-out-of-car-seat
---
Pedophile spared jail because bad back would make prison 'uncomfortable'
A man who sexually abused three young girls has been spared jail – because his 'bad back' would cause him 'considerable discomfort' in prison.
John Chappell, 60, finally faced justice more than 40 years after his vile historic crimes.
In 1974, he got the girls – two of whom were aged under 14-years-old – alone and indecently touched them, in one case during a game of hide-and-seek.
Chappell, who was aged only 16 or 17 at the time of the offences, also asked his victims to perform indecent acts upon him. He was also convicted for a 'remarkably similar offence' just a year later in 1975 and given a conditional discharge.
Then in 1977, he was handed a £300 fine for gross indecency with a child.
Finally facing justice some four decades after his offences, a judge at Plymouth Crown Court on Thursday called Chappell's previous sentence 'remarkable'.
Judge Ian Lawrie handed the 60-year-old a suspended prison sentence, taking into consideration that Chappell suffers from curvature of the spine.
Judge Lawrie said: 'This would cause you considerable discomfort in prison.
'The sentence is designed to punish you and is not an exercise in revenge, much as that might be the wish of those who suffered at your hands.'
Chappell, of Bristol, pleaded guilty to indecently assaulting two girls aged under 14 in 1974. He also admitted inciting one of those girls to perform an indecent act – and, finally, pleaded guilty to a similar offence in relation to the third girl.
Prosecuting, Emily Pitts said that Chappell abused the first victim several times, and asked the girl to touch him indecently.
Miss Pitts said: 'She told a couple of people over the years before it all came out at a funeral.'

http://metro.co.uk/2017/11/12/paedophile-spared-jail-because-bad-back-would-make-prison-uncomfortable-7073290/?utm_source=fark&utm_medium=website&utm_content=link&ICID=ref_fark?ito=cbshare
---
Car theft suspect caught hiding near the jail


Police said Ramsey Howard Zimmerman made the short trip to the jail and was booked in at 6:20 p.m. Tuesday on charges of grand theft of a motor vehicle and driving while license is suspended or revoked.

Ramsey Howard Zimmerman didn't have far to travel Tuesday after his arrest on suspicion of stealing a car.

Zimmerman, who had ditched the red 2017 Nissan Sentra, was found hiding in the woods across the street from the guard shack at the Marion County Jail, according to the Ocala Police Department. Police identified the 35-year-old man, who is listed as homeless, as the person who stole the car in the 1900 block of Northwest Sixth Street.

He made the short trip to the jail and was booked in at 6:20 p.m. on charges of grand theft of a motor vehicle and driving while license is suspended or revoked.

OPD Officer Dan. E. Wright spoke with a man at the nearby Davis Bail Bonds, who told him he had witnessed Zimmerman stealing his girlfriend's vehicle from a yard on Northwest Sixth Street.

The man said they got home from the store and were about to leave when a man — later identified as Zimmerman — showed up asking if someone lived there. The resident told him he had the wrong house and then walked to the kitchen. When he went back outside, he saw Zimmerman driving away in his girlfriend's car, Wright's report states. The car had been left running.

The man said he got into his own vehicle and followed him to the bail bondsman, where Zimmerman got out and ran toward a fence. The man said he chased Zimmerman but stopped because he did not know if Zimmerman was armed.

Seeing a sheriff's deputy driving by, the man said he reported the theft.

Several deputies — including a K-9 unit and a helicopter crew — began searching the area. They found Zimmerman in the woods and detained him.

His driver's license had been suspended in March 2016 for failure to pay child support and again in June 2016 for failure to comply with a court summons, the OPD report states. He also was on probation for grand theft of a motor vehicle in Louisiana that began November 2016 and was scheduled to end in October 2021.

The man who chased Zimmerman, who did not want to be identified, told the Star-Banner that he was glad he went after Zimmerman and is happy he was caught. Cash that had been in the vehicle was missing, he added.
http://www.ocala.com/news/20171108/car-theft-suspect-caught-hiding-near-jail
---
Queensland man dies after falling into a woodchipper



A QUEENSLAND man has died after accidentally falling through a woodchipper on a property in Gympie, north of Brisbane.

In a press conference this afternoon, Acting Inspector Paul Algie said the way the man died was "absolutely shocking".

"It's a horrendous thing to have to attend as a police officer — any sudden death — but these circumstances were absolutely shocking," he told the ABC .

"Everyone's obviously very distressed and we're still trying to work out the circumstances as to who has seen what."

The 54-year-old man was clearing the driveway of a rural property at Goomborian, Gympie with two friends on Sunday night when the incident occurred.

None of the men were contractors and were there to help the person who owns the property.

"They are all friends and they were doing a favour for the lady that owns the property sadly," Maryborough Forensics Inspector Steve Webb told Channel Nine.

Insp Algie said the two men who were with the man when the incident occurred were "extremely distressed".

"They're understandably extremely distressed over what's occurred," he said.

"They're very traumatised as a result of what's happened and police are assisting them obviously in any way we can in terms of ongoing welfare needs."

First responders and anyone investigating the incident have also been offered support services.

According to police, the man died instantly and his death is currently being treated as an accident.

Acting Inspector Algie could not yet say if the man had been using the woodchipper unsafely or incorrectly.

Officers from the Sunshine Coast's Workplace Health and Safety team are currently investigating and police are preparing a report for the coroner.

Forensic crash officers and the diaster victim identification unit from Brisbane are also "still trying to ascertain" how it happened.

http://www.news.com.au/national/queensland/news/queensland-man-dies-after-falling-into-a-woodchipper/news-story/
---
Plane had to return to Sea-Tac after bird strike



A plane had to return to Sea-Tac Airport Saturday after a bird strike, officials said.

A passenger on the affected United Airlines plane, Phoebe Ezell, said she witnessed flames coming from the engine.

The plane, Flight 1867, landed safely after what officials said was a bird strike to the engine.

Officials said there was no damage to the aircraft. It was thoroughly inspected, spokesman Jonathan Guerin with United Airlines said, and later departed from Seattle.

http://www.kiro7.com/news/local/plane-had-to-return-to-sea-tac-after-bird-strike/646302935
---
This "Life Coach" Is Charging Parents $950 An Hour To Try And Get Their Kids Into Ivy League Schools



In 2013, Chris Rim was the first student at his Englewood, NJ, high school to get into Yale in almost a decade. Everyone was shocked: Rim "only" had a 3.8 GPA. "My guidance counselor told me not to waste my time or her time applying," the now-22-year-old told The Post.

Not only did Rim graduate this June with a bachelor's degree in psychology — he now has parents paying him $750 to $950 per hour to help their teenagers get into Ivy League schools.

Command does not advertise, and relies entirely on word-of-mouth to get students; the company projects revenues for the 2017-18 academic year to reach more than $1 million.

In four years, Command has guided 32 teens into top-tier colleges such as Yale, Stanford and MIT by helping them start nonprofits, land internships and write idiosyncratic essays. Rim claims that 96 percent of his clients have gotten into one or more of their top three schools.

Part of Rim's MO is hanging out with his clients, accompanying them to the gym or taking them to a museum, as he did one recent Saturday morning with Hana, a high-school junior from Brooklyn. He is helping the art-loving teen start a nonprofit gallery to showcase her and her friends' work.

Sam, an 18-year-old freshman at the University of Pennsylvania, who asked not to use his last name, said of Rim, "I thought he was going to be a regular tutor who was just going to help me edit my essays." Instead, the well-connected Rim got the New Jersey teen an internship at an engineering firm and encouraged him to apply to competitive colleges such as Tufts, Johns Hopkins and Cornell. (Sam got into all of them.)

Phoner: How much did you pay for lessons for you kid to learn?

http://nypost.com/2017/11/11/this-life-coach-gets-teens-into-ivy-schools-for-950-an-hour/?utm_campaign=SocialFlow&utm_source=NYPTwitter&utm_medium=SocialFlow&sr_share=twitter
---
Woman found after 42 years can't explain disappearance


MONTICELLO, N.Y. - The 78-year-old woman's mind was clouded by dementia. But she recognized the brunette with a slight smile in the faded picture from the 1970s detectives showed her.

"Me," the woman uttered in a voice barely above a whisper.

The picture helped investigators visiting an assisted-living facility near Boston last month verify they had finally found Flora Stevens. She had been a $2.25-an-hour chambermaid at the grandest hotel in upstate New York's Catskills when she was dropped off at a hospital one summer night in 1975 and vanished.

The discovery of a woman missing for 42 years drew widespread attention and news coverage, accompanied by a police photo of the smiling woman in a wheelchair with a teddy bear in her lap and flanked by the beaming detectives.

But the elation was mixed with mystery. Where did she go and what did she do all those years? Was she running? From what? Investigators were able to put together some of the timeline, including stints at other care facilities. But with the woman's condition and the passage of time, many other details may never be known.

"To be honest, I don't think she ever really wanted to be found," said Festus Mbuva, a former worker at the Boston-area facility who helped care for her for a decade. "You can tell something happened in her past that she didn't want any part of."

Florence "Flora" Stevens was among the hundreds of hotel workers who once flooded into this lake-laden area north of New York City each summer. She worked for several summers at The Concord, a sprawling resort with more than 1,200 rooms that was considered a jewel of the Catskills' Borscht Belt.

A Concord job application from 1975, signed "Mrs. Flora Stevens" in neat cursive, says she went to high school less than two hours away in Yonkers.

The man she listed as her husband, Robert Stevens, worked there, too, though it's not clear what he did there. Police have not confirmed they were actually married. Her application includes no phone number or local address. She listed an address in Seattle.

On the evening of Sunday, Aug. 3, 1975, 36-year-old Flora Stevens was dropped off by Stevens at a small hospital a couple of miles from the hotel in Monticello, at the time a bustling tourist hub.

Two hours later, he came to pick her up. She was gone.

Authorities say they cannot divulge why she went to the hospital that evening because of privacy laws, and they don't know what she did once she was dropped off. But there was a bus station nearby, and she might have had some money that Sunday evening.

"She had just been paid, probably had a weekend full of tips in her pocket," said Sullivan County sheriff's Detective Rich Morgan.

Robert Stevens reported her missing soon after. Transient summer workers disappeared all the time, and this one didn't even merit a story in the local weekly. But Art Hawker, a young sheriff's detective in 1975, said he gave this case extra attention because with her last being seen by a companion, it raised "red flags."

The break did not come until September this year with the discovery of skeletal remains east of Monticello that matched Flora Stevens' general characteristics.

That turned out to be a false lead, but it led Morgan and Detective Sgt. Ed Clouse to cross-check more recently available databases that showed someone in Lowell, Massachusetts, had Flora Stevens' Social Security number and a similar name, Flora Harris.

Flora Harris had been at the CareOne facility in Lowell since 2001. She had a court-appointed guardian from New York state, which paid her bills. The record is spotty before then, though authorities said she had a previous guardian from about 1987 and spent time at least part of that time in care facilities in New York City and New Hampshire.

Mbuva, who left CareOne last December, said the woman rarely talked about her family other than to say she came from a bad marriage and her husband had been abusive. Police in New York would not comment on that claim.
Over the years, Mbuva gleaned a few other tidbits: Stevens had grown up in Yonkers, had been a hairstylist and went to the 1969 Woodstock concert, held down the road from The Concord.

But Mbuva noted she never gave up much about herself. "Her favourite phrase was 'none of your business."'

Last month, detectives Morgan and Clouse headed to Lowell. They were not been able to find any living relatives. But they came armed with photos they hoped would trigger memories.

This, apparently, was a good day. She recognized her own picture and that of Robert Stevens - she uttered the word "Robert." She also was shown a picture postcard of The Concord with a happy poolside couple in the foreground.
"She says, 'Wow!"' Morgan said. "She wouldn't let that photo go."

While police were able to close the missing-person case, the prospects of finding out more are unclear.

Robert Stevens died in 1985. The Concord closed in 1998. The hospital where Flora Stevens was dropped off is abandoned. And the woman at the centre of the mystery is revealing little. Administrators of the Lowell facility declined requests from The Associated Press to interview Flora Stevens.

"Most of the secrets are locked inside of Flora," Morgan said. "And I don't think we'll ever get them."

http://www.ctvnews.ca/world/woman-found-after-42-years-can-t-explain-disappearance-1.3675058?utm_source=fark&utm_medium=website&utm_content=link&ICID=ref_fark
---
Man arrested after argument leads to discovery of explosive devices



When an intoxicated man fighting with his parents Sunday told them he had an explosive device, it prompted a bomb squad response that lasted through the night and into Monday morning, according to the Volusia County Sheriff's office.

Christopher S. Langer, 31, had been arguing with his parents at around 4 p.m. when he told them he had put an explosive substance inside a grenade, according to Volusia County Sheriff's Office spokesman Andrew Gant.

Langer initially denied the grenade existed when a responding deputy asked him about it, Gant said. But then he acknowledged he had thrown it outside, and he offered to show the deputy where it was.

"Upon searching the area, the deputy found a metal pineapple-style grenade with a paperclip in place to hold the lever and keep it from exploding," Gant said.

Volusia County sheriff's deputies, detectives, Hazmat units from Volusia County and Deltona fire departments and members of the Bureau of Alcohol, Tobacco and Firearms were still on scene at 124 Bradwick Circle Monday morning.

Deputies evacuated the house, Gant said.

"A search warrant resulted in the discovery of an estimated 200 containers inside the house containing unknown powders, acids and other materials," Gant said. "Many of them (about 79 as of this writing) have been placed into a containment area, and many have been determined not to be bomb-making materials but bodily fluids."

A bomb robot used to examine a hole in the back yard discovered a small explosive device, and a second possible explosive device was found in a lunchbox, Gant said.

Three devices have been rendered safe at the scene, Gant said, with a fourth being examined.

Some neighboring homes in the area were evacuated in the initial stages of the call, but those residents returned to their homes Sunday evening.

Langer has been charged with making/possessing a destructive device and was transported to the Volusia County Branch Jail, where he was being held Monday morning on $5,000 bail. Additional charges are possible pending the outcome of the investigation, Gant said.

Langer was arrested just two months ago after he was accused of stealing his father's laptop and generator. Scott Langer, 62, said on Sept. 13, 2017 that his son had admitted to stealing and pawning the items to get money to support his drug habit, a police report said. Christopher Langer admitted to getting $115 for the laptop and he said he and a friend took the generator somewhere to try to rent it out, a police report said. Christopher Langer was charged with dealing in stolen property, a second-degree felony.

http://www.news-journalonline.com/news/20171113/debary-man-arrested-after-argument-leads-to-discovery-of-explosive-devices-deputies-say
---
Police investigate after naked man stabbed to death in northeast Oklahoma City





OKLAHOMA CITY - Police are investigating after a naked man was stabbed to death in northeast Oklahoma City.

The stabbing was reported on Sunday morning at a house near N.E. 39th and Prospect.

"We just have a bunch of blood, and it looks like there was an altercation inside the house," sait Lt. Ron Northcutt with the Oklahoma City Police Department.

Police said a woman delivering newspapers found the man lying on the front porch, covered in blood.

Police originally thought he had been shot due to the extent of his injuries but soon realized he had been stabbed multiple times.

He was taken to a hospital, where he died.

Neighbors are in disbelief.

"It makes me feel sad that they're still doing that and killing people," said Joyce Thompson. "It makes me feel bad."

Police haven't released the man's name and have not said if they have a suspect.

http://kfor.com/2017/11/12/police-investigate-after-naked-man-stabbed-to-death-in-northeast-oklahoma-city/?utm_source=fark&utm_medium=website&utm_content=link&ICID=ref_fark
---
This Optical Illusion Has Zero Naked People In It, Despite What Your Brain Might Be Telling You



We've seen a lot of good optical illusions over the years. From Ariana Grande seemingly defying the laws of physics to these shoes that are 100% pink and white and NOT gray and green.

Many times they are so good that they make your head just want to explode.

Today we have another optical illusion that's been making the rounds on the ole internet and you will fall into one of two camps when you see it: (1) you will figure it out right away, which is absolutely no fun for anyone, or (2) you will be like the many people on Reddit who responded with comments like "I still don't understand" and "My brain hurts after that one."

Ready? What do you see?




Confused? I hope so, because that makes it way more fun when the photo's explanation is revealed.

Here's how Reddit user KillerInfection explained it best…

Guy's shirtless. Gal's wearing shorts. Makes it look like they are top and bottom of the guy on account of her leg mostly blocking view of his lower torso.
So, were you like any of these folks?

"I swore there was a 3rd person."

"I thought there was a mannequin between them."

"I was convinced it was 3 people riding that thing. 2 dressed on the end and naked dude in the middle."

"Guy was naked until I saw that comment."

"I went into this knowing it was not a naked man, yet for 10 seconds all I saw was a naked man."

"10 seconds? Try a couple of minutes for me."

"If I didn't see your comment, would be still wondering."

"My brain recognizes that, but my eyes keep seeing naked dude anyways."

"Oh my God. I took a look and decided I knew what was going on. That she was holding a headless mannequin between her and the guy driving. Then I read your comment and had to re-look at it for a third time. Mind blown. Thank you."

I literally had ALL of those feelings. If you didn't, well, sorry, sucks for you, I guess, smarty-pants.

http://brobible.com/culture/article/optical-illusion-naked-person-motorbike/
---
F#$n Hunter Gets Shit On When He Runs Bear Up A Tree To Kill It
There are a lot of hunters pissed in the comments as this being cruel and unusual.. Agreed!
https://www.facebook.com/MoxieGoreGuideService/videos/1458803967548064/
---
Runaway Fire Tire Is The Closest We'll Ever Get To A Real Life Final Destination Situation
https://www.barstoolsports.com/philadelphia/this-runaway-fire-tire-is-the-closest-footage-well-ever-see-to-a-real-life-final-destination-situation
---
Emirates Unveils Insane New $9000 "Game Changer" Seats And They Look Worth Every Penny

They are already one of the world's leading airlines.But now Emirates, the Middle East's largest air carrier, has just upped its game after unveiling its brand new, state-of-the-art first class suites – which are estimated to cost from £7,000 per flight.

Set to be introduced into commercial service on their on their Boeing 777 fleet, next month, the fully-enclosed cabins measure 40 square-foot (3.7-square-meters) are billed as 'game-changers' with their unrivaled privacy, plus gourmet dining, mood lighting and 32″ TV.

Featuring floor-to-ceiling sliding doors for maximum solitude, most of the suites also offer a window view, which can be enjoyed with a pair of bespoke binoculars.



However, those positioned in the middle aisle are instead fitted with 'virtual windows' which live stream views from the plane via fiber optic external cameras, ensuring they don't miss out.

As if that wasn't enough, the suites also come with remote-control wireless, a personal wardrobe and private stowage space for carry-on bags; soft lighting and temperature settings that can be customised at a touch of a button.

Meanwhile, the leather seats recline fully flat, can be placed in a 'zero-gravity' position, or adjusted into dozens of other custom positions for optimal comfort.

Officially launched on Monday, the ad spot begins with close up shots of a leather seat, luxury detailing, soft lighting, a sophisticated flat screen, and control buttons.

Commenting on Emirates' new fully enclosed First Class private suites, Jeremy Clarkson said: 'Seriously, these new seats on Emirates are better than half the hotels I ever stay in.'
http://www.dailymail.co.uk/travel/travel_news/article-5077027/Emirates-unveil-new-fully-enclosed-class-cabins.html
---
Youtubers Bail On Their Meet And Greet After Accidentally Sending Thousands Of Screaming Fans To A Service For Fallen Soldiers

The Dolan Twins, two incredibly popular YouTubers with over subscribers were in London for the MTV EMA's. For some reason they decided that it would be a good idea to tell their fans to meet them in a public park in London… on Remembrance Day… on a day when there was a memorial service in that very park.





The 11th of November is a date known as 'Remembrance Day' in the UK. It is the day when soldiers lost in battle are remembered and has been celebrated annually since the First World War. It is an extremely serious and solemn occasion and one that people take extremely seriously. In London's Hyde Park, there was a memorial service happening, to remember the war dead. The Dolans unknowingly summoned a screaming crowd of fans to this service.

http://www.wetheunicorns.com/news/police-london-meet-up-rememberance-day/
---
Folks Are Smashing Their Own Keurigs Because The Company Pulled Ads From Sean Hannity's Show



Last week a Washington Post story emerged in which Alabama senate candidate Roy Moore was accused of molesting a 14-year-old girl 38 years ago, when he was 32. Four women total claim Moore pursued them when they were teenagers and he was in his 30s. Others have also come forward saying it was common for the then-adult Moore to date high school girls.

Moore has adamantly denied these allegations.

Sean Hannity, in his coverage of the allegations Thursday night, emphasized that one in America should be innocent until proven guilty. He urged people not to rush to judgment, and reminded his audience of different examples of inaccurately rushing to judgment, like the Duke Lacrosse team rape accusations.

This is of course a sensitive subject. You can't molest children; that's wrong. Very wrong. Despite the fact that these are unconfirmed accusations, many were upset with Hannity's overage and took to twitter demanding companies advertising on Hannity stop supporting him financially.

Kuerig obliged.




Four other companies (Realtor.com, 23 and Me, Eloquii, and Nature's Bounty People) also pulled their ads from the show.

This is where things get good. GLORIOUSLY, we have folks counter-protesting Keurig's decision by smashing their own coffee makers, which they already own. It is the #BoycottKeurig movement ladies and gentlemen, and it became a trop-trending United States topic on Sunday.

Heck...give it a month and it will die on it's own.. I love the ease of Keurig and hate that every 14 months you need to buy a new one because they break. Pull out the 25 yr old Mr. Coffee as the back up!

Phoner: Who have you boycotted in this age of boycott everything?

https://www.barstoolsports.com/boston/folks-are-smashing-their-own-keurigs-because-the-company-pulled-ads-from-sean-hannitys-show
---
EA's new 'Star Wars' game is so unpopular a developer is apparently getting death threats



EA's new "Star Wars" title is still days away from the official launch, but "Battlefront II" and its lofty in-game prices have already provoked outrage among gamers.

Reddit users on the page r/StarWarsBattlefront flooded the site over the weekend with comments disparaging the difficulty of unlocking certain characters to be used in the game and vowing to boycott the title upon its official release Friday.

A post titled "Seriously? I paid 80$ to have Vader locked?" — naming Darth Vader as one of the characters that needs to be unlocked through extensive gameplay or in-game purchases — garnered nearly 3,000 comments before the thread was locked — one from an official EA company account that became the most downvoted Reddit comment in history, according to Venture Beat.

The official response defended the game's progression milestones as "challenges that are compelling, rewarding, and of course attainable" and said the company wanted to "provide players with a sense of pride and accomplishment."

In just 18 hours, the comment earned more than 250,000 negative points.

A Reddit spokesperson said the company does not maintain a ranking history and so can't confirm that the comment is the most downvoted.

Here's the full comment:

The intent is to provide players with a sense of pride and accomplishment for unlocking different heroes.

As for cost, we selected initial values based upon data from the Open Beta and other adjustments made to milestone rewards before launch. Among other things, we're looking at average per-player credit earn rates on a daily basis, and we'll be making constant adjustments to ensure that players have challenges that are compelling, rewarding, and of course attainable via gameplay.

We appreciate the candid feedback, and the passion the community has put forth around the current topics here on Reddit, our forums and across numerous social media outlets.

Our team will continue to make changes and monitor community feedback and update everyone as soon and as often as we can.

The outrage runs so deep that someone who professes to be a developer claims to have received death threats. A Twitter user who goes by the name Sean and claims to be a EA developer in his bio tweeted Monday morning that the game has inspired "personal attacks."

EA could not be immediately reached to confirm the Twitter profile.

https://www.cnbc.com/2017/11/13/ea-star-wars-game-is-so-unpopular-the-developer-is-getting-threats.html
---
Disgraced Pitchman Jared Fogle Loses Bid to Toss Sex-Crimes Sentence as Sovereign Citizen



INDIANAPOLIS (CN) – A federal judge on Wednesday rejected an effort by Jared Fogle, the former face of Subway sandwiches, to overturn his conviction for traveling to engage in sex with a minor, filed on his behalf by a jailhouse lawyer.

Fellow inmate Frank Pate filed a motion for Fogle, claiming the court lacked jurisdiction over Fogle because of his status as a so-called "sovereign citizen."

Pate is housed with Fogle at the Englewood Federal Correctional Institution in Littleton, Colo.

A sovereign citizen is someone who believes they are not governed by authorities or subject to laws.

In a two-page ruling on Wednesday, U.S. District Judge Tanya Pratt rejected Fogle's challenge.

"If Fogle is now claiming to be 'sovereign,' the Seventh Circuit has rejected theories of individual sovereignty, immunity from prosecution, and their ilk," Pratt wrote. "Regardless of his theory, Fogle's challenge of this court's jurisdiction is rejected."

Two years ago, Fogle entered a guilty plea to distributing or receiving child pornography and traveling to engage in illicit sexual conduct with a minor. The court sentenced him to 15 1/2 years in prison.

Fogle was charged with obtaining and looking at child pornography to "fuel his sexual fantasies involving children," the Justice Department said at the time of sentencing, and he knew that the victims were under 18.

Prosecutors said that Fogle had traveled to New York to have sex with a 17-year-old girl and then returned two more times to the city to pay for sex with two other underage girls.

Fogle agreed to pay $1.4 million in restitution to 14 victims in the case and forfeit $50,000 in assets.

Fogle became known as the "Subway Guy" and was a prominent fixture in ads for the fast food company for 15 years. He asserted that a diet of Subway sandwiches had led to his dramatic weight loss.

His conviction was affirmed by an appeals court last year.

https://www.courthousenews.com/disgraced-pitchman-loses-bid-toss-sex-crimes-sentence/?utm_source=fark&utm_medium=website&utm_content=link&ICID=ref_fark
---
License Plate Made From Pizza Box Doesn't Fly in Massachusetts




"Here's a little advice to those aspiring to make their own license plates... don't"

On the Hopkinton Police Department's Facebook page, police posted a picture of a green Buick Century with a "fake" license plate.

Police in Massachusetts are warning drivers not to make their own license plates after one car was recently spotted with a homemade one.

On the Hopkinton Police Department's Facebook page, police posted a picture of a green Buick Century with a "fake" license plate they said was made from a pizza box and had the numbers drawn in with magic markers.
"Here's a little advice to those aspiring to make their own license plates... don't," read part of the Facebook post.

Charges for the driver include operating an uninsured and unregistered vehicle and attaching fake license plates.

The driver's name wasn't released.

https://www.nbcchicago.com/news/weird/Police-License-Plate-Made-From-Pizza-Box-Doesnt-Fly-in-Massachusetts-457208793.html
---
Women were arguing when car hit, killed them on seven-lane Brandon roadway, deputies say




BRANDON — Relatives are left to wonder what was so important that two women had to park in a turn lane along a seven-lane stretch of roadway in order to argue about it.

The move proved fatal. Both women, described by acquaintances as a couple, were mowed down where they stood about 10:30 p.m. Sunday by a driver who had been drinking, the Hillsborough County Sheriff's Office said.

"Everybody is taking it pretty hard," said Anthony Troutman, whose 28-year-old niece, Tanaysha Troutman, died in the crash. "When we first heard how it happened, we wondered why she had to get out of the car, why there, why then? All those whys come into place."

Also killed was Victoria Patten, 33, of Brandon. The two women were in the same car.

A third woman driving a second car, Arlene Stephanie Jordan Cruz, 38, of Gibsonton also pulled up to park, the Sheriff's Office said. Cruz received injuries that were not life-threatening and was undergoing treatment Monday at Tampa General Hospital.

All three women were struck by a 2005 Hyundai driven by Guillermo R. Ruiz, 22, of Wesley Chapel. Ruiz told deputies he drank beer earlier in the evening, and he submitted to a blood alcohol test, the Sheriff's Office said. An investigation awaits the results. His driving record includes two careless driving citations in the past five years.

Early Monday, the Sheriff's Office said the argument in the road arose from a "love triangle" but the office later backed away from that account, saying investigators still had to interview Cruz.

The women parked in a turn lane beside a grass median along a divided stretch of Providence Boulevard that runs through a residential area just south of Providence Lakes Boulevard.

Besides her parents, Troutman left behind three brothers and two sisters, her uncle said. She had recently worked as an assistant manager in a fast-food restaurant.

According to Patten's Facebook page, she was a native of Aiken, S.C., and had worked as a bank teller.

Friends described Troutman and Patten as a couple in social media posts mourning their deaths. Over the past few months, Troutman and Patten had expressed their affection for each other on Facebook.

Ranese Farrior said in an interview via Facebook that Troutman was a friend of hers and a former star basketball player at Kathleen High School in Lakeland, where she graduated in 2008.

"The whole city of Lakeland is affected by her passing," Farrior said. "She had a lot of friends and was considered the class clown."

Greg Whit, Troutman's coach at Kathleen High, remembered her tenacity in rehabilitating herself after tearing an ACL in both her freshman and sophomore years.

"She became one of the best point guards we ever had," Whit said, "and someone with a tremendous personality and attitude."

Troutman's uncle echoed that sentiment, saying she excelled at basketball from the moment she was old enough to play but more important, he added, "She was a person full of life who always had a smile on her face.

"A lot of people were easily attracted to her personality. She was well liked and well received by a lot of people."

http://www.tampabay.com/news/publicsafety/accidents/Women-were-arguing-when-car-hit-killed-them-on-seven-lane-Brandon-roadway-deputies-say_162595247?utm_source=fark&utm_medium=website&utm_content=link&ICID=ref_fark
---
Chipotle Worker Recognizes Customer From Brooklyn Home Invasion

This one might have you saying, 'holy guacamole!'

A woman who works at a Chipotle in Brooklyn said she recognized a customer as someone who broke into her home.

Could it be that the lure of quesadillas will help solve the case?

Video released by police shows a man who cops say took part in a home invasion robbery almost 6 months ago.

While it appears he is simply ordering at a fast food restaurant, investigators say he is in fact being confronted.

They said a 20-year-old Chipotle worker in Mill basin Kings Plaza Shopping Center recognized him as one of the three men who came inside her home in the early morning of May 18, flashed a gun, and tied her up along with her sisters before stealing cash and getting away.

"She recognized him, but she still scared," her mother said.

The mother of the victim spoke to CBS2, but she and her daughter asked not to be identified.

The young woman told the man at the restaurant counter that she knew he victimized and stole from her.

The exchange caused him to quickly cover his face and exit with the young boy he came in with.

Other mall employees praised the young woman for being so observant.

"Good woman, smart woman, smart woman," a worker said.

The victim's mother said she was out of the house and at work during the 5:30 a.m. home invasion robbery. The suspects came in via a fire escape and through a window.

She's grateful her girls were not hurt, and restaurant management transferred her daughter to another undisclosed Chipotle for her safety.

She's also proud that her daughter spoke up and gave police a crucial clue.

"Yes they have the face, his face, so they will catch him," she said. "I hope those young men change their lives and do better things, more productive things."

She said she and her daughters continue to suffer through nervous nights, even though they added bars and alarms to the windows.
http://newyork.cbslocal.com/2017/11/10/chipotle-home-invasion/
---
Man mugged of mandolin and beaten with it in SF



A 35-year-old man was mugged of his mandolin in the South of Market neighborhood of San Francisco and beaten so badly with the musical instrument he had to be taken to a hospital, police said Monday.

The assault and robbery took place in the 1100 block of Howard Street at 5:45 a.m. on Thursday, police said. The suspect took the victim's mandolin and hit him with the instrument.

The victim, whose name was not released, fell to the ground and the assailant continued to beat him, police said. While the victim was collapsed, the robber rifled through his pockets and stole an undisclosed amount of cash before fleeing, police said.

The victim was taken to a hospital with non-life threatening injuries. Police said they have not yet made an arrest or identified a suspect.

It was the second time this year that a victim was robbed of a musical instrument and beaten in a street attack in San Francisco. In June, a pair of muggers stole a 27-year-old man's ukulele and pummeled him with a hammer near the Civic Center in San Francisco.

http://www.sfgate.com/crime/article/Man-mugged-of-mandolin-and-beaten-with-it-in-SF-12354270.php
---
Police say man was drunk, driving 155 mph on Ga. 400




Police said Dwayne Pope told them he had only three shots of champagne before he was pulled over Sunday after a chase that reached speeds of 155 mph.

But when he stepped out of his car, Alpharetta police saw a man with bloodshot, watery and glassy eyes, according to a police report.

An Alpharetta officer was traveling southbound on Ga. 400 near Mansell Road about 3 a.m. when Pope's car flew past her at more than 105 mph, according to the report. The speed limit for that highway is 65 mph.

The officer followed Pope past the Mansell Road exit, activated her emergency lights and siren and attempted to pull Pope over.

It didn't work.

Pope eventually reached 155 mph and was weaving in and out of traffic and braked several times without stopping, according to the report.

Out of nowhere, police said Pope braked abruptly near the Northridge Road exit and went from 150 to 0 mph in a matter of seconds.

Pope, who police said smelled of alcohol, told the officer he hadn't heard the sirens or seen the blue lights.

Pope failed several field sobriety tests and was taken to jail on DUI, speeding, failure to maintain lane and expired tag charges, Channel 2 Action News reported.

http://www.ajc.com/news/crime--law/police-say-man-was-drunk-driving-155-mph-400/oWkZPaHOqO5pXzhKIhY55L/
---
Anonymous 'It's OK To Be White' Flyers Posted At UC Davis, Other Campuses



Flyers with "It's okay to be white" messages were found all over the University of California, Davis campus last week.

The flyers were on sandwich boards, underneath bridges and on garbage cans. The signs went up in campus cultural safe zones, too.

"There was also one next to the Chicano Latino Resource Center, as well," said student Ales Lee. "Are you insinuating that people of color are saying it's bad to be white?"

Lee is on the UC Davis Black Leadership Council. The group called a town hall meeting Friday to discuss the issue and discuss racial tension on campus.

"Whoever is posting these photos, I don't think they're realizing how triggering these posters are for people," says Lee.

The same message was posted on college campuses across the country this past week. Besides UC Davis, UC Berkeley, Harvard, Princeton, Concordia and Tulane were all targeted.

The message campaign appears to have started through a social media chat room-intended to spark accusations of racism and embolden a white nationalist movement.

UC Davis Chancellor Gary May wrote an editorial about the flyers in the California Aggie.

"UC Davis has been and should continue to be a focus for wide-open dialogue on an unlimited range of ideas, including those that many find disturbing," May wrote. "Anonymous fliers, however, are not dialogue."

So far, no one has claimed responsibility for the flyers.

http://sanfrancisco.cbslocal.com/2017/11/11/its-ok-to-be-white-flyers-posted-at-uc-davis/
---
Man arrested for 11th DWI just hours after being arrested for No. 10


A habitual DWI offender landed back behind bars for another drunk driving offense just hours after being released from jail.

According to the Santa Fe New Mexican, just 10 hours after being released from the Santa Fe County Jail, 43-year-old Henry Gonzalez led police on a high-speed chase before being arrested for his 11th DWI offense.

Police say Gonzales resisted arrest and had to be tased by officers. Police found an open bottle of Crown Royal in his car.

Gonzales's history of DWI offenses dates all the way back to 1995.
http://www.kob.com/new-mexico-news/man-arrested-for-11th-dwi-just-hours-after-being-arrested-for-no-10/4667220/
---
These Wireless Sex Toys Secretly Recorded & Stored People Masturbating on Their Phones



For most of us, using a sex toy is a private moment. So the thought of your vibrator recording and then storing your sex sessions on your phone without your consent can be pretty nerve-racking. Unfortunately, this was real life -- and not a Black Mirror episode -- for users of Lovense's remote-controlled vibrator (which has a corresponding app).

Lovense vibrators have Wi-Fi and bluetooth-enabled camera and microphone functions for "solo play," "discreet public play," and "long distance play," according to the app's description on Google Play.

Recently, a Reddit user named tydoctor claimed that after going through his or her phone's stored media to prepare it for a factory reset, he or she noticed a six-minute-long audio file in the Lovense app's folder. It turned out to be a full audio recording of the last time tydoctor and his or her partner used the vibrator. The app's settings were supposed to only allow voice clips to be sent on-command, and only through the in-app chat function.




"At no time had I wanted the app to record entire sessions using the vibrator," tydoctor wrote.

Other users of the Lovense product also allegedly found sound files on their phones. "Oh wow, I found the file on my phone too, wtf," someone named drakerobin commented.

A representative for Lovense commented on the Reddit thread, confirming that there is "a minor bug" that creates a "temporary file" when someone uses the Sound Control feature, and doesn't delete it properly on Android phones.

The rep also said the company released an update that would automatically delete the sound file when you stop using the sound function.

According to the company website, the data collected by the Lovense app and vibrator isn't actually shared with the company, just the users involved.




"It was an unwise thing to record but the actual risk to users was relatively low unless someone stole their phone," Ken Munro, an expert in security, told BBC. He added that these "Internet of things" consumer products are the "Wild West right now."

However, this isn't the first time a Lovense product was revealed to have a security issue. Just last month, a bluetooth-controlled butt plug called the Hush was discovered to be hackable, Vice reported.

Moral of the story is that it might be worth it to do your research if you're interested in high-tech wireless sex toys, so that you don't run the risk of sharing more than you intended.

http://thestir.cafemom.com/love/208666/lovense_sex_toy_security?ct=the_latest_8
---
Humiliated Mom Asks for Advice on How to Handle Her 'Racist' 6-Year-Old



So many of our kids' behaviors are entirely learned; if they see us being kind, they'll do the same. If they hear us giving out compliments, they'll follow suit. Unfortunately, not all learned behaviors are positive ones. After learning that her 6-year-old daughter has begun exhibiting racist behaviors, one mom is asking for advice.

"I'm really embarrassed writing this," the mom who goes by Hannah B. on the NetMums messages boards wrote. "... There's a really long backstory which I won't go into but basically my daughter doesn't like black people."

According to the mom, these behaviors are being rubbed off on the little girl by her father, whom Hannah is not currently in a relationship with. "He's been saying things to our children," she wrote, sharing that her 8-year old son has hasn't paid any attention to his father's words, and has even gone so far as to call him a "bully." But her little girl is a different story.

"My daughter ... has taken in everything he has said to her and won't listen when I tell her it's wrong and try to explain why," the frustrated mom wrote. "I'm at a loss as to what to do now I don't want her growing up racist and thinking these things."

The other moms in the forum reached out to offer advice to the struggling woman. One woman tasked Hannah with expanding her daughter's friend group to include more diverse faces, in addition to sitting her down and trying to help her empathize with people from other races.




Another woman said Hannah's daughter may already know that what she's saying is wrong and is simply trying to push boundaries. In that case, she suggested that Hannah amp up her disciplinary tactics in order to make the little girl see that her actions are unacceptable.




This woman was one of a few who even suggested that Hannah take steps to alert the authorities to the fact that the child's father is engaging in acts that are harmful to the child.




Ultimately, the women in the forum were extremely nonjudgmental. Just about everyone agreed that the situation with Hannah's daughter wasn't so much that she was a racist but rather that she was exhibiting racist behaviors taught to her by someone else. The general consensus was that Hannah should definitely take actions to combat the issue now while the little girl is still young and before her father's actions enable her to hurt anyone.

Phoner: What was the hardest lesson you had to teach your kids?

Phoner: What was the most humiliating thing your kid said?

http://thestir.cafemom.com/parenting_news/208673/mom_asking_advice_racist_daughter?ct=the_latest_1
---
Body cam footage allegedly shows LAPD officers planting cocaine on suspect



Los Angeles police officers planted drugs while arresting a Black hit-and-run suspect, body camera footage allegedly shows.

Earlier this year, Officer Samuel Lee arrested 52-year-old Ronald Shields on charges of felony hit-and-run, possessing cocaine, and having a gun stored in his trunk. According to both a police report and his courtroom testimony, Lee claims he found cocaine in Shields' left front pocket while arresting the suspect. But body camera footage, played in court Thursday, appears to show fellow officer Gaxiola (no first name has been released) planting evidence at the scene.

According to CBS-LA, after Gaxiola found Shields' wallet in the street, he took it and placed a small cocaine bag into the wallet, motioning to Lee as he puts the evidence inside. The entire scene takes place in the 30 seconds before Gaxiola turned on his body camera again, which was pre-recorded without audio, most likely with neither officers' knowledge. Lee claims the drugs fell out of Shields' pocket, but Shields' attorney thinks Gaxiola planted the drugs on the ground and pretended to find cocaine in the street.



"There's a little white square here in his hand," defense attorney Steve Levine told CBS-LA, pointing to Gaxiola in one of the body cam videos. "I believe the video shows that the drugs were originally in his right hand and he transfers them to his left hand."

When asked by CBS-LA reporter David Goldstein, both Lee and Gaxiola refused to comment. Shields' hearing will continue next month, although it remains unclear if the narcotics possession charges against him may be dropped.

This certainly isn't the first time that police officers have been accused of tampering with evidence on camera. One Baltimore police officer was recorded allegedly planting drugs, and over 100 criminal cases were dropped after the Baltimore Police Department realized various police officers had allegedly re-created finding drugs or planted evidence during arrests.

https://www.dailydot.com/irl/lapd-officers-drugs-suspect-black/
---
YouTuber annoys his guitar-playing roommate by singing nothing but Third Eye Blind



Exactly one year after former Vine star Chris Melberger rocked the YouTube world with his Green Day prank video, he's back with another video in which he tortures his guitar-playing roommate as well as everybody in the world who doesn't care for Third Eye Blind.

The premise of the video is the same as the initial offering. Melberger follows around his roommate, who's playing different tunes on his guitar. No matter where the roommate is or what he's playing or who's he hanging out with, Melberger belts out the opening lyrics of Third Eye Blind's late 1990s hit "Jumper."

Melberger's first prank video involved singing the first few lines of Green Day's "Good Riddance (Time of Your Life)" no matter what his roommate was picking on the guitar. If it was a Blink 182 rendition, Melberger sang, "Another turning point, a fork stuck in the road." If it was a Dave Matthews Band cover, Melberger sang, "Another turning point, a fork stuck in the road."

Quite clearly, it wasn't a prank in the classic sense since the roommate never changed clothes and since Melberger told the Daily Dot, "Why would I be following my friend around all day while he plays guitar just to interrupt him with a random old Green Day classic?" It was a staged prank, but it was still funny.

Now, Melberger is back, and as he writes on the YouTube description, "One year later. Same friend. Same guitar. New song."



The first video grew a little tiresome until the ending punchline, and the same could be said for the latest prank (with the exception of the brief shower scene). But hopefully, you played the video until the very end, because there's something so sweet about a call-back punchline that was a year in the making.

Phoner: What is the most annoying song of all time?

https://www.dailydot.com/unclick/chris-melberger-third-eye-blind-prank/
---
Truck parked too close to tracks destroyed by train





Nov. 13 (UPI) -- A truck parked too close to the train tracks in Vietnam ended up destroyed when the driver didn't move the vehicle in time.

The video, recorded Friday in Ha Noi, shows a truck parked parallel to the railroad tracks without enough space to let a train pass without making contact.

The filmer said the truck's driver was sitting nearby and didn't react when the approaching train sounded its horn, but the man can be seen running up to the vehicle after the train arrives and destroys the vehicle with a series of sideswipes.

The truck's driver attempts to get into the vehicle to move it, but he is forced to flee to avoid flying debris.

"When walking my dog on the street, I saw a train coming up to the truck parked by the trail. However, the truck driver sitting on the pavement opposite to the trail didn't do anything when hearing the horn from the train. As a result, the truck was destroyed by the train," the filmer wrote.

https://www.upi.com/Odd_News/2017/11/13/Truck-parked-too-close-to-tracks-destroyed-by-train/5061510599973/?utm_source=sec&utm_campaign=sl&utm_medium=1
---
Woman films as deer attempts to mate with neighbor's statues





Nov. 13 (UPI) -- A Wisconsin resident captured video of a confused buck attempting to mate with her neighbor's wooden deer lawn ornaments.

The video, captured Nov. 6 in an Edgerton neighborhood, shows the male deer struggle to mount a wooden statue of a doe in the filmer's neighbor's yard.

The woman continues to film as the "idiot" deer's failure leads it to "hump" a second deer statue in the yard.

The woman drives away with the buck still attempting to make amorous moves on the artificial females.

https://www.upi.com/Odd_News/2017/11/13/Woman-films-as-deer-attempts-to-mate-with-neighbors-statues/8731510598586/?utm_source=sec&utm_campaign=sl&utm_medium=2
---
Rescuers capture 17-foot cobra after three hour fight with python





Nov. 13 (UPI) -- Emergency responders in Thailand were summoned to a vacation resort where a massive king cobra engaged in a three-hour struggle with a python.

The rescuers arrived Friday at the palm tree on the grounds of vacation resort Krabi, where a witness had reported seeing the two snakes fighting.

A video filmed at the scene shows the approximately 5-foot python coiled around the cobra's head. Witnesses said the snakes had been fighting for about three hours before the cobra apparently managed to bite and kill the python.

The video shows the rescuers working carefully to capture the 17-foot-long king cobra so it could be relocated to a habitat far away from humans.

https://www.upi.com/Odd_News/2017/11/13/Rescuers-capture-17-foot-cobra-after-three-hour-fight-with-python/4701510597455/?utm_source=sec&utm_campaign=sl&utm_medium=3
---
Florida fisherman seeking catfish reels in baby alligator





Nov. 13 (UPI) -- A Florida fisherman casting for catfish captured video when the bite at the end of his line turned out to be a feisty baby alligator.

The fisherman's wife filmed him Thursday when he got a bite on his line at a pond in the Westchase area.

The video shows the man reeling in his line to reveal a baby alligator had taken the bait instead of the expected catfish.

"To our surprise we had an alligator on the line!" the man wrote. "We pulled him out and removed the hook with the aid of a security guard and a growing number of neighbors that were coming to watch."

https://www.upi.com/Odd_News/2017/11/13/Florida-fisherman-seeking-catfish-reels-in-baby-alligator/1181510596429/?utm_source=sec&utm_campaign=sl&utm_medium=4
---
Escaped bull wanders through school, runs loose on highway


Nov. 13 (UPI) -- Police in England were called when an escaped bull wandered through a school before running loose on the highway.

The West Midlands Police said officers responded to Monkspath Hall Road in Solihull about 7:20 a.m. Monday on a report of a loose bull.

Police worked together with the owner to track and attempt to capture the bull.

"For a short time, the bullock entered Monkspath Junior School but at no time were children or teachers in any danger," police said.

Police said the bull managed to evade capture while on school grounds and ended up on the M42 highway, where it was shot and killed by a police marksman during the afternoon.

"We made every effort this morning to try and bring this to a happy conclusion but we had to put the public first and sadly the bullock had to be shot by a police marksman," Chief Inspector Kerry Blakeman said. "Thanks to all the local residents for their understanding."
https://www.upi.com/Odd_News/2017/11/13/Escaped-bull-wanders-through-school-runs-loose-on-highway/6291510594542/?utm_source=sec&utm_campaign=sl&utm_medium=6
---
Police rescue Ohio deer with pumpkin stuck to face





Nov. 13 (UPI) -- An Ohio town announced a deer seen wandering with a plastic pumpkin stuck on its face for several days was rescued by a group of police officers.

The City of Lyndhurst said in a Facebook post that three officers were able to corner the deer on Sunday and remove the plastic pumpkin from its face near Shaefer Park.

The deer had been seen wandering the area, mostly in South Euclid, for several days with the pumpkin stuck to its face. Residents were tracking the animal and made several unsuccessful attempts to rescue the animal.

"Lyndhurst Police received several calls from residents this morning about the deer, with the plastic pumpkin stuck on its face, that has been seen mostly in South Euclid," the post said. "Three Lyndhurst police officers were able to corner it near Shaefer Park, remove the plastic pumpkin, and free the deer."

The deer was first spotted only days after a deer was rescued from a similar predicament in Anderson Township, on the other side of the state.

https://www.upi.com/Odd_News/2017/11/13/Police-rescue-Ohio-deer-with-pumpkin-stuck-to-face/1331510591869/?utm_source=sec&utm_campaign=sl&utm_medium=8
---
26 Now Charged in Penn State Fraternity Death
The police were able to recover video from the basement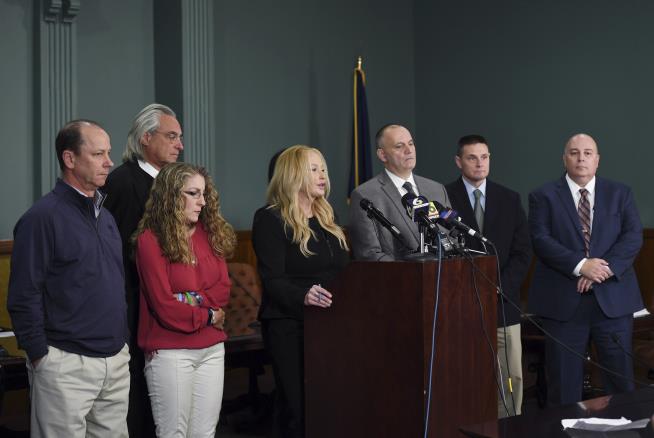 Newly recovered security camera footage from inside a Penn State fraternity house showed a pledge had been given at least 18 drinks in less than 90 minutes, investigators said Monday in announcing dozens of new charges related to the pledge's death. Centre County District Attorney Stacy Parks Miller charged 10 new defendants, reinstated charges against two people whose cases had been dropped, and added counts against five who had previously been charged for actions surrounding the Feb. 4 death of Beta Theta Pi pledge Tim Piazza, the AP reports. One fraternity member is accused of deleting the video as police were seeking the footage. Twenty-six people now face charges in the case.

Piazza, a 19-year-old engineering student from Lebanon, New Jersey, suffered a fractured skull, shattered spleen, and other injuries, likely during a series of falls inside the house. He was estimated to have had a blood-alcohol level several times the legal limit for adult drivers. The house's security system captured many of the events the night Piazza was injured, footage that had already been played at a preliminary hearing for those charged previously. But until recently, that did not include the basement, where Piazza was found the next morning. A court affidavit said one of the brothers, Braxton Becker, purposely deleted the basement footage two days after Piazza died but the FBI was able to recover it. Becker's motive, wrote State College Police Detective David Scicchitano, was to conceal the worst of the drinking and hazing.
http://www.newser.com/story/251551/26-now-charged-in-penn-state-fraternity-death.html
---
Toddler Buckled All Wrong in Car Seat Is Only Crash Survivor
Four adults die in crash on I-94 near Detroit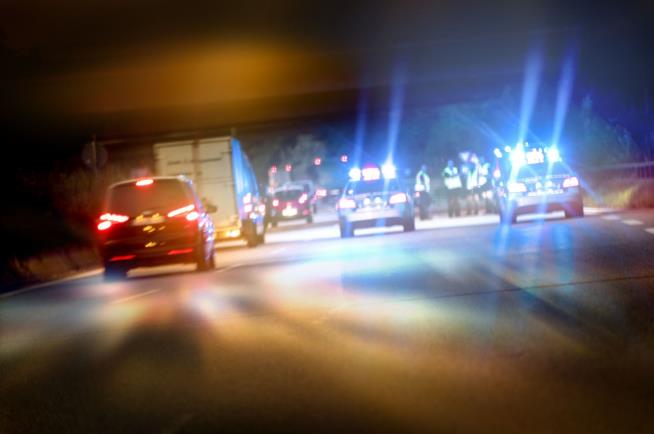 "It wasn't the right age, it wasn't the right fit, it wasn't the right anything and still saved this kid's life." So says Michigan State Police Lt. Mike Shaw of the car seat that was holding a 1-year-old during an I-94 crash near Detroit Monday that claimed the lives of four unbuckled adults. The sole survivor of the crash was the toddler. "The baby was in the car seat," witness John Wade tells WXYZ-TV of the 1am crash. "That was the only thing that probably ... saved the baby." The AP and Free-Press report the Buick SUV was driving at high speeds in Harper Woods when the driver tried to pass another car, lost control, careened across the lanes, and ended up striking a bridge.

The dead have been identified as driver Doreal Rogers, 20; front-seat passenger Alesia Maddox, 20; and Armonie Maddox and Ervin Johnson, both 18, who were in the back. The Maddoxes were brother and sister. The front-seat passengers were pinned in the car by the impact; those in the back were ejected. The child, who belonged to Alesia Maddox, had just turned one on Saturday. First responders described the crash as one of the worst they've seen. "Just the amount of carnage I guess involved in this crash, it kind of set a lot of people back," says Shaw.
http://www.wxyz.com/news/first-responders-call-i-94-crash-that-killed-4-worst-theyve-ever-seen
---
Scrabble Champ Banned for the Way He Picked Letters
Allan Simmons says he never purposely cheated—but he may have been loose with game play


A scandal that some are calling "Tile-Gate" is rocking the Scrabble world, with one of its best players now barred from competitions. Per the London Times, Allan Simmons is now prohibited from facing off against other wordsmiths due to two specific Scrabble rules—both involving the selection of letter tiles—that he's accused of breaking. The first requires that players show their outstretched hands to their opponents before reaching into the tile bag so that others are sure they're not palming secret tiles; the second mandates players must hold the tile bag at shoulder height while making their selection so they can't purposely, or even accidentally, see any of the tiles. Although Simmons, 60, says he's never intentionally cheated, he does concede that the distraction of the game may have led to his inadvertently flouting those rules from time to time.

"At the top level, games can be quite intense and there's a lot going through one's mind, let alone remembering to religiously ensure tile drawing rules are followed meticulously," he notes. Simmons has long history with the game, notes Scotland's Sunday Herald, reaching back to the mid-'70s and including appearances at five world championships. An initial complaint against Simmons was brought in June by player Lewis Mackay, which spurred a yearlong ban by the Association of British Scrabble Players—and then prompted further inquiry leading to an extended three-year ban. Simmons, who says he won't appeal, tells the Times he'd been thinking of packing it in anyway due to the "long drives" to competitions, the studying, and the stress. "I will rise above this issue and get on with more important things in life than playing Scrabble," he notes.
https://www.thetimes.co.uk/article/cheating-spells-trouble-for-scrabble-star-hmxmhzgz5
---
Wanted: Bartender, Must Like Ghosts
No word on how many candidates have applied for the job at the Eagle Plains Hotel


Wanted: Mixologist with a hankering for lots of ice—and no small amount of snow. One of the most remote watering holes in northern Canada is searching for a bartender. But not just any candidate will do. To join the staff of seven at Eagle Plains Hotel & Service Station applicants must be "quite quick" and they "better like isolation," owner Stan McNevin tells CBC News. But the job calls for far more than serving up beer to truck drivers and a motley mix of characters who find themselves in the Yukon hundreds of miles from the nearest town, in a joint that has been compared to the Overlook Hotel in The Shining. The new hire will serve on the 32-room establishment's "frontline," must be OK with working alone at night amid taxidermied bear and caribou—and a ghost named Albert Johnson.

When "weird and strange things" happen, "we all just blame it on Albert," whose presence was "definitely" confirmed by a clairvoyant, McNevin adds. A high tolerance for people, or no people, is also recommended. While the Eagle Plains Hotel is hopping during the summer and winter, it can be deserted for long stretches when the rivers freeze and thaw in spring and fall. And if a blizzard strikes, guests can be stranded for days. One such storm failed to shut down a curling tournament: "We built snow caves for the people so they could be outside and watch," says McNevin, "and so then of course, the bartender would have to go out and serve hot drinks and hot toddies."
Phoner: Was the place you worked haunted?
http://www.cbc.ca/news/canada/north/eagle-plains-hiring-bartender-1.4395919?cmp=rss
---
Tourists looking for theme park end up at waste incinerator


OSAKA--Thousands of tourists from around the world are flocking to a garbage incineration plant here, some of them mistaking it for the Universal Studios Japan theme park.

They could be forgiven for the error.

Universal Studios Japan is located near the Maishima incineration plant in Konohana Ward. And the plant does resemble a theme park or shopping mall.

It boasts a golden, onion-shaped chimney that stands 120 meters high, and its walls are decorated with a checkered design and red and yellow lines.

Instead of offering rides, the facility incinerates up to 900 tons of garbage a day.

The plant itself has become somewhat of a tourist attraction.

Around 12,000 people visit the plant annually, and those from outside Japan account for 30 percent of them, according to officials.

The incinerator plant was built in 2001 based on a design by the late Austrian artist Friedensreich Hundertwasser.

The Osaka city government requested the design under the theme of "fusion of technology, environment and art."

Although the facility has more than 500 windows, only 130 of them are real.
Phoner: Where was your tourist wrong turn?
http://www.asahi.com/ajw/articles/AJ201711110004.html?utm_source=fark&utm_medium=website&utm_content=link&ICID=ref_fark
---



Google Voice Search Records And Keeps Conversations People Have Around Their Phones

Just talking is enough to activate the recordings – but thankfully there's an easy way of hearing and deleting them

Google could have a record of everything you have said around it for years, and you can listen to it yourself.

The company quietly records many of the conversations that people have around its products.

The feature works as a way of letting people search with their voice, and storing those recordings presumably lets Google improve its language recognition tools as well as the results that it gives to people.

But it also comes with an easy way of listening to and deleting all of the information that it collects. That's done through a special page that brings together the information that Google has on you.



It's found by

heading to Google's history page and looking at the long list of recordings

. The company has a

specific audio page

and another for activity on the web, which will show you

everywhere Google has a record of you being on the internet

.



The new portal was introduced in June 2015 and so has been active for the last year – meaning that it is now probably full of various things you have said, which you thought might have been in private.

The recordings can function as a kind of diary, reminding you of the various places and situations that you and your phone have been in. But it's also a reminder of just how much information is collected about you, and how intimate that information can be.

You'll see more if you've an Android phone, which can be activated at any time just by saying "OK, Google". But you may well also have recordings on there whatever devices you've interacted with Google using.

On the page, you can listen through all of the recordings. You can also see information about how the sound was recorded – whether it was through the Google app or elsewhere – as well as any transcription of what was said if Google has turned it into text successfully.

But perhaps the most useful – and least cringe-inducing – reason to visit the page is to delete everything from there, should you so wish. That can be done either by selecting specific recordings or deleting everything in one go.

To delete particular files, you can click the check box on the left and then move back to the top of the page and select "delete". To get rid of everything, you can press the "More" button, select "Delete options" and then "Advanced" and click through.

The easiest way to stop Google recording everything is to turn off the virtual assistant and never to use voice search. But that solution also gets at the central problem of much privacy and data use today – doing so cuts off one of the most useful things about having an Android phone or using Google search.

http://www.independent.co.uk/life-style/gadgets-and-tech/news/google-voice-search-records-stores-conversation-people-have-around-their-phones-but-files-can-be-a7059376.html?utm_source=fark&utm_medium=website&utm_content=link&ICID=ref_fark
---
Fail: Painting your vehicle registration tabs doesn't work


A Washington driver's foolproof plan to cheat the Department of Licensing had one fatal flaw – it was sloppily done.

Turns out details matter when one is trying to forge tabs. Wite-Out is best avoided.

"There are several ways to renew your vehicles tabs," Trooper Heather Axtman said on Twitter. "This is definitely not one of them."

The driver was stopped Monday morning in Marysville after a trooper spotted the bogus tab, Axtman said. The trooper cited the driver, who appeared to have painted over an expired tab to round out a 7 for an 8.

Washington drivers can renew their tabs online through the Department of Licensing. Or by mail. Or in person. It's one of the easiest things to do.

The cost of car tabs has jumped up considerably thanks to voter-approved Sound Transit 3 transportation spending package. Wite-Out is no way out of those costs, though.
http://www.seattlepi.com/local/article/Tabs-Washington-lifehack-fails-cheat-12353809.php?utm_source=fark&utm_medium=website&utm_content=link&ICID=ref_fark
---
Upstate mother charged with neglect after toddler found living in home covered in pig, animal waste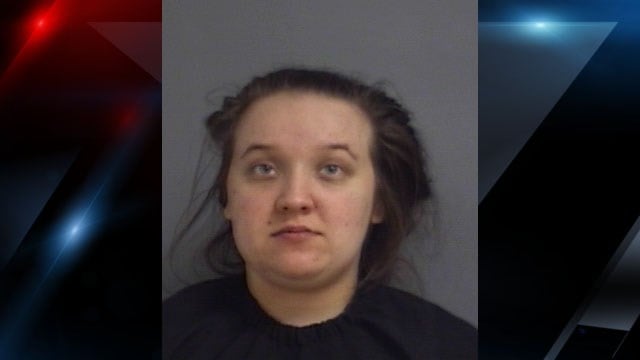 Union police said a four-year-old girl has been placed in DSS custody and her mother has been charged with unlawful neglect after the family was found living in a home covered in pig and other animal waste.

Police said Hannah Marie Hvolboll was arrested Friday after officers were initially called to the home to assist EMS with a combative patient.

Police said they initially noted puddles of dog urine on the floor and a strong ammonia smell emanating from the house.

After police learned that the child lived at the home, officers said they asked Hvolboll for permission to search the property.

Police said the home was filthy with mold in the refrigerator and kitchen cabinets, visible mice droppings, glass pipes used for smoking marijuana and other paraphernalia was located in a cabinet, and officers found a pig being kept in the home's only bathroom. Police said the bathroom was covered in the pig's waste and that Hvolboll told them the bathroom was the only place in the house that had running water.

Police said two of Hvolboll's brothers, one of whom had an arrest warrant for burglary out of California, and the child's father were also living in the home.

http://www.foxcarolina.com/story/36830077/upstate-mother-charged-with-neglect-after-toddler-found-living-in-home-covered-in-pig-animal-waste?utm_source=fark&utm_medium=website&utm_content=link&ICID=ref_fark
---
Girl Pees Her Pants During A Live News Broadcast
http://linkiest.com/links/girl-pees-her-pants-during-a-live-news-broadcast/
---
Photographs Worth $105,000 Stolen From the Museum of Modern Art — Then Mysteriously Mailed Back


The New York Police Department wants to question a woman who they say mailed stolen art back to the Museum of Modern Art, just days after it vanished.

Two photographs — estimated to be worth more than $105,000 dollars — were part of the exhibit Carolee Schneemann: Kinetic Painting. The photos were first discovered missing on October 30th. There were no signs of forced entry into the museum, and authorities had no leads. The theft was not caught on video, and there appeared to be no witnesses.

But despite scant evidence, the photos have since been recovered. According to police, the pictures were anonymously mailed back to the museum on November 3. There was no damage to the photos, and police recovered no note of explanation. Authorities traced the package back to a Brooklyn shipping store.

Surveillance video appears to show a young woman wearing a dark cap, glasses and black overcoat entering the shipping store. She was carrying a large FedEx box. Authorities allege that the photographs were inside.

On Sunday, the NYPD released the surveillance video and asked for the public's assistance in identifying the woman. The burglary's motive was unclear. An NYPD spokesperson tells PEOPLE that no arrest has been made, but that the case is still under investigation.

An after-hours call to the museum was not immediately returned.
http://people.com/crime/photographs-worth-105000-stolen-from-the-museum-of-modern-art-then-mysteriously-mailed-back/
---
Police shoot vehicle to stop it, killing driver

FALL RIVER, Mass. — Massachusetts authorities say a police officer responding to a report of possible gunfire fired shots at a vehicle to stop it from leaving, killing the driver.

The Bristol County district attorney's office says Fall River police saw several vehicles leaving the area after arriving at the scene Sunday night.

Authorities say the officer shot at a car to keep it from leaving. The 19-year-old driver, Larry Ruiz-Barreto, of New Bedford, was struck and died. He was taken to Charlton Memorial Hospital, where he was declared dead.

Several minutes later, police responded to a disturbance at the hospital and arrested five people on disorderly conduct and disturbing the peace charges. Police say the shooting and the hospital disturbance are connected.

The defendants were relatives of Barreto. They were arraigned Monday.
http://www.bostonherald.com/news/local_coverage/2017/11/prosecutor_police_shoot_vehicle_to_stop_it_killing_driver?utm_source=fark&utm_medium=website&utm_content=link&ICID=ref_fark
---
Shocked witnesses watch on as cars damaged by tractor driving through them in Cumbria


One witness left a note for a car's owner because he was so surprised by what he saw

A group of cars were damaged after a tractor drove through the middle of tightly parked vehicles - as shocked bystanders watched on in amazement.

The cars were parked on a road at Seathwaite, in the Borrowdale valley, yesterday morning when the tractor, believed to be carrying a trailer full of sheep, ploughed through them.

It left one car in particular with significant damage to its driver's side.

An eyewitness who saw the tractor drive through, left a note on the car to explain to the owner what had happened.

In it, he wrote: "The big tractor carrying a huge sheep trailer left the farm at the end of the road. I then saw him stop along the road.

"He couldn't get through the gap and couldn't turn around. So... he just went through damaging at least four cars, yours coming off worst."

Police were called about the incident and received reports of four cars being damaged between 9am and 12pm.

A spokeswoman for the force said: "It is believed that the cars have been damaged by a tractor and trailer.

"Police are carrying out enquiries and ask anyone with information to make contact via 101, quoting log number 156 of November 12."
http://www.newsandstar.co.uk/news/Shocked-witnesses-watch-on-as-cars-damaged-by-tractor-driving-through-them-in-Cumbria-7363f4df-e8e2-4a03-b58c-6a10f8b10df9-ds
---
'Inappropriate' worksheet asks middle school students about trophy wives

A controversial school assignment has Hopewell parents demanding answers.

Many parents have taken to social media about a quiz they say went too far. Hopewell's Superintendent agrees the assignment given to students at Woodson Middle school was not appropriate for the classroom.

Should your middle school child learn from their school what a "boy toy" is? How about a mistress? Apparently, a teacher at Woodson Middle had no problem with it.

"Do you see anything wrong with it?" NBC12 asked parent Tara Sample.

"Yeah, I do. It doesn't need to be taught in school," she responded.

School is exactly where 6th grader Faith Sample received a shocking quiz in her Family and Consumer Science class.

"She passes the packet out and she tells us to start working on it," the student said.

The fill-in-the-blank questions asked, "What do you call a married man's girlfriend?" "What do you call the younger boyfriend of a much older woman?"
The answers are mistress and boy toy.

"Affair. Mistress. Boy toy. Trophy Wife," Sample said, reading her answers.

The student mentioned it to her mother.

"I was like 'we got this quiz today, and it had something about a boy toy' and she thought I was playing, but I really wasn't, and she was like 'go get the paper'," the student explained.

"I can't believe it when she brought it to me. I was like, 'what the hell'…I immediately emailed the school board," Tara Sample said.

The Superintendent of Schools is responding, saying the student's teacher found the worksheet on the internet:

We were made aware last evening of the Facebook coverage of the assignment given to students in the Family and Consumer Sciences program at our middle school. We immediately began to investigate. Upon further review, we have determined that a teacher downloaded this worksheet from the Internet. This content was not a part of the current and approved curriculum for this course nor was it in any way an appropriate learning tool for middle school aged children. This assignment was also not included or referenced in the teacher's weekly lesson plans that are reviewed and approved in advance of instruction. Additional controls and School Board Office supports have been put in place. At this point, this matter has become a personnel issue and no further comment is appropriate.


"At school today, people were talking about it, how their moms were like flipping out," the 6th grader added.

So is her own mom, who insists it wasn't the time or place for a lesson like this.

"I was thinking maybe it's a young teacher that's inexperienced, but no…she's an older woman, has been teaching for years. I was surprised, because most older teachers are more conservative…I think there needs to be a reprimand," her mother said.

The worksheet, appears to have been downloaded from the website iSLCollective.com. Some people who left comments on the website about the quiz said it was "fun," "useful" and contained "some lesser known family members." Others pointed out that it "may not be appropriate to teach to younger students."
http://www.nbc12.com/story/36832364/inappropriate-worksheet-asks-middle-school-students-about-trophy-wives?utm_source=fark&utm_medium=website&utm_content=link&ICID=ref_fark
---