DAILY DOSE SPORTS EDITION
Final Edition November 14, 2017 - Late night stories are highlighted
Updated: November 14, 2017 03:43 AM (EDT)

Yesterday's Sports Issue (click on link)
---
---
Colin Kaepernick And Kevin Durant Were Named 'New American Heroes' By GQ



GQ announced the four celebrities that will grace its cover for being named Man of the Year. This year, the honor went to three men and one woman, with all four people who received the honor getting some type of additional distinction that sets them apart from their other honorees.

Two of the recipients came from outside of sports — Stephen Colbert was named Bad Hombre of the Year and Gal Gadot was named Wonder Woman of the Year. As for the sports world's recipients, Kevin Durant earned the title of Champion of the Year, while Colin Kaepernick was deemed the magazine's Citizen of the Year.



Durant's distinction doesn't come as much of a surprise, as he won his first NBA championship and was named NBA Finals MVP as a member of the Golden State Warriors. It was the culmination of a controversial move to the Bay by Durant, but seeing as how it ended with him winning his first ring, he ended up with the last laugh.

Kaepernick, on the other hand, did not get this title for his work on the field, as he's been a free agent all season. However, his highly-publicized protest against police brutality and the treatment of African-Americans in the United States took on a new life this season when Donald Trump called him a "son of a bitch." It sparked more players following Kaepernick's lead and sitting/kneeling when the national anthem would play before games. Kaepernick's cover story features a series of interviews from people like J. Cole, Harry Belafonte, and former Niners teammate Eric Reid.

http://uproxx.com/sports/colin-kaepernick-kevin-durant-american-heroes-gq-cover/2/
---
Colin Kaepernick Deserves Some Damn Respect ... Says Maxine Waters
We just got Congresswoman Maxine Waters out in NYC and asked what she thought about Colin Kaepernick being named GQ's Citizen of the Year.
To put it simply ... she LOVES it.
"I think he has absolutely sacrificed an awful lot for what he believes in. And people with courage to do what they think is right -- despite the consequences -- must be respected and honored."
Obviously, not everyone in D.C. feels the same way -- especially President Donald Trump who has essentially called for NFL owners to blackball Kaepernick from the league.
http://www.tmz.com/2017/11/13/maxine-waters-colin-kaepernick-gq-cover/
---
J. Cole Praises 'GQ' Citizen Of The Year Colin Kaepernick For 'Sacrificing His Dream'

Colin Kaepernick may be having trouble securing an NFL job after kicking off the waves of demonstrations at NFL games, but at least he got a bit of recognition from another well-known initialed entity. GQ named Colin Kaepernick Citizen Of The Year for 2017, a well-deserved honor. Kaepernick basically sacrificed his NFL career to speak up on police brutality and other issues dear to him, a fact not lost on anyone but the NFL owners getting sued for allegedly colluding against him. He may never get another NFL check, but he still finds it in his heart to donate to organizations like J. Cole's Dreamville Foundation.

That's why you can count J. Cole as one of the many who appreciates Kaepernick. The Dreamville artist, who advocated for a boycott of the NFL, told GQ about meeting Kaepernick and what the struggle of the former 49ers Super Bowl Quarterback (yeah, he was pretty good) means to him.

"Colin and I met years ago. I am — I was — a big 49ers fan," Cole noted. "I met him during his breakout season. I actually went to the first game he really played in, against the Jets. I just happened to be at that game. It hit another level for me the second I learned he was taking a knee."

Cole clarifies that it wasn't just the demonstration, but the "clear, potent," and "on point" answers he gave journalists about why he was demonstrating. Cole said he was caught pleasantly off guard by Kaepernick because he "just didn't know when I met him that the person with the biggest balls in sports would be him."

"Suddenly something that he's been doing blindly for his whole life — standing for the national anthem — now feels uncomfortable. Why? Because now it feels phony! It feels like, Man, how can I stand for this thing when this country is not holding itself true to the principles it says it stands for," Cole pondered.

What isn't a question is that Kaepernick "sacrificed his dream," like Cole said. Every week that a less accomplished quarterback gets signed before Kaepernick even gets a tryout proves that. That's why GQ made a strong choice for their citizen of the year nod.
http://uproxx.com/realtalk/j-cole-colin-kaepernick-gq-citizen-of-the-year/
---
Tom Brady on Colin Kaepernick: 'I have no idea if he's being blackballed'



Tom Brady on Monday morning weighed in on the Colin Kaepernick saga amid the news that "GQ Magazine" has named the unemployed quarterback its "Citizen of the Year."



Brady admits he doesn't know Kaepernick all that well outside of some interactions when the New England Patriots faced the San Francisco 49ers during Kaepernick's time with the team. Brady had nothing but nice things to say about Kaepernick, although he stopped short of agreeing with the notion the quarterback is being blackballed by the NFL.

"I have no idea if he's being blackballed," Brady said of Kaepernick on WEEI radio, via the Boston Herald. "I've competed against him. I thought he was a damn good quarterback, and he's played at a high level, brought his team to Super Bowls and you know, that's how I feel about him."

Kaepernick has yet to find a job after opting out of his contract with the San Francisco 49ers this past offseason. A widely held suspicion is that owners are reluctant to sign Kaepernick over potential backlash due to his social activism and his relationship to the controversial national anthem protest movement. Kaepernick has filed a lawsuit that aims to establish all 32 owners have colluded to keep him out of the NFL.

Establishing league-wide collusion will be a difficult legal undertaking. However, Kaepernick's attorney, Mark Geragos, said last month he had a "high degree of confidence" his client will prevail in the case. Geragos added a "smoking gun" exists to prove collusion.

The lawsuit and his arguably baffling continued existence in NFL purgatory aside, Kaepernick did take to Twitter shortly after GQ Magazine's announcement to indicate he's "honored to be recognized" as "Citizen of the Year."

https://www.sportressofblogitude.com/2017/11/13/tom-brady-colin-kaepernick-no-idea-hes-blackballed/
---
Colin Kaepernick - Meek Mill Is Getting Screwed (And He's Not Alone)
Colin Kaepernick is going to bat for Meek Mill -- saying the rapper is a victim of the same "radicalized injustice" that has been screwing black men for years.
FYI, Meek was sentenced to 2 to 4 years in prison after a judge ruled he violated probation stemming from a 2009 drugs and weapons case by getting busted for a St. Louis airport fight ... and his reckless driving arrest in NYC.
Even though both cases were dropped, the judge said the arrests alone were violations. People are furious about this ... including Kaepernick.
"Sadly there are Black folks going through the same radicalized injustice(s) within the justice system that Meek Mill has experienced for over a decade EVERY SINGLE DAY," Kaep tweeted.
"This requires more than just gradual reform in laws -- It requires a swift overhaul."
Others say Meek's sentence was fair based upon the multiple run-ins he's had with law enforcement since he was placed on probation.
http://www.tmz.com/2017/11/13/colin-kaepernick-meek-mill/
---
The Sixers' Co-Owner Wrote An Impassioned Letter To The Judge In The Meek Mill Case


Last week, rapper Meek Mill was sentenced to 2-4 years in prison earlier in the month for violating his parole, which dates back to a conviction for drug dealing and gun possession in 2008. Since then, he has been found in violation of his parole multiple times, leading to varying punishments from jail time to house arrest, all the while adding years to his parole agreement.

It's an unfortunate story that highlights issues with the specific situation he finds himself in — with regards to strange relationships between himself, the judge, and his parole officer — and the legal system on the whole. The rap community has, unsurprisingly, been very vocal in their support of Meek Mill in the week since his most recent sentencing.

Most notably, Jay-Z has been extremely vocal in speaking out on his feelings towards the "unjust" and "heavy-handed" sentencing for the parole violation. However, the Philadelphia native has found support from his hometown as well, with one of his most notable supporters being 76ers co-owner Michael Rubin.

Prior to Meek Mill's sentencing, Rubin wrote an impassioned letter to the judge on behalf of the rapper in hopes of keeping him from being sentenced to further prison time, calling Meek one of his closest friends and noting his strong efforts in personal growth and development as well as his positive impact and commitment to the Philadelphia community. The letter, obtained by Sports Illustrated's DeAntae Prince, can be read in its entirety here, with a few key excerpts below.

I have also introduced him to many of my friends and business partners, such as the Commissioner of Major League Baseball, the owner of the New England Patriots, and my fellow owners of the Sixers — all of whom have similarly been drawn to his positive and inquisitive personality. While he may come from a different world and upbringing than many of us, we all recognize his talent and the impact he can have in the broader community. Our world is too often divided. We need people like Meek that can be the bridge-builders and difference makers to pull people of all walks of life together.

My daughter recently saw news of Meek's pending hearing online and asked me why such a great guy was experiencing such struggles in life. I explained to her that I recognized Meek did some dumb things in the past and was working hard to make things right. i know that he has taken painkillers without a prescription, found himself in altercations at an airport in Milwaukee, rode recklessly on four-wheelers. But I also know that he is committed to not making such mistakes again. He knows that he is at a pivotal point in his career and that the stakes are high. I want you to know that I am personally invested in helping him so that he can help others.

Please know that I am devoted to his future and to making sure that he accomplishes the goals that you have set forth for him. He not only has a bright future but also a unique opportunity to inspire young men at a time when others are tearing them down. I would hate to see him incarcerated for these violations. I truly believe that such a sentence would destroy his future.

Rubin attempts to point out Meek's positive qualities with the impact he has in the community and his unique position to inspire those that come from the same difficult background he did. Rubin also notes Meek's mistakes, but pleads for the judge to offer him a chance to make the positive changes in his life outside of prison walls with the help of friends and mentors like Rubin to keep him on track and allow him to become the outstanding citizen Rubin believes he's close to being. His closing statement about how another prison sentence would likely "destroy his future" is biting and painful.

The letter was written on November 3, three days prior to Meek's sentencing. It apparently didn't sway the judge's feelings, as a lengthy sentence was handed down, anyway.

http://uproxx.com/dimemag/meek-mill-philadelphia-76ers-owner-michael-rubin-letter-judge-prison-sentence/
---
Group of owners send cease-and-desist warning to Jerry Jones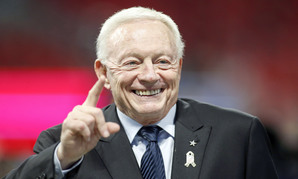 Six owners on the NFL compensation committee have given Jerry Jones a cease-and-desist warning over his efforts to block Roger Goodell's contract extension, according to a report.

Ken Belson of the New York Times reported Monday that the owners — Arthur Blank of the Atlanta Falcons, Clark Hunt of the Kansas City Chiefs, John Mara and Steve Tisch of the New York Giants, Robert Kraft of the New England Patriots, Art Rooney of the Pittsburgh Steelers, and Bob McNair of the Houston Texans — warned Jones to stop trying to halt the progress of the commissioner's proposed extension.

Among the potential punishments that could be issued to Jones if he does not stop his efforts are fines, potential loss of draft picks, and even a suspension.

Jones is already facing some consequences for his legal threats against Goodell's new contract. The compensation committee has maintained all along that a new deal for Goodell was approved unanimously, and they are proceeding based on that vote.

http://larrybrownsports.com/football/group-of-owners-cease-and-desist-jerry-jones/409175
---
Giants owners say Ben McAdoo will not be fired during season


An already horrific season for the New York Giants reached a low point on Sunday when they allowed the San Francisco 49ers to win their first game of the year. That has led to speculation that Ben McAdoo could be fired this week, but it appears the head coach will ride his sinking ship all the way to the bottom of the ocean.

On Monday, Giants owners John Mara and Steve Tisch released a joint statement saying they will not make any significant changes until the season has concluded.

"Ben McAdoo is our head coach and has our support. We are in the midst of an extremely disappointing season," the statement read, via ESPN's Adam Schefter. "Our performance this year, particularly the past two weeks, is inexcusable and frustrating. While we appreciate that our fans are unhappy with what has occurred, nobody is more upset than we are.

"Our plan is to do what we have always done, which is to not offer a running commentary on the season. It is our responsibility to determine the reasons for our poor performance and at the end of the year, we will evaluate the 2017 season in its entirety and make a determination on how we move forward."

The Giants are now 1-8 and on their way to one of their worst seasons in franchise history. Injuries have played some role in that, but the bigger concerns for the team could have to do with reports that McAdoo has lost the locker room.

New York has no chance of making the playoffs, so Mara and Tisch obviously feel there would be no benefit to blowing things up in the middle of the season. But if and when they do, McAdoo may not be the only major change that is coming.
http://larrybrownsports.com/football/giants-owners-ben-mcadoo-not-fired-during-season/409191
---
Bennett was going to retire until Belichick called him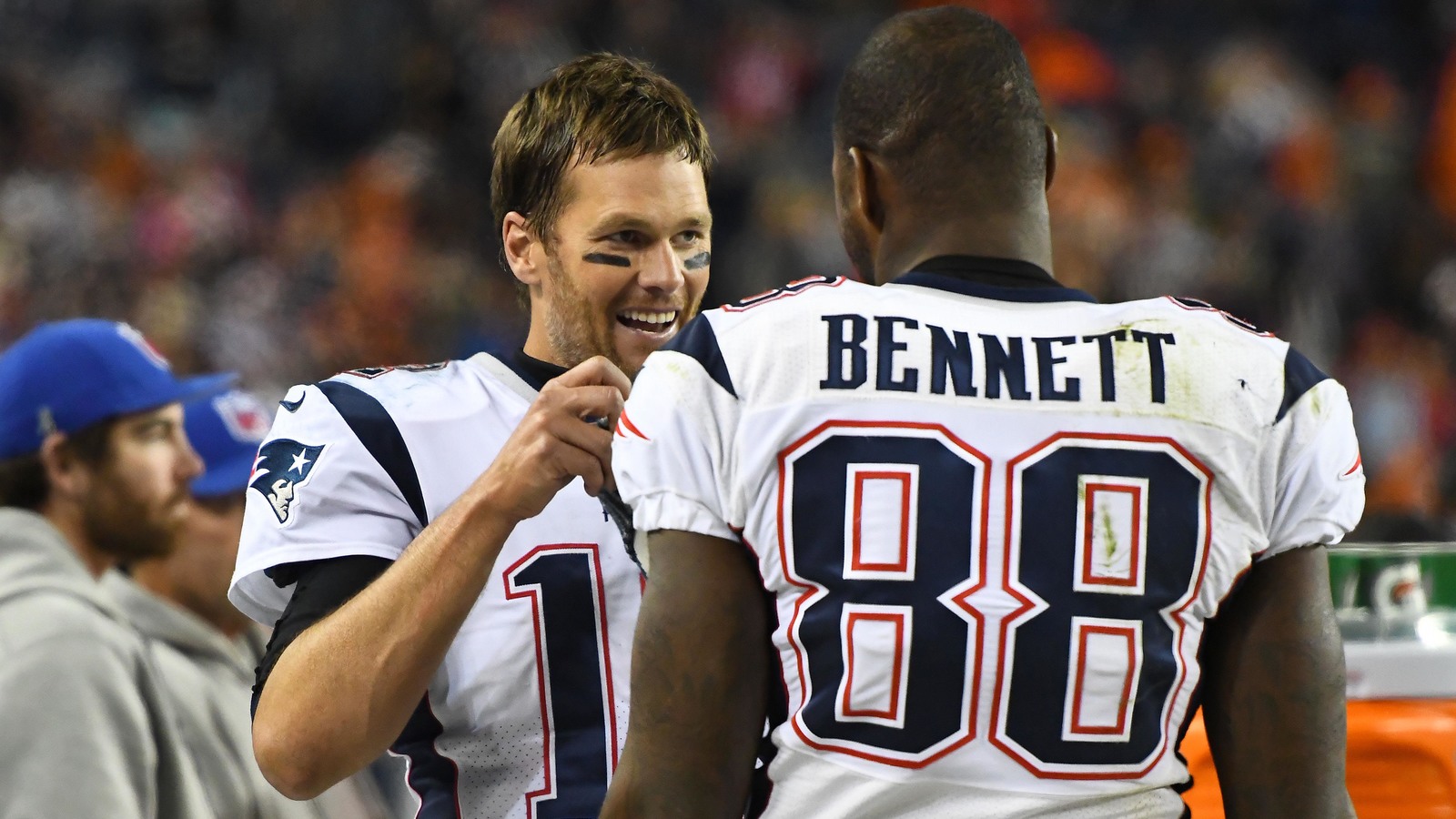 Martellus Bennett was waived by the Green Bay Packers less than a week ago, and all indications were that his shoulder injury would likely sideline him for the remainder of the year. But on Sunday night, Bennett caught three passes and helped the New England Patriots defeat the Denver Broncos. How did things change so quickly?

Bill Belichick, that's how.

Following Sunday's game, Bennett said he initially told his agent to tell no teams to claim him because he planned to have shoulder surgery then retire. Belichick's call changed Bennett's mind.

"It's not about, 'Could you play?' It's, 'Should you play?' It was one of those things. Right now, I'm just like, (expletive) it," he explained, per Jeff Howe of the Boston Herald. "At first, I told my agent to tell no teams to claim me because I was still trying to get the surgery. So when Bill called and said they claimed me, I was like, 'No (expletive) way.'"

The timeline will be important, especially with Bennett and the Packers expected to go to war over the tight end's salary. Green Bay could decide to file a grievance claiming Bennett forced his way back to the Patriots, but Bennett said Belichick called him after the Patriots claimed him, which would be different than calling him before.

Bennett indicated earlier this year that he is planning to retire after the 2017 season, but he said Sunday that he has not made up his mind.

"It was pretty cool," Bennett said of being back with the Patriots. "Last week, I thought I was going to be on IR, so it's just been a surreal week for me."

The confusing thing about Bennett's situation is that he unloaded on Green Bay's team doctor for trying to force him to play through a "major injury," yet now he is content foregoing surgery to play for New England. Bennett admitted that has something to do with "vengeance."

"After trying to get (the shoulder surgically) fixed and getting waived, you've got that vengeance in your heart like, 'All right, that's how you're going to do it? (Expletive) it, let's go ball,'" he said.

With another weapon now at their disposal for Tom Brady, the Patriots may have once again found themselves in the right place at the right time.

http://larrybrownsports.com/football/martellus-bennett-going-to-retire-bill-belichick-called/409086
---
Walmart Mocked The Atlanta Falcons With These Perfectly Priced Coolers



With a little over two minutes remaining in the third quarter of Super Bowl LI, the Atlanta Falcons had a 28-3 lead over the New England Patriots and looked well on their way to winning the franchise's first-ever championship. However, the Patriots had other ideas. The team managed to pull off one of the most incredible (although not the most incredible) comebacks in the history of the sport and went on to win the game in overtime after scoring 31 unanswered points.

Even if the Falcons went on to win the next five Super Bowls (which doesn't seem very likely based on their mediocre performance so far this season), it's likely they'll never be able to live the loss down. After the game, the internet immediately turned "28-3" into a meme, and the Falcons have since been mocked by other teams (including the Patriots).

You'd think by this point people might be ready to move on to another joke, but it seems like making fun of the Falcons for their loss will never really get old. Someone snapped a picture of a stack of Falcon-branded coolers at Walmart, and while there's a chance the Everyday Low Price pictured here was picked at random, something tells me that isn't the case.



Imagine being an unsuspecting Falcons fan who was just looking to pick up a pair of reasonably priced cargo shorts and a package of tube socks only to run into this display and immediately have flashbacks to the worse loss you'll ever experience. No one deserves that fate. No one.

http://brobible.com/sports/article/atlanta-falcons-walmart-coolers/
---
Jim Irsay, Colts Could Face Fraud Lawsuits From Season Ticket Holders Over Andrew Luck's Injury



As any Indianapolis Colts fan will tell you, (or anyone who owns him in fantasy football) Andrew Luck's mysterious inability to heal and return to the Colts' starting lineup has been a real point of contention this NFL season.

Luck, who underwent shoulder surgery in the offseason to repair damage he suffered in 2015, was initially reported to be good to go for the start of the 2017 NFL season by Colts owner Jim Irsay way back on January 19th (before season tickets had been purchased).



Fast forward to October 3rd and Luck still hadn't played a single snap in the regular season, but according to Colts coach Chuck Pagano on his radio show, "He's making great progress."

Since then, Luck has been officially place on injured reserve and is reportedly seeking treatment on his surgically repaired shoulder in Europe, according to ESPN.

Yet somehow, through all of this, Jim Irsay and other Colts officials have continuously claimed that Luck was going to play this season, making them ripe for a lawsuit from season ticket holders, reports Pro Football Talk…

As we now know, Luck won't play in 2017. And so the question becomes whether Irsay was accidentally or deliberately inaccurate in January, when he made a promise that Luck "will be ready for season!" before fans had to decide whether to buy an expensive package of two preseason and eight regular-season game tickets that would allow them to enjoy the exploits of Andrew Luck.

Even without the Colts saying anything more, the circumstances reveal sufficient evidence to launch a class action on behalf of all season-ticket holders, on the basis that they were falsely induced to buy the tickets under the premise that Luck will play. Other things said by the Colts only strengthen that potential claim.
In a rather surprising move, Colts G.M. Chris Ballard gave an interview recently with Dan Dakich of 1070 The Fan, where he made the glaringly obvious false statement, "There's not been one point where we've said or put a timeline on this."

Dakich also claims that at one point in this process Luck sent a text to someone who showed it to a member of the media Dakich is familiar with that read, "I'm nowhere near ready. They're putting me out here to sell tickets."

Ballard's response was that for "anybody to say that Andrew made that text or made that remark, I would say that's a fabrication on their part."

Whether Luck ever plays for the Colts again, or for that matter, any team in the NFL still remains to be seen.

http://brobible.com/sports/article/irsay-colts-fraud-lawsuits-luck-injury/
---
Cam Newton's pre-game Veterans Day-themed cleats for 'MNF' are straight fire



Many players across the NFL and in college football showed their appreciation for the United States military men and women who serve and who have served this Veterans Day weekend. Cam Newton, preparing to play on Monday night, brought out some extremely patriotic kicks that look amazing, too.



That's an awesome cross between the American flag and what appears to be a bald eagle, which of course is the U.S. national emblem.

It's a shame the NFL doesn't let players wear cleats like this during the games on a regular basis. But we'll take what we can get, when we can get it.

Also, from all of us here, God bless all of you who have served and who continue to serve our great nation in the United States Armed Forces.

https://sportsnaut.com/2017/11/cam-newtons-pre-game-cleats-mnf-straight-fire/
---
Matt Kalil being charged after restaurant he owns was busted serving beer to minor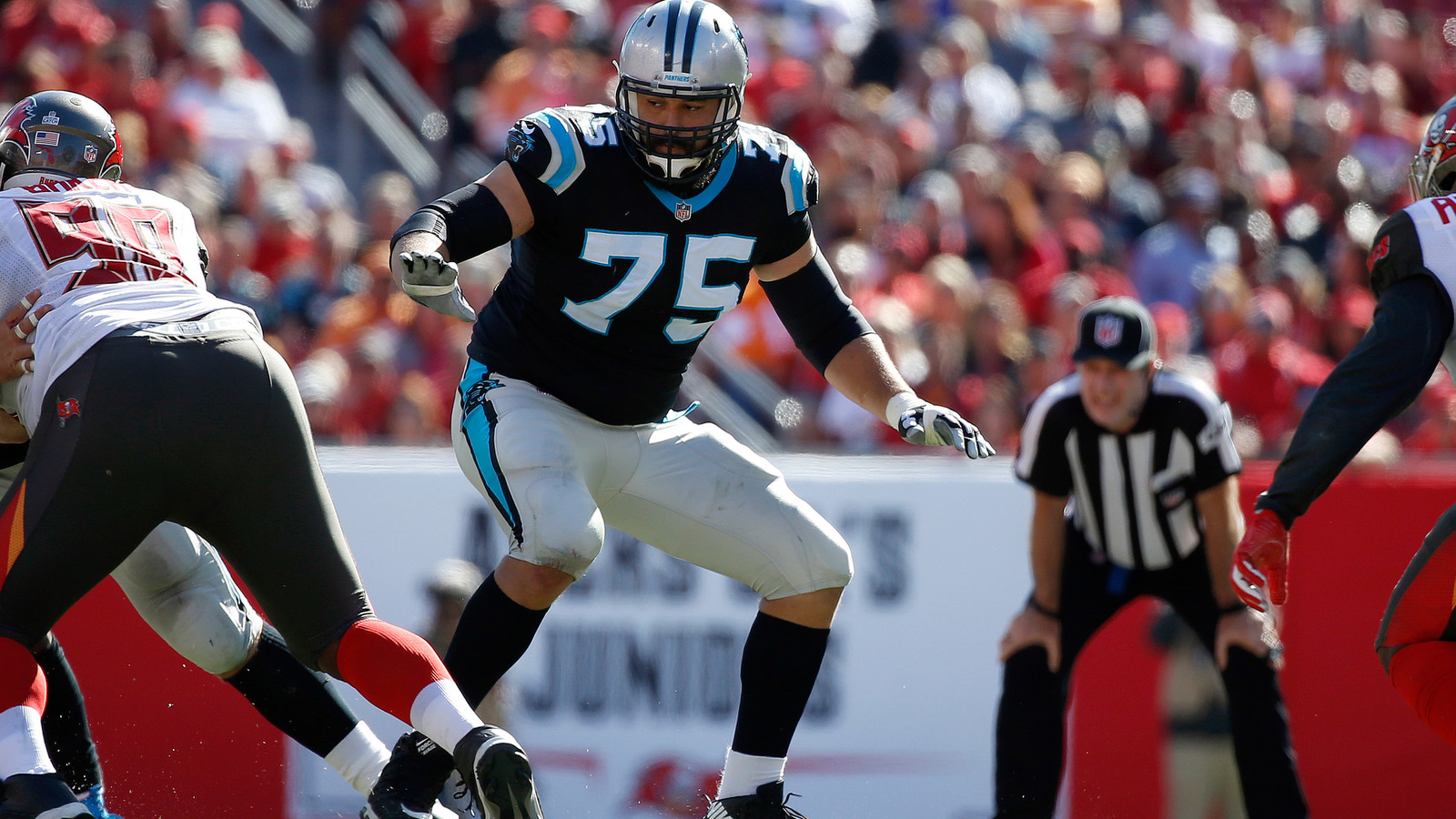 Carolina Panthers offensive tackle Matt Kalil owns a restaurant called Pieology Pizza in Maple Grove, Minn.

The former Minnesota Vikings player has been charged as the responsible party after this restaurant was busted serving alcohol to a minor, per Paul Walsh of the Star Tribune.

Even though Kalil was nowhere near the restaurant when the infraction occurred, he's being held responsible for it. He's been summoned to appear in court on Dec. 15 for arraignment, per the report.

Per the charging document, a 17-year-old employee served beer to a 19-year-old customer on Oct. 26. That's when a police officer reportedly "intervened, confiscated the beer and called the general manager and told her of the illegal sale."

The general manager of the restaurant said the employee hadn't been properly trained. (who's fault is that....the GM's?) "In order to charge the proper person," the court filing continued, the officer determined that Kalil was the owner and is "the defendant" responsible for the sale.

Kalil and the Panthers are currently preparing for a Monday night battle against the Miami Dolphins at home.

https://sportsnaut.com/2017/11/matt-kalil-charged-restaurant-owns-busted-serving-beer-minor/
---
Roethlisberger: NFL needs to do away with Thursday games



The Seattle Seahawks came out in force to condemn Thursday night games after Richard Sherman was lost for the season in Week 10. Now looking ahead to his own Thursday night game, Pittsburgh Steelers quarterback Ben Roethlisberger wants the NFL to get rid of these mid-week contests.



It's hard to argue against Roethlisberger's logic. Football is a brutally violent sport, especially these days. The athletes playing the game are all of the highest quality — veritable fine-tuned machines of physical mayhem — who run and hit faster and harder than ever before.

Even with a full week in between games, it's a brutal grind every season.

Then throw in a short week, when players are getting just three days to not only rest their battered bodies but also prepare their minds for a new game plan, and it's very tough. That's a huge reason why so many Thursday night games are just crap to watch. It's hard to execute sharp game plans when you're still exhausted.

The NFL won't likely make any changes. There is money to be made, and fans still do tune in to watch, even if it's an inferior product. Still, the league should shut these games down, especially if it wants anyone to take it seriously about player safety

https://sportsnaut.com/2017/11/ben-roethlisberger-sounds-off-thursday-night-games/
---
Bengals player says officials have been cursing at, antagonizing Vontaze Burfict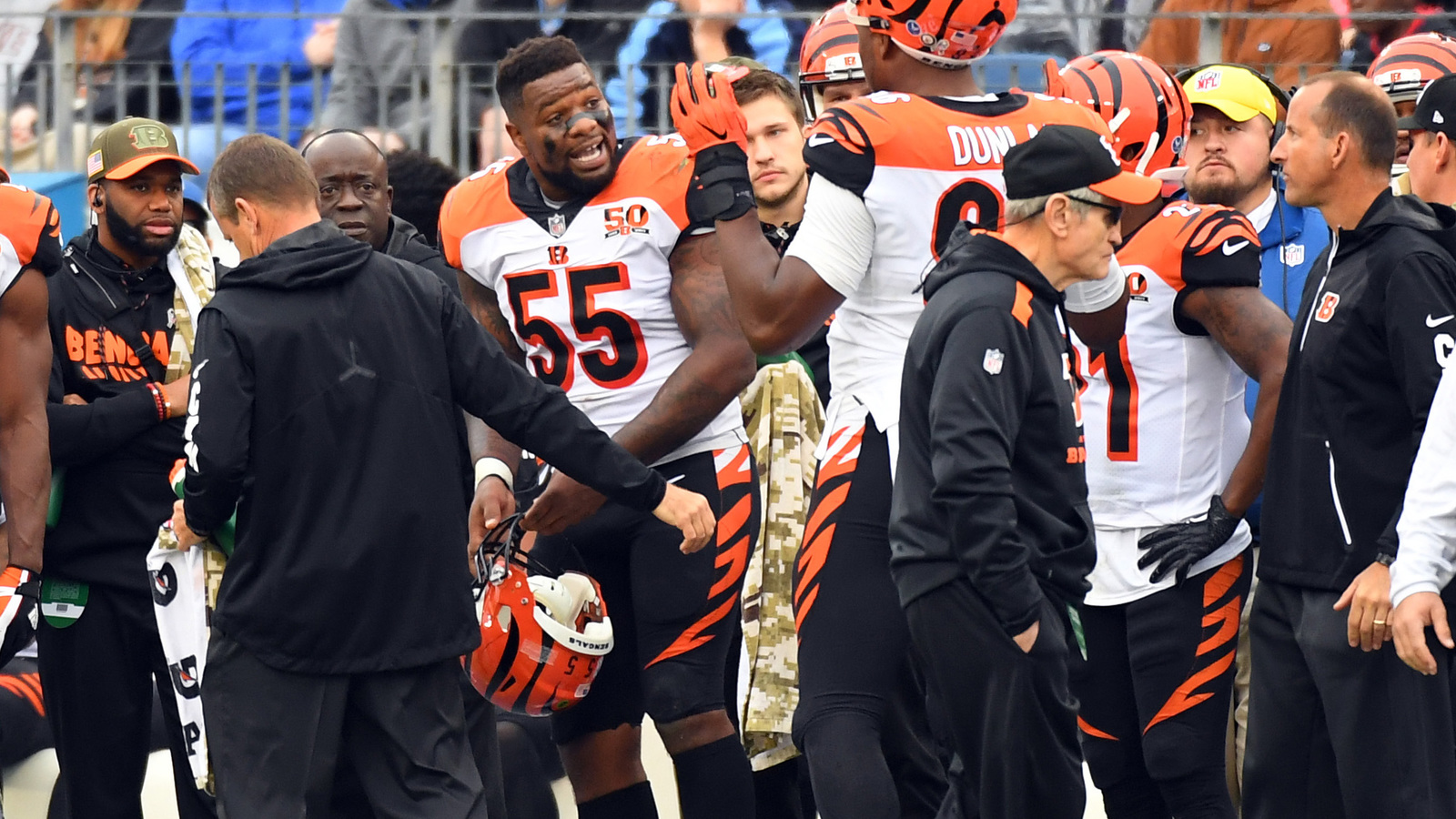 Vontaze Burfict has a reputation for committing dirty plays and racking up personal fouls, but one of his teammates feels the linebacker has been treated unfairly by NFL officials in recent weeks.

A Cincinnati Bengals player who chose to remain anonymous told ESPN's Adam Schefter on Monday that Burfict has been provoked by NFL officials at least three times in the past four games. The player claims he has witnessed officials cursing at Burfict on multiple occasions, and he says there is video that shows officials initiating contact with the linebacker at least three times over the last month.

A source close to Burfict told Schefter that Vontaze feels he is being singled out by officials during games and is growing frustrated. Burfict has complained to Bengals head coach Marvin Lewis, who is part of the NFL's competition committee, but Lewis has not logged any complaints with the league.

According to Schefter, officials made contact with Burfict in Cincinnati's Oct. 22 game against the Pittsburgh Steelers, on Nov. 5 against the Jacksonville Jaguars and again on Sunday vs. the Tennessee Titans. An NFL spokesman denied that officials have been antagonizing Burfict and said there has been nothing unordinary about any physical contact that was made with the veteran.

Burfict is not expected to face a suspension after he was ejected from Sunday's game for picking up two personal fouls, the second of which was for making contact with an official. The first flag was thrown after Burfict bumped DeMarco Murray out of bounds, and video replay showed that the contact was pretty minor.

It will be interesting to see if the NFL decides to fine Burfict. While he has lost the benefit of the doubt and is known for being a dirty player, it did seem like he was treated unfairly against the Titans.
http://larrybrownsports.com/football/bengals-player-officials-antagonizing-vontaze-burfict/409142
---
Beasley defends Prescott over Philly reporter's criticism



The Dallas Cowboys played their first game of the season without Ezekiel Elliott on Sunday, and they are hoping it was not representative of what the next five are going to look like. Dak Prescott struggled in the 27-7 loss to the Atlanta Falcons, and one NFL reporter does not think that was a coincidence.

Philadelphia-based reporter Howard Eskin feels that Prescott's success early in his NFL career has been linked to Elliott's dominance in the running game.



It might be unfair to conclude that Prescott is "not that special" without Elliott, especially since Sunday's game was only the second that the two were not on the field together. That doesn't mean Eskin is wrong, but Cowboys receiver Cole Beasley certainly disagrees with him.

"This is the dumbest s— I've ever heard," Beasley wrote in response to Eskin's tweet. "Dak is that dude."

Eskin didn't back down:

If Dak is that Dude he should be better at felling and reading the pressure. Easy to give him a pass because of OL injury. Prescott not same guy without running game. The #cowboys got SMOKED by an ordinary #falcons team. See ya next week. @SportsRadioWIP https://t.co/OczQT8YiOU
— Howard Eskin (@howardeskin) November 13, 2017

Prescott completed 20-of-30 passes for 176 yards and no touchdowns, and the entire Dallas offense looked out of sync. Elliott is an incredible talent and a focal point for the Cowboys, so adjusting to his absence will take time. If Prescott is truly nothing special without his star running back, Dallas is going to have trouble staying in the playoff hunt.

Fortunately for Eskin, Beasley isn't quite as animated on Twitter as his wife. If that was the case, there would have been more than just one curse word.

http://larrybrownsports.com/football/cole-beasley-defends-dak-prescott-against-philly-reporter/409088
---
Mike Zimmer vague when asked about Vikings' quarterback plans



The Minnesota Vikings have an unclear situation at quarterback, and coach Mike Zimmer isn't shedding any light on it just yet.

Even after Case Keenum threw for four touchdowns against the Washington Redskins, Zimmer characterized the quarterback situation as "day-to-day" with Teddy Bridgewater looming.

"I've got a plan, and we'll just see how it goes," Zimmer said, via ESPN's Courtney Cronin. "Sometimes plans change. We'll see how it goes, and we'll sit down this week, and we'll visit about it and go from there."

Keenum also threw two interceptions, which did not help his cause. Couple that with the fact that Bridgewater is apparently looking very good in practice and you have a recipe for a potential quarterback change — even though Keenum has the Vikings in first place.

http://larrybrownsports.com/football/mike-zimmer-vague-vikings-plans/409097
---
Kyle Shanahan: 49ers 'don't have a plan' yet to start Jimmy Garoppolo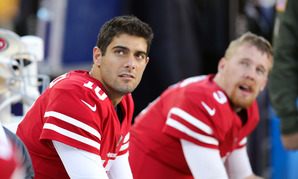 San Francisco 49ers quarterback Jimmy Garoppolo may still be waiting a bit to make his debut with the team.

While it had been widely assumed that Garoppolo would step in after the Niners' Week 11 bye, C.J. Beathard's strong performance against the New York Giants on Sunday may have thrown that plan out the window.

As for coach Kyle Shanahan, he is certainly making no public pronouncements about Garoppolo.

"That's not my plan," Shanahan said of bringing Garoppolo in after the bye, according to Scott Ostler of the San Francisco Chronicle. "I don't have a plan yet. There's no way anything you guys hear reported could be accurate, because I just told you guys our plan."

It sounds like reports like this are premature, then. Perhaps they weren't, but after Beathard threw for 288 yards and two touchdowns againts the Giants, it would be pretty hard to bench him immediately.
http://larrybrownsports.com/football/kyle-shanahan-49ers-plan-jimmy-garoppolo/409102
---
Chip Kelly to Florida 'picking up serious steam'

The University of Florida's football team will have a new head coach sometime in the near future, and we shouldn't be surprised if that coach is Chip Kelly. At least, that's the buzz right now.

On Sunday, a report emerged that Florida was vetting Kelly. Yahoo Sports' Pete Thamel wrote that Florida has begun vetting Kelly by making "calls to NFL executives to do general background on Kelly and exploration of his NCAA issues at Oregon."


Following up on that, now another report by Benjamin Allbright suggests the buzz is only gaining steam.

Kelly in the SEC is an intriguing proposition. The former Oregon head coach who jumped into the NFL ranks with stops in Philadelphia and San Francisco is known for his offensive mind. However, his offense tends to leave his defense out in the cold. And since, traditionally, the SEC is a defensive haven, it remains to be seen if his coaching strategy would be a good fit.

Still, given Florida's problems on the offensive side of the ball this year and in the past few years under Jim McElwain, perhaps this is just what the doctor ordered.

During his tenure at Oregon, the Ducks were an annual powerhouse on the offensive side of the ball, and he posted a record of 46-7. Kelly also engineered two bowl wins and took the Ducks to the BCS Championship Game after the 2010 season, losing to the Auburn Tigers by the score of 22-19.
https://sportsnaut.com/2017/11/report-chip-kelly-florida-picking-serious-steam/
---
UCF president hilariously, fiercely territorial about HC Scott Frost

The UCF Knights are one of the hottest, and are certainly the most underrated, teams in college football today under head coach Scott Frost.

The former NFL safety and pupil of Chip Kelly's at the University of Oregon has the Knights undefeated heading into Week 12. Considering UCF went 6-7 in his first year, and considering his meteoric rise the past handful of years to begin with, it's not surprising the coach is being seen by many as a logical upgrade for some of the top schools in the nation.

One of those schools is reportedly Nebraska, which won't fire Mike Riley until after the season per AD Bill Moos. According to Ryan Connors of Landof10.com, the Cornhuskers are hot on the trail of this young coach next year, however.

Another school that could potentially reach out to Frost is in his own backyard. Florida is in need of a replacement after parting ways with Jim McElwain. However, UCF president John Hitt takes issue with anyone looking to poach his guy.

Rather hilariously, we might add.


Chip Kelly is reportedly another hot name for the Florida gig, so president W. Kent Fuchs' dogs are probably in the clear…for now.

It's inevitable that Frost will end up moving on, however. He's got the Knights running at top gear, featuring the highest-scoring offense in the nation. That type of heat doesn't fade quickly, and we won't be shocked if Frost is signed rather quickly to a top program before this winter is through.
https://sportsnaut.com/2017/11/ucf-president-hilariously-fiercely-territorial-hc-scott-frost/
---
Mariota dealing with sore shoulder, mild ankle sprain

Tennessee Titans quarterback Marcus Mariota sure does have a hard time staying healthy. After missing a game earlier in the year with a hamstring injury, Mariota is now dealing with a sore shoulder and mild ankle sprain.

Thankfully, it doesn't appear these injuries will keep Mariota from suiting up again in Week 11.



That said, he's already banged up, and Tennessee's game this week is on short rest. It's also on the road against a very tough Pittsburgh Steelers defense that's been getting to the quarterback with regularity (29 sacks, tied for second in the NFL).

Needless to say, both Mariota and the Titans will have to be careful monitoring his health in this upcoming game.

The Titans, at 6-3, are tied with Jacksonville atop the AFC South. But the team's success very much depends on its quarterback staying healthy. Behind Mariota, Matt Cassel and Brandon Weeden are about as threatening as a Golden Retriever pup.
https://sportsnaut.com/2017/11/marcus-mariota-dealing-sore-shoulder-mild-ankle-sprain/
---
True Love! Grete Has RG3's Signature Tattooed Down Her Forearm



Love is beautiful! Oh, these two crazy kids! Ever since they met it's been a whirlwind romance for these two. They met. He got her name tattooed on him the next month

He proposed to his pregnant baby momma




And now she has his name down her arm. #Goals amiright, fellas?

https://www.barstoolsports.com/dmv/true-love-greta-has-rg3s-signature-tattooed-down-her-forearm
---
Singletary interviewed for unknown position with Browns

Mike Singletary was, for reasons unknown, reportedly in Cleveland last week interviewing for a position with the Browns that has yet to be divulged.



Singletary is one of the NFL's most legendary linebackers and a Pro Football Hall of Fame inductee. He's also an underrated linebackers coach who tried his hand at being a head coach with the San Francisco 49ers from 2008-10, when he tallied a record of 18-22 before being replaced by Jim Tomsula for one game at the end of 2010 and then Jim Harbaugh, who was hired in 2011.

Nobody would say Singletary was particularly effective during his tenure with the 49ers, but he's coached some awesome linebacker groups in the past with San Francisco and Baltimore, where he coached Ray Lewis and Co. from 2003-04. After taking a couple years off between 2014-15, Singletary was a defensive assistant with Jeff Fisher's Los Angeles Rams last season.

The defensive coordinator last year in Los Angeles was Gregg Williams, who's now the lead defensive coach in Cleveland. So perhaps Singletary is looking to hop on board and help Williams out once again.

He's best known as a coach for a legendary rant he had after sending Vernon Davis to the locker room during a blowout loss to the Seattle Seahawks in 2008.

"I will not tolerate players that think it's about them when it's about the team," Singletary said. "We cannot make decisions that cost the team and then come off to the sideline and its nonchalant! No. You know what? This is how I believe. I'm from the old school. I believe this: I would rather play with 10 people and just get penalized all the way until we gotta do something else. Rather than play with 11, when I know that right now that person is not sold out to be a part of this team. It is more about them than it is about the team. Cannot play with them. Cannot win with them. Cannot coach with them. Can't do it. I want winners! I want people that wanna win!"

Obviously, the Browns have had a hard time winning. Since Hue Jackson took over in 2016 the franchise has gone 25-1. So it couldn't hurt to bring in someone who can spit fire and put the fear of God into players like Singletary can.

https://sportsnaut.com/2017/11/report-mike-singletary-interviewed-for-undetermined-position-with-browns/
---
Tennessee State DL expelled for knocking out coach during game



Tennessee State defensive lineman Latrelle Lee wasn't just kicked off his team for his actions during Saturday's game, but he was actually expelled from school.

Lee was caught on video knocking out the team's strength coach on the sidelines of the team's 23-20 win over Southeast Missouri State.



According to The Tennesseean, T.J. Greenstone is the team's strength coach, and his responsibilities include serving as the "get-back coach" during games. That means he tries to keep coaches and players who aren't in the game off the field to avoid a penalty. Lee, who had 18 tackles this season, was seen clocking Greenstone in the head, knocking him to the ground.

Lee is a senior from Dothan, Ala. His athletic profile says he was on the conference commissioner's honor roll.

http://larrybrownsports.com/college-football/tennessee-state-latrelle-lee-expelled/409266

---
Philip Rivers in NFL concussion protocol



On Monday, Los Angeles Chargers head coach Anthony Lynn announced Philip Rivers has been placed in the NFL's concussion protocol.

He said he doesn't know when Rivers was injured and that he found out about it on Monday morning. Lynn also said Kellen Clemens will play Sunday against the Buffalo Bills if Rivers isn't cleared to play.



Rivers played the entire game Sunday against the Jacksonville Jaguars, which extended into overtime. He completed 21-of-37 passes in the game — a 20-17 loss — for 235 yards with two touchdowns and one interception.

The Chargers dropped to 3-6 on the season with the loss and are tied with the Denver Broncos at the bottom of the AFC West.

https://sportsnaut.com/2017/11/philip-rivers-concussion-protocol/
---
Andy Reid reveals formula for bye week success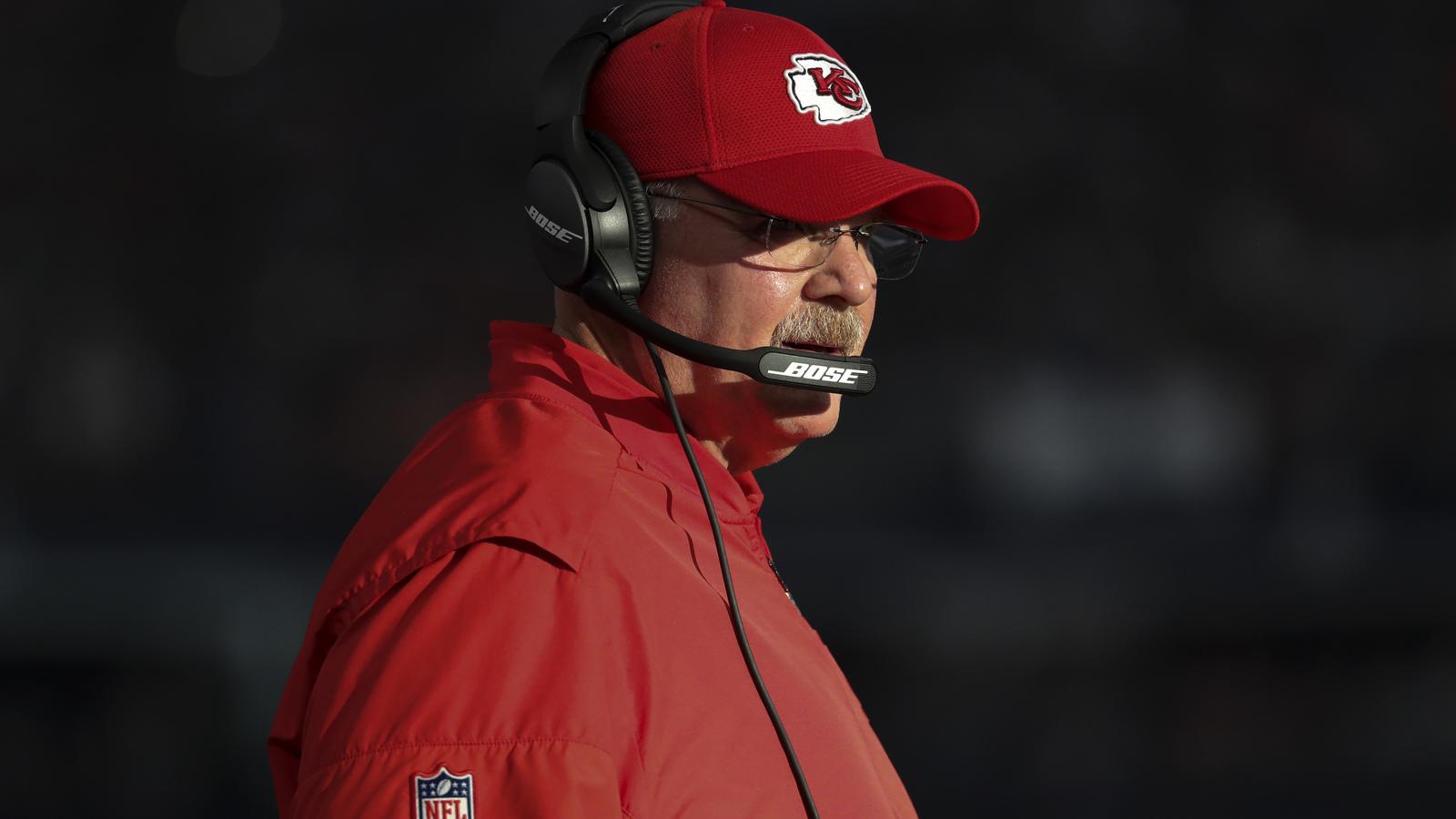 It's no secret that Andy Reid and Bill Belichick are the best in the business when it comes to coming off the bye week.

While some of the league's upper-echelon teams — such as the Steelers in their Week 10 matchup against the Colts — have shown the tendency to come out of the bye week looking sluggish and out of sync, Reid's squads have done quite the opposite over the years.

Reid is 16-2 in his career coming off the bye week, and his Chiefs have a great shot to add to that mark in Week 11, as they're set to face the reeling Giants.

The Chiefs head coach was asked about the secret for his bye week success by reporters on Monday, and here's what he had to say.

"Well listen, I love every day of it – I come to work and I'm fired up to have an opportunity to coach in the National Football League," Reid said, via Matt McCullen, who writes for the team's official website. "You can ask me that almost every day and I'll tell you that I enjoy getting in here. If it's after a loss, you want to get it fixed and it's a challenge. If you're winning, it's still a challenge, you're still very critical of what you've done as a coach and you try to make yourself better as a team collectively."

Whatever Reid is doing, it's worked for him. There's no reason to change his formula at this point in his career, and it'd be a shock if he isn't sporting a 17-2 record coming off the bye week after Sunday's game against the Giants.

http://thesportsdaily.com/the-sports-daily/andy-reid-reveals-formula-for-bye-week-success/
---
How James Franklin destroyed Saquon Barkley's Heisman bid



"He's the best player I've ever been around." Those are the words spoken by Penn State head coach James Franklin to describe Saquon Barkley earlier this year.

Truer words have never been spoken. Barkley does things on the football field that nobody else can do (like this).

He has the size — 5-foot-11 and 229 pounds — to run with power between the tackles. He has the power to finish off those runs when given a lane. He also has the kind of game-breaking speed that you just cannot coach (watch here).

Because of his many exploits, Barkley has been one of the most popular players in all of college football.



Barkley is also so good that people who cover the NFL are trying to convince themselves he's NOT worthy of being taken No. 1 overall. Because, to the eyeball test, he checks off every single box. And we suspect he'll put stats up at the 2018 NFL Scouting Combine that will leave coaches needing cold showers.

So, James Franklin has this player who is incomparable at the collegiate level. A player who's so good at least one scout says Ezekiel Elliott doesn't hold a candle to him. A player even Elliott himself said "is unreal."

Yet time and time again this year, Franklin has made Barkley into a secondary figure in his offense. Which is strange, because he leaned heavily on Barkley last year, and (shockingly!) it worked. Barkley carried the ball 18 or more times in a game nine times and averaged 107 yards per game on the ground in 2016. Through nine games this year, it's happened just three times, and he's averaging just under 90 yards per game.

In the key games Penn State lost, Barkley was either not featured enough (Michigan State) or non-existent until it was too late (Ohio State).

Looking at the splits, it's even more clear Barkley is a secondary figure when you see he's not featured at the start or end of games. Of Barkley's 166 carries, only 70 have come in the first and fourth quarters. He's the fill-in guy Franklin uses when he remembers he has the best player in the nation twiddling his thumbs.



It's not like this has been an awful season for Barkley. He's totaled 1,459 yards of offense and accounted for 15 touchdowns, plus he's added 423 yards and two touchdowns on kickoff returns. That's pretty darn impressive.

But it's hardly as good as it could have been.

Franklin had a once-in-a-lifetime chance to help the best overall player in college football win the Heisman in 2017.

Instead, Franklin has seemingly done everything in his power to ensure Barkley doesn't win the most coveted individual award in college football by putting him in the back seat. And as a bonus, he also sunk his team's chances of winning a national title.

Featuring Barkley and winning a title should have gone hand-in-hand. Instead — and no offense intended to Trace McSorley, who's a fine player — the team's offense and playoff hopes have been wasted in what will almost certainly be Barkley's final year at the collegiate level.

https://sportsnaut.com/2017/11/james-franklin-destroyed-saquon-barkley-heisman/

---
Mike Riley delivers head-scratching quote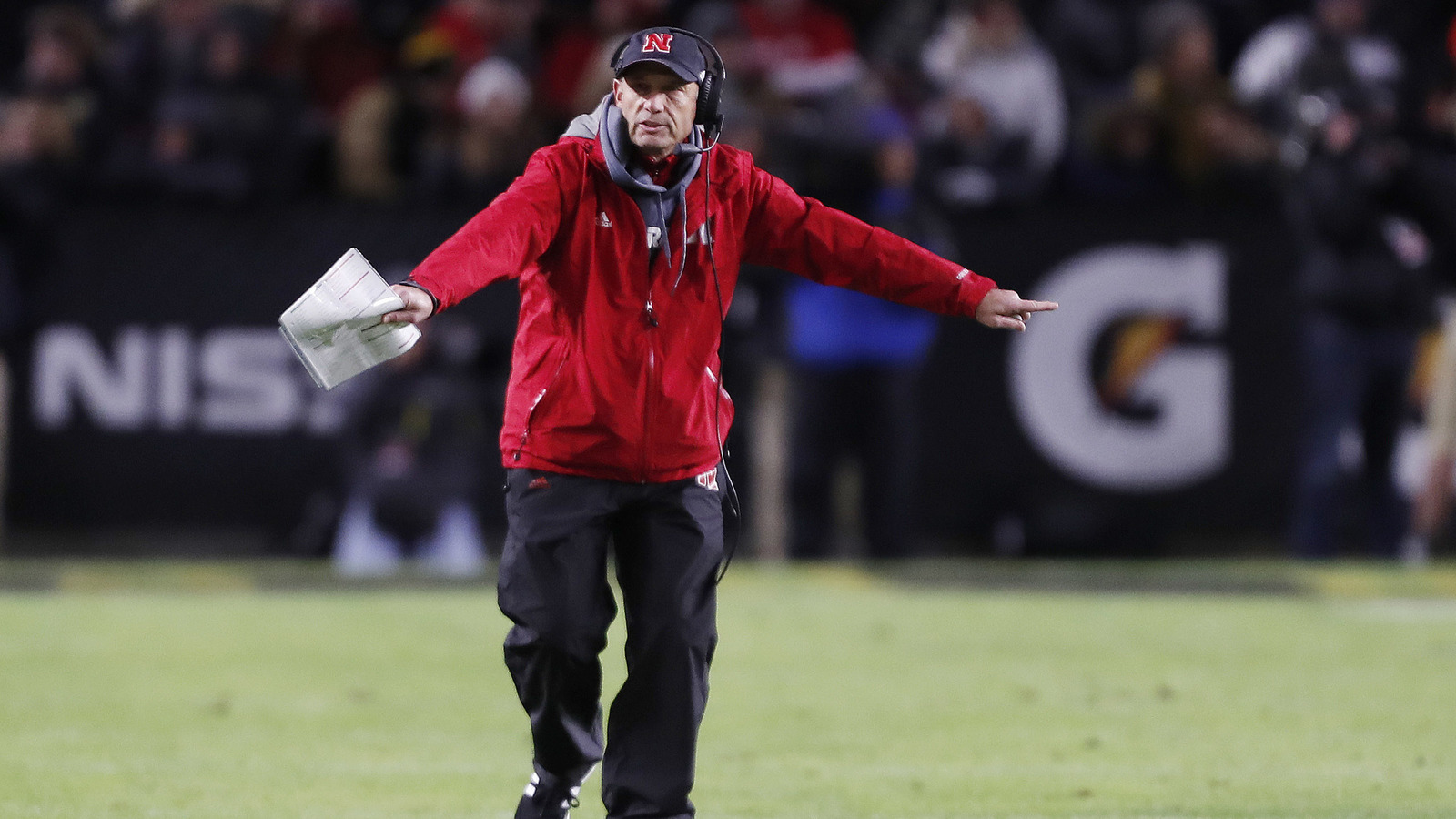 Nebraska head coach Mike Riley delivered a head-scratching quote during his Monday press conference.

Amid calls for his job, Riley expressed support of his 4-6 Cornhuskers.

"I love this team," Riley said, via ESPN. "I love our approach every week. We have had very few issues, except for the games. And I appreciate that, the work that they try to do to get ready. I'm positive that the fans will forever love their team."

Hmm, that sure is something. They've had very few issues, except for the games? You mean the most important thing?

Yeah, having players stay out of trouble and do well in class is important, but so is winning, especially at Nebraska. As someone said, that's like saying a restaurant is good except for the food. You're missing the most important ingredient, Mike.

http://larrybrownsports.com/college-football/mike-riley-delivers-head-scratching-quote/40925
---
This CFL Touchdown Celebration Just Raised The Bar



I haven't watched a CFL game since the last time I was in Canada which was probably 2 or 3 years ago. It's a fine sport to watch when the NFL isn't on and it appears that things are getting better by the day, at least in terms of showmanship.

The CFL Playoffs are currently happening and this touchdown celebration from the Ottawa Redblacks has gone viral. When I said (in the headline) that this TD celebration has raised the bar I meant that both literally and metaphorically:



Now that team-wide touchdown celebrations are acceptable in the NFL it's only a matter of time before we see something on this level. We simply cannot let the Canadian Football League outdo us when it comes to TD celebrations. If need be, I propose signing these players to a contract just to provide some inspiration.

Sadly, for the Ottawa Redblacks, this was the high point of the game. As noted on Deadspin, after this TD the Redblacks didn't score again until the third quarter and ultimately fell to the Saskatchewan Roughriders. This was the East Division Semifinals and the Redblacks were sent packing after busting out the most inspired TD celebration of 2017. Am I wrong for thinking there should be an offseason workshop for TD celebrations where players can pay $$$$ to work with a choreographer? This should happen.

http://brobible.com/sports/article/cfl-touchdown-celebration-best-ever/
---
Top picks for every major college football award



The regular season is winding down, which means it's time to start thinking about college football awards.

The Heisman race is in full swing, but that's not the only big one up for grabs. There are countless trophies that have to find a home. It's time to start thinking about those as well.

Here are our picks for every major college football award.

Heisman Trophy: Baker Mayfield, quarterback, Oklahoma

After the last two weeks, it's hard to see anyone but Mayfield taking home the biggest award in sports. The senior put up nearly 600 yards in a must-win game at Oklahoma State, then turned in a three-touchdown performance against the Big 12's best defense in TCU. Mayfield currently ranks second in the country in overall passing yards and first in both completion percentage and yards per attempt. Normally, you see an inverse relationship between completion percentage and yards per attempt, but with Mayfield it's the opposite. Barring utter collapse in the next few weeks, he'll win the Heisman.

Eddie Robinson Coach of the Year Award: Nick Saban, Alabama

Saban probably won't win this award. Lincoln Reily, Mark Richt and Kirby Smart all make up better stories and will get more attention when voting time comes. Not to mention Bill Clark taking UAB to a bowl game in the football program's first year since being resurrected. But Saban is college football's best coach. Nobody questions that, and as long as it's the case, he deserves the award every year. He's turned Alabama into a machine.

Even in a year where everything else is at peak crazy, the Crimson Tide are churning out wins at breakneck pace. Unless that changes, Saban has this scribe's imaginary vote.

Chuck Bednarik Award: Bradley Chubb, edge rusher, NC State

Chubb has established himself as the best edge rusher in the nation heading into the draft. As of now, the senior leads the ACC with an absurd 17.5 tackles for loss along with eight sacks. He gets in the backfield easier than any player in the country and has spearheaded an NC State defense that ranks top-40 in both run and pass defense S&P+.

There are no shortage of capable players who could win this — Alabama corner Minkah Fitzpatrick may be the favorite right now — but Chubb has been the best pass rusher in the country so far. He has the slightest of edges right now.

Biletnikoff Award: James Washington, wide receiver, Oklahoma State

A Big 12 receiver has won the Biletnikoff Award for the past two years. That isn't changing anytime soon. Washington has a conference-leading 1,158 yards already. He's averaging an absurd 21.8 yards per reception with nine scores. Washington is the best receiver on one of the best offenses in the country. He's Mason Rudolph's go-to guy, and Rudolph won't stop throwing him the ball anytime soon. Of every award on this list, this one may be the biggest lock right now.

Broyles Award: Brent Venables, defensive coordinator, Clemson

Venables won this award last year, which probably lowers his odds of doing the same this year. But like Saban, Venables is the best assistant in football. He's the mind behind what's been one of the best defenses in the country for years on end. Clemson's front-seven is the best wrecking crew in the country right now and there's no bigger reason than Venables. It's unlikely he wins this award for the second straight season, but that doesn't mean Venables isn't deserving.

Butkus Award: Malik Jefferson, linebacker, Texas

Jefferson has been a rare bright spot for the Longhorns this season. The junior has 61 solo tackles on the year, good for fourth in the country. Paired with 8.5 tackles for loss, four sacks, and solid coverage ability, he's one of the best all-around linebackers in the country. This award is far from a wrap, but Jefferson has to have the inside track right now.

Lombardi Award: Hercules Mata'afa, defensive lineman, Washington State

Picking between Chubb and Mata'afa was near-impossible, so we went with Mata'afa for this one despite having Chubb for the Bednarik Award. Mata'afa is an absurd talent. Just look at his game on Saturday against Utah: eight tackles, five tackles for a loss, and three sacks. That's likely the best game any defensive player has had this season. Mata'afa doesn't do that every week, but he wreaks havoc with regularity. Expect him to take home a defensive trophy this year whether it's the Lombardi Award or not.

John Mackey Award: Mark Andrews, tight end, Oklahoma

Andrews' numbers make him a near-lock for this one. He isn't just leading all tight ends in receiving yards, he's doing it by a huge margin. Andrews has 745 yards on the year. Second-place Adam Breneman is the only other tight end in the same area code, with 685. After that, third-place Jaylen Samuels is nearly 250 yards behind Andrews with 502. It's only fitting that the Big 12 take home every trophy having to do with the passing game, and Andrews should win this one with some ease.

Outland Trophy: Mike McGlinchey, tackle, Notre Dame

McGlinchey, a senior tackle, has been the linchpin of one of the best offensive lines in football. Notre Dame ranked fourth in adjusted line yards before Miami beat the Irish down on Saturday. That number will take a hit, however, the Irish still boast one of the best lines in football and McGlinchey is the biggest reason. He's adept when it comes to both run blocking and pass protection. In addition to being the Outland Trophy favorite, he'll likely be the first tackle taken in the 2018 draft.

Dave Rimington Trophy: Billy Price, center, Ohio State

The Buckeyes' line has been nothing special this year, but Price has put in a Herculean effort. The senior has been a perfect replacement for Pat Elflein in the middle of Ohio State's line. Like Elflein, Price will likely be one of the first centers off the board in the draft as well. He's squarely in the lead for this award.

Jim Thorpe Award: Minkah Fitzpatrick, defensive back, Alabama

Fitzpatrick has a great argument for the Bednarik Award, but even if he doesn't win that, as we predict, the Thorpe Award should be a lock. The junior has locked down every receiver he's faced this year. There's no better defensive back in the country. Assuming Fitzpatrick decides to come out for the draft this season, there's a good case for him being the first defensive player picked. He can play all six defensive back positions well. This award will only be the start for him.

Doak Walker Award: Saquon Barkley, running back, Penn State

Even with Barkley struggling in the last couple weeks, this award will still be his consolation prize for losing the Heisman. Despite his worst game of the year coming Saturday against Rutgers, Barkley still has 899 yards on the ground, 517 as a receiver, and 423 as a returner. In total, the junior also has 16 touchdowns. He's the most versatile running back in the country and Penn State can't win without him, however much Nittany Lion head coach James Franklin wants to try.

Lou Groza Award: Dominik Eberle, kicker, Utah State

Eberle has made 15-of-16 field goals so far this year. His 93.8 percent conversion rate leads the country. Moreover, he has yet to miss an extra point. A lack of overall points scored may diminish Eberle's case for this award, however, his accuracy is undeniably impeccable. That puts him in the lead for now.

Ray Guy Award: Michael Dickson, punter, Texas

Dickson leads the country with 48.6 yards per punt. Unlike Eberle, however, volume is unlikely to be an issue. Dickson has 57 overall punts so far, good for second in the Big 12. The only thing that could derail his chances of winning now is if the Longhorn offense gets going. In other words, he's got it locked up.

https://sportsnaut.com/2017/11/top-picks-major-college-football-award/
---
Coach O Used To Drink Styrofoam Cups Of Coleslaw As He Drove To Work As An Arkansas Strength Coach In The 80's..

.I Dare You To Find Me A Better Headline Than That.



There's no such thing as the perfect senten…………

"The ESPN broadcast is telling a story of Ed Orgeron's "pastime" of drinking styrofoam cups filled with coleslaw as he drove to work as Arkansas' assistant strength coach in the last '80s."

https://www.barstoolsports.com/barstoolu/coach-o-used-to-drink-styrofoam-cups-of-coleslaw-as-he-drove-to-work-as-an-arkansas-strength-coach-in-the-80s-i-dare-you-to-find-me-a-better-headline-than-that
---
David West Thinks Fans Have Turned Away From The NFL Due To How Kaepernick's Been Treated




NFL ratings have been one of the most discussed topics in sports at the moment. As TV ratings have hit a steady decline over the past two years, people have been wondering the cause for why they might be down. Among the many theories, including the most probable which is that TV viewership in general declining, the one that gets the most chatter is that the NFL is suffering from players protesting during the national anthem and fans being turned off of the product.

The protests, which began with 49ers quarterback Colin Kaepernick, have been a constant source of outrage and controversy since he began kneeling last year to shine a light on racial inequality and police brutality. Kaepernick has not played this year, but his message has grown and his form of protest has continued through other NFL players.

The Bay Area's NBA team, the Golden State Warriors, may be the NBA's big ticket attraction, but, as a group, they've never shied away from speaking their minds on current affairs and social issues. In that light, Warriors forward David West recently offered up a theory of his own on why the NFL ratings are sagging, and how it's the opposite of what most have suggested.

On a recent episode of the Warriors Insider Podcast on NBC Sports Bay Area, West surmises that part of the reason that NFL ratings are down is that people aren't watching because of how Kaepernick has been treated. He noted fans see the lack of quality quarterback play and the lesser players being signed ahead of Kaepernick, and believes that, as much as anything, fans have turned off the NFL because of Kaepernick's lack of employment and that fan is being ignored by the league.

"That idea is not being talked about enough," West said. "It's the other way around. They're saying people aren't watching the NFL because guys are protesting.

"I'm not sure that the numbers, if we really, really look at who's watching and who's not going, I'm not sure that those numbers are the way that they are projecting them to be, in my opinion. I think there are a lot of people who aren't watching because of the way Colin Kaepernick is being treated."

The veteran Warriors forward does have a point, in all of the hubbub about the fans that haven't watched a minute of the NFL, it's mainly highlighted fans who are ignoring the NFL because of the anthem protests. Rather than the fans who have chosen not to view because of the NFL's alleged blackballing of Kaepernick. One can assume that it's because the anti-Kaepernick crowd has chosen to be far more vocal, or because there may be a value judgement in thinking those that are pro-Kaepernick don't count equally.

Regardless, West does have a valid point that pro-Kaepernick fans have roundly been ignored when it comes to fretting over NFL ratings. Perhaps when the ratings book comes out at the end of the year and the demographics of who's not watching the NFL are in bold print, the powers that be will pay attention then.

http://uproxx.com/dimemag/david-west-nfl-fans-ratings-colin-kaepernick-treatment-warriors/
---
Kevin Durant Described His Argument With Draymond Green Last Year With A Hysterical Phrase


The Warriors are the NBA's best team for a number of reasons. The main one being that the team is made up of four All-Star caliber players, including a pair of former MVPs. However, part of why the four stars work together is due to their easily apparent chemistry.

The four stars all work in harmony on the floor and seem to genuinely enjoy playing with each other and sharing the ball, while also having fun with each other off the court. That isn't to say there weren't some growing pains last season during their first year together, with the most notable moment that caused mild panic, if you can even say that, about the team chemistry being Draymond Green and Kevin Durant ripping into each other on the sidelines during a loss to the Kings.

The two shrugged it off as just part of what happens when teammates care about winning, and they were proved right as there weren't any lingering problems throughout the season. On Monday, Durant was asked about that moment and had a hilarious way of describing the incident.

Reporter: That night in Sac, when he kind of, maybe, hollered at you…

Durant: Hollered at me. Ha! We grown men, ain't nobody hollerin' at me!

Reporter: …What word would you use?

Durant: Well, we motherf*cked each other. Hopefully everybody understands what that means. [laughs]

I don't think I've ever heard someone refer to an argument involving colorful language that way, but it certainly gets the point across about what went down. I'm not sure that phrase is going to catch on, but it definitely paints a vivid picture.

http://uproxx.com/dimemag/kevin-durant-draymond-green-argument-description-warriors-video/
---
Kevin Durant Caught Getting High with Girlfriend in Tow?




California has legalized recreational marijuana, and recreational dispensaries will be opening come January 1st 2018. In the meantime you need a recommendation letter from a doctor to legally carry any weed. Welp, looks like KD ain't tripping. Check out the Golden State Warriors superstar caught toking it up with a nice light skinned girlfriend riding shotgun. KD has earned his ring, and he certainly has earned the right to blaze.

http://terezowens.com/kevin-durant-caught-getting-high-with-girlfriend-in-tow/
---
Steph Curry Casually Kicked In A 70-Foot Three-Point Shot



If you've paid even the smallest amount of attention to the NBA in the past decade or so, then you're probably aware that Steph Curry is very, very good at basketball. Curry first burst onto the scene when he managed to take the 10th-seeded Davidson Wildcats to the Elite Eight during March Madness in 2008 and was eventually selected by the Golden State Warriors with the seventh pick in the draft the following year.

Since then, Curry has gone on to become one of the most dominant shooters in the history of the NBA. He has shattered the record for the most three-pointers in a season on three separate occasions— including last year, when he managed to rack up an insane 402 treys.

Curry might not be great at designing shoes, but he more than makes up for it by being insanely good at basically everything else. There are plenty examples of his prowess on the court— including the time he casually drained two half-court shots in the same game— but his latest achievement might be his most impressive yet.

Curry was shooting around at the Warriors practice facility last week when a ball rolled his way. He responded by nonchalantly kicking the ball in the general direction of the basket, and the end result is probably one of the most ridiculous "shots" you'll ever see.



Here's your latest reminder that you'll never be as good at anything as Steph Curry is at basketball. I'm sorry for ruining your day.

http://brobible.com/sports/article/steph-curry-kicks-three-point-shot/
---
Steph Curry's Sister Gets Engaged To D-Leaguer


The Curry's are all Ballers bow officially as his sister Sydel just got engaged to Damion Lee – who plays in the NBAs D-League. This comes to us via Instagram. "Thank you Jesus for this man. Thank you for your perfect timing. Tonight I said yes to the man of my dreams and I couldn't be more happy. I love you Damion Lee and cant wait to be your wife. Holy crap!!! #HappiLeeEverAfter omg omg omg omg omg omg omg. ❤️❤️❤️❤️❤️❤️❤️ #ForeverEver"
http://terezowens.com/steph-currys-sister-gets-engaged-to-d-leaguer/
---
LeBron James Annoyed The Hell Out Of A Commuter While Riding The Subway In NYC



Imagine being so rich that taking the subway is like going on a goddamn roller coaster. Phone's out, all smiles. LeBron has no idea about subway etiquette: shut your damn mouth, don't make eye contact with anyone, and avoid the empty subway car because a residentially challenged man shit in it. LBJ has been rich since before he could legally watch rated-R movies in theaters. He doesn't understand that for the rest of us peasants, the subway is a necessary evil that is uncomfortable, rickety, and as reliable as a drug dealer who's low on gas. For him, the subway is an opportunity to mingle with the common folk, who want nothing more than to be left alone before going home, zapping a microwave dinner, and watching that new show on Netflix that the wife really likes.

LeBron's in awfully good spirits for someone whose team has yet to string together back-to-back wins since the first two games of the season. Come to think of it: the Cavs, at 6-7, should not be allowed to take rich people transportation until they break .500 or above. Until then, the



LeBron said that was the second time riding the subway like a normal person. I've done a little deep dive journalism to obtain this photo of his first trip.



Ok, that's not him but my god if that dude isn't making a fortune impersonating LeBron, he is missing out on a cash cow.

http://brobible.com/sports/article/lebron-james-annoys-nyc-commuter/
---

The NYC Subway Guy Had No Idea It Was LeBron And Was Mad Because He Was Man-Spreading

By now you've probably seen the video of LeBron James and some of his Cavs teammates riding the subway in New York City on Monday. Thanks to that famous New York traffic, it was going to take nearly an hour to get back to the hotel after shoot-around, so LeBron and Co. decided to take a six-minute train ride instead.

It was LeBron's first time riding the subway in Manhattan, and it quickly became apparent that he could use some etiquette lessons, courtesy of real New Yorkers.

When LeBron tried to film the passenger sitting next to him with his phone, the man immediately pushed the phone away and asked him not to, launching a viral moment of his own. It turns out the man, James Michael Angelo, is a local real estate agent (and comedian), and he had a chance to tell his side of the story later on Monday.

Via Charles Curtis of For The Win:

Angelo claims he had no idea at the time it was James. As he told For The Win on Monday afternoon, all he knew was this: "I noticed a bunch of tall guys getting in the train, but I was listening to U2 and I didn't want to be filmed."

He thought it was a college basketball team. It was only when friends and fellow comedians started reaching out on social media that he realized what had happened.

"To be honest with you, they got on and they completely squished me and he was really unaware of his space," Angelo said.

The reason he didn't look too happy when the lens swung toward him? He said James's elbow nearly nailed him three times. Angelo said he asked James to watch where his elbows were going, to which one of James's Cavs teammates retorted, "It's cool!"

There's a lot to unpack here. First, he goes out of his way to specify that he was listening to U2, not just "listening to music on his headphones" or whatever. The life-affirming timbre of Bono's voice is clearly part of a sacred morning ritual that, if interrupted, could throw his whole day out of whack.

Secondly, LeBron allegedly committed the cardinal sin of man-spreading on the subway, which at 6'8 and 250 pounds for a first-time rider probably deserves a little bit of leeway. Finally, it's pretty incredible that Angelo thought LeBron and the Cavs were a college basketball team, considering he's one of the most famous people on the planet, but in New York I guess he's just another guy taking up space.

Nonetheless, this whole thing should give this guy some great material for his next stand-up routine.

http://uproxx.com/dimemag/lebron-james-subway-guy-new-york-city-explanation/
---
LeBron James Said His Knicks Draft Comment Was A Shot At Phil Jackson, Not Frank Ntilikina

LeBron James managed to spark controversy in New York over the weekend. It stemmed from comments he made in Dallas on Saturday night following the Cavaliers' game against the Mavericks.

James was asked about Mavs rookie point guard Dennis Smith Jr., who had 21 points, seven assists, and five rebounds in the game, and took the opportunity to praise Smith and also toss some shade the way of the Knicks. James said Smith was great and that he "should be a Knick," referencing New York passing on Smith with the eighth overall pick in the 2017 draft and allowing him to fall to Dallas at nine.

Those comments didn't go over well in the Knicks locker room, as Kristaps Porzingis and Enes Kanter were both quick to come to the defense of their rookie point guard Frank Ntilikina, the man taken with that No. 8 pick, and also question why James would even say that. It was a curious comment, considering James has no ties to the Knicks and it was just a random stray shot sent New York's way. Not to mention, it's generally not the norm for LeBron to speak ill of another player, especially a rookie.

On Monday, the Cavaliers face the Knicks in New York, and LeBron had some explaining to do at shootaround. When asked about the comment, James insisted he didn't mean it as anything negative about Ntilikina. Instead, it was a shot meant for former Knicks president Phil Jackson, with whom LeBron has a history.


"I wasn't throwing shade at Frank at all," James said. "People that got they pants in bunches, things of that nature in New York. They look for any controversy here. I was basically stating what I saw in Dennis Smith and what I saw of him coming out and watching the draft. I thought he would be a great fit here with Porzingis. That's not to say Frank won't be a great fit…it's the same as me thinking Deshaun Watson should be a Brown. It's not to say Myles Garrett won't be a great football player, but Deshaun Watson should've been our quarterback. It's not you sh*tting on the next guy. It's just you stating what you see. That's all that is for clarification for people who just live in the box, and for Enes Kanter, who's always got something to say. He says, I don't know what's wrong with him.

"Oh yeah, it was definitely a shot at [Phil Jackson]," James continued. "That's for sure. … It's no shade at Frank. I wasn't even thinking about the kid when I was talking about Dennis Smith. I was just thinking about the Knicks organization and Phil Jackson. And Dennis Smith's talent and Porzingis."

There were many that felt this was the case initially, but with Jackson gone, it's easy to see how this was misconstrued as an attack on their young point guard. Hopefully this will end any fears that LeBron is anti-Frank, but Knicks fans and the organization have to be pleased that Porzingis was so quick to stand up for his rookie point guard and not afraid to question the great LeBron.

As for LeBron's ongoing mini-feud with Phil Jackson, that certainly isn't going anywhere, although who knows if Jackson will ever even see those comments.
http://uproxx.com/dimemag/lebron-james-phil-jackson-knicks-dennis-smith-jr-frank-ntilikina/
---
LeBron James Is Tired Of How Enes Kanter's 'Always Got Something To Say'

LeBron James and the Cavaliers are having quite the Monday in New York. The entire team took the subway back to the hotel after shootaround because traffic was terrible, and that led to LeBron angering a fellow passenger for taking a video of him.

At shootaround, James had to explain that his comments about Dennis Smith Jr. and how he should've been taken by the Knicks, wasn't a slight at Frank Ntilikina, the player New York took at No. 8 over Smith, but was just a shot at Phil Jackson and him voicing an opinion on how good Smith is. James compared it to him thinking the Browns should have selected Deshaun Watson No. 1 overall last year, which isn't to say Myles Garrett won't be great.

However, that wasn't the only thing James had to say about the entire situation. As he continued on, he seemed frustrated it had become a thing at all as he clarified his comments for "people who just live inside a box, and for Enes Kanter, who always got something to say." Kanter, of course, was among those that took exception at LeBron's comments and came to his teammate's defense, along with Kristaps Porzingis.



James' exasperated sigh, head shake, and then saying he "didn't know what was wrong" with Kanter, coupled with the disgust in his voice when he says "Enes Kanter" tells you everything you need to know about how the King feels about the Knicks power forward. Kanter is certainly never afraid to chirp back at anyone, so don't be surprised if he has something to say prior to game time if asked about this, but in either case, Kanter must beware of a fired up LeBron. Just ask the Wizards.
http://uproxx.com/dimemag/lebron-james-enes-kanter-knicks-cavaliers-video/
---
Frank Ntilikina And Enes Kanter Both Tried Getting Into It With LeBron James

It's been a very interesting start to the week for LeBron James, even by his normal standards of news-making. The best basketball player on the planet is in New York to take on the Knicks on Monday evening and, before tip-off, there were numerous stories including two referencing rookie point guard Frank Ntilikina and veteran big man Enes Kanter.

On Monday, James took a shot at Phil Jackson through the prism of the selection of Ntilikina and, even if King James made it clear that it wasn't a negative reference to the young point guard, that provided some interesting fodder. Then, LeBron made it clear that he was tired of Kanter always having something to say and that was all before the game even arrived.

Seemingly on cue, James and Ntilikina were tangled up a bit in the first half and it was Kanter that came to the defense of the youngster.



This did not escalate beyond a bit of arguing and minor shoving but it was clear that Ntilikina wasn't going to simply back down at the sight of James. Kanter was also not prepared to let James' show of strength slide without incident and, while he was doing what a strong veteran should do, an incident like this involving LeBron certainly means big-time news.

There always seems to be something interesting when a team led by LeBron James invades New York and, this time, it wasn't an overwhelming chorus of positivity from the New York faithful.
http://uproxx.com/dimemag/lebron-james-frank-ntilikina-enes-kanter-knicks-video/2/
---
The Knicks Were Reminded Why LeBron Is The King During Cleveland's Huge Comeback Win



Having LeBron James means that you are never fully out of a basketball game. This is something that we have seen time and time again throughout his career. But every time his team is down late in a game, whether it was during either of his stints in Cleveland or his time spent in Miami, the team LeBron is on has a trump card that the other generally cannot match.

It doesn't get pulled out all the time, but on Tuesday night, the Knicks prodded LeBron and the Cavaliers ultimately responded. Blaming New York for wanting to send a message is understandable — the last few days of chatter regarding the Knicks passing on Dennis Smith Jr. for Frank Ntilikina has been kind of odd, even if LeBron swore it was a shot at Phil Jackson over everything else, plus the Knicks have been a surprise in the Eastern Conference this season and had the opportunity to show why against the three-time defending conference champs.

The Knicks even tried to get physical with LeBron in a way that seemed very, very calculated. Both Ntilikina and Enes Kanter tried to provoke LeBron, but it didn't lead to a fight or anything. The New York faithful in Madison Square Garden showered him with boos all game. The Knicks still managed to get under his skin to an extent, as he picked up a technical and the entire Cavaliers team just seemed off for three quarters.

Basketball is about what team is the best over four quarters, though, and in the game's final frame, LeBron decided to stop playing around. And a funny thing happens when he's locked in: Everyone on the Cavs seems to have a little more swagger, and every shot goes in a little more easily, and the defense gets ramped up to a level that it hasn't really been at this season.

When the fourth quarter started, New York held a 76-61 lead. Cleveland scored 61 points through three quarters, which for an offense as prolific as the one the Cavaliers boast is insane. At most, Cleveland trailed by as many as 23 points. Then, the basketball version of this happened.



The Cavs outscored the Knicks in the fourth quarter, 43-25. LeBron scored or assisted on 29 of those. Cleveland walked out with a 104-101 win, moving the team to 7-7 on the season. The Cavs haven't been great at the start of the season, but this feels like the kind of game that could be something of an early-season turning point.

If it's not, then it's our latest reminder of how LeBron is capable of doing this stuff every now and then. He played 36 minutes and had 23 points (on 7-for-14 shooting), 12 assists, nine rebounds, and three blocks. He was also locked in defensively, which led to this tremendous tweet.



And when the game needed to be won, the ball was in LeBron's hands. The reason he's so dangerous in these situations is he's usually able to find a wide open teammate for a game winning shot, but on Monday night, he called game.

We are 14 games into the regular season for the Cavaliers, and there's about a 10 million percent chance that LeBron will have a more impressive game than this one. This game still felt important, and looked like one of those classic LeBron games where he decides he's done with playing around and imposes his will on an opponent. It was as fun as ever, and if the basketball gods are kind, they'll give us a Cavs-Knicks series at some point in the playoffs, because getting somewhere between four and seven games between these two teams in the postseason would be incredible.

http://uproxx.com/dimemag/lebron-james-cavaliers-comeback-win-knicks-new-york/
---
LeBron James Sealed Cleveland's Comeback Win Over The Knicks With A Nasty Stepback Three



The New York Knicks led by as many as 23 points over LeBron James and the Cleveland Cavaliers on Monday evening at Madison Square Garden. While it wasn't shocking to see the Knicks competing against the Cavs given Cleveland's early-season struggles, it certainly was noteworthy for New York to seemingly be running away with a lopsided victory.

Then, in an instant, it wasn't a runaway and, in fact, it wasn't a Knicks win at all.

James and the Cavs made an impressive comeback in the fourth quarter, chipping away at a 15-point deficit at the start of the period until the best player in the world put an exclamation point on things. With 1:23 remaining in what was then a tie game, James isolated against Kristaps Porzingis and let it fly from beyond the arc.



The long distance connection from James gave Cleveland a lead they would never relinquish on the way to a 104-101 win and it capped a heroic performance from the legendary forward. LeBron finished the evening with 23 points, 12 assists and nine rebounds and, while it was not necessarily a singularly dominant effort, James did what James does in putting the game away down the stretch.

New York battled from wire to wire and nearly pulled off the upset but, in the end, it was LeBron James putting down a dagger in a way that you might expect.

http://uproxx.com/dimemag/lebron-james-cavs-knicks-comeback-kristaps-porzingis-video/
---
LeBron James Clapped Back After Enes Kanter Tried Making Fun Of His 'King James' Nickname



Monday night's game between the New York Knicks and the Cleveland Cavaliers featured (much) more drama than the average regular season contest in mid-November. Early in the evening, LeBron James was engaged in a bit of a dust-up with both rookie Frank Ntilikina and veteran big man Enes Kanter and that came on the heels of some interesting comments prior to tip-off. Then, James delivered the final blow in the form of a dagger three that gave the Cavaliers a hotly contested victory in Madison Square Garden.

Following the 48-minute battle, though, Kanter had some choice words for James and the Cavs, including a not-so-subtle reference to the "King James" moniker.



Kanter was quick to rush to the aid of Ntilikina during the first half skirmish and it is clear that he is not intimidated by James and the Cavs. Plus James made it clear earlier in the day that he was not a fan of Kanter.

This isn't the best look from a player after a loss, especially because the "Queen James" nickname has always been really gross. Given that New York blew a double-digit fourth quarter lead, Kanter's emotions were likely quite raw in front of the assembled media in this particular spot.

Moments later, James was asked about the comments and he took the high ride to some degree.



It is always noteworthy when an NBA player declares "we're going to fight" and "nobody is going to punk us" in the aftermath of a game. Still, this has the feeling of a beef that could linger for a while and, if it produces high-level entertainment like we saw on Monday evening, that is just fine.

http://uproxx.com/dimemag/enes-kanter-lebron-james-king-queen-princess/
---
Jeff Hornacek backs Frank Ntilikina standing up to 'best player in the game'



Jeff Hornacek liked what he saw from rookie guard Frank Ntilikina during the Knicks' loss to the Cavaliers on Monday.

During the first quarter, Ntilikina collided with James on his way up the floor after an alley-oop dunk by James. Ntilikina didn't appear to be intimidated by James in the least, giving him a shove before Enes Kanter came to the rookie's defense.

After the game, Hornacek liked that Ntilikina didn't back down in the situation. The Knicks coach said it was "good" Ntilikina stood up to the best player in the game.



Nitilikina may be just 19 years old, but he showed on Monday he's not going to be pushed around despite this being his first season in the NBA. That trait should endear Ntilikina to the Madison Square Garden faithful as he works on showing them the Knicks made the right choice selecting him No. 8 overall in this year's draft.

Ntilikina finished Monday's game with seven points, three rebounds, two assists, and six steals in 24 minutes.

http://larrybrownsports.com/basketball/jeff-hornacek-backs-frank-ntilikina-standing-up-to-best-player-in-the-game/409261
---
J.R. Smith Explains Why You Should Shoot The Ball Every Time You Get It

J.R. Smith doesn't need an excuse to jack up what most people would consider and untenable number of questionable shots. The crown prince of irrational confidence honestly believes that he shoots better with a hand in his face and actually prefers it, because it's more fun.



That's from back in 2015, so we didn't exactly require any further rationale behind his at times questionable shot selection. That said reporters can't help but ask him about it and his general lack of concern with the quality of a shot, because his response is inevitably going to be golden.

At shootaround at Madison Square Garden on Monday prior to the Cavs' game against the Knicks, Smith offered a pretty airtight argument that he learned from his father for shooting the ball every time you touch it.


Of course, there's an argument to be made that a bad shot is the same as a turnover, but let's not split hairs here. In a league that has progressively been moving toward spacing and ball movement, it's comforting to know that the glory of hero ball still exists in a few brave souls around the league.

So, you heard it hear first, kids. By certain labyrinthine lines of logic, shooting every time you touch the ball is actually helping your team. Don't let anyone ever tell you differently.
http://uproxx.com/dimemag/jr-smith-dad-shot-selection-explanation-video/2/
---
Paul George Celebrated Russell Westbrook's Birthday By Dropping 37 Points On The Mavericks

Russell Westbrook's 29th birthday was on Sunday. To celebrate, the Oklahoma City Thunder got him the best gift possible: a win. The Thunder beat the Dallas Mavericks, 112-99, to move to 6-7 on the year despite the fact that Carmelo Anthony had to sit out due to soreness in his lower back.


Whether it was in celebration of Westbrook's birthday or as a way to compensate for Anthony being out, Paul George had a big game. He had 37 points on 12-for-22 shooting with seven made threes, along with eight rebounds, five assists, and two steals. It was quite the way to celebrate a teammate's birthday, so much so that George said after the game that this was his gift for Westbrook, who scored 27 in the win.

George was in something of a joking mood after the game. He also touched on Anthony having to sit out with his sore back, cracking that the 10-time All-Star being sidelined meant more shots before breaking down how these types of injuries mean players need to step up.



Oklahoma City's win on Sunday marked the second time this season they've won back-to-back games, so it's not a surprise that George was in a pretty good mood. Plus as anyone who has ever worked with other people can tell you, you're required to be in a good mood when someone is celebrating a birthday.
http://uproxx.com/dimemag/paul-george-russell-westbrook-birthday-oklahoma-city-thunder/
---
Did Paul George Give A Hint About His Future During An Event In Oklahoma City?


The beginning of the 2017-2018 NBA season hasn't gone perfectly for the Oklahoma City Thunder. There are signs of optimism for the team led by Russell Westbrook, Paul George and Carmelo Anthony but a sub-.500 record in mid-November was not predicted to be in the cards after Oklahoma City's high-profile additions this summer.

With those relative struggles as the backdrop, speculation has already begun as to what Anthony and George will decide to do moving forward and, while Anthony also seemed likely to opt in given his age and the simple math, George's decision is quite interesting. In short, the talented former Pacers swingman has a player option for the 2018-2019 that no one expects him to pick up but, if things go well alongside Westbrook in his new location, the Thunder could have something of an inside track toward keeping him.

There is, though, the lure of Los Angeles and long-rumored motivation for George to go "home" but some comments made to Fred Katz of The Norman Transcript on Monday might provide a window into his thinking. The 27-year-old All-Star was in attendance as his Paul George Foundation launched an outdoor program for local youth to focus on fishing and, well, there were a few interesting nuggets.

First, George referenced the fact that has not been "able to get out and around and do as much fishing" as he wants but that was quickly followed by the indication that "hopefully, there's a summer for that here that (he) can do that." From there, George then expressed his pleasure with getting the initiative "off the ground" before stating plainly that "Oklahoma is home for (him)."

Of course, comments like this must be taken with several grains of salt, especially through the prism of George's audience at this particular event. That may not stop Oklahoma City fans from getting quite excited about George referring to his new residence as "home," especially when and if the Thunder improve on their on-court performance to the point where it would make sense to stay.

In the end, we won't know much about Paul George's offseason decision until a lot more basketball-related information comes to the forefront. Until then, Thunder fans can (and likely will) hold on to these comments as optimistic gospel.
http://uproxx.com/dimemag/paul-george-oklahoma-city-thunder-future-fishing/
---
Willie Cauley-Stein Says He's At The Same Skill Level As Kristaps Porzingis


Confidence is important for an NBA player, especially one still trying to carve out his niche in the league. But in many cases, that confidence can cross the border into delusions of grandeur.

Front-court players have it particularly hard these days, as the pendulum swing toward spacing and outside shooting have put a premium on guys who can stretch the floor and play out on the perimeter and still patrol the paint on defense.

Kristaps Porzingis is a prime example of a guy who checks all the boxes, so he's quickly become a touchstone and standard-bearer that other players his size aspire to. One of those players is Kings' big man Willie Cauley-Stein.

Via Howie Kussoy of The New York Post:

"I think I just gotta get more selfish," said Cauley-Stein, who hit 2-of-6 shots, and is averaging 8.9 points this season. "Offensively, I gotta get to the point that I'm just going at dudes like him. Guarding him, and then watching his game, you take away, oh, this is what he's doing. I have the same body size, the same skill-level, just transfer it over to a game now. But being behind in the race, he's been doing it for a while."

"This league's all about situations," Cauley-Stein said. "I went to a situation where I'm playing behind the best center in the league [DeMarcus Cousins], or I could've gone to somewhere where they don't have a guy, and now you're the guy, and you're getting all the touches. That helps a lot."

It's certainly good to have ambitions, and he's correct about being the right situation, but it's also important to know your limitations. Cauley-Stein has attempted a grand total of five three-pointers in his career and converted none of them, and no amount of increased opportunities will likely change that.

Still, with the Kings in full rebuild mode, they should use this as a chance to find out exactly what they have in Cauley-Stein, although everyone involved would be wise to temper those expectations a bit.

http://uproxx.com/dimemag/willie-cauley-stein-same-skill-level-kristaps-porzingis/2/
---
Joel Embiid Insists He 'Loves' Lonzo Ball Regardless Of All His Jokes


Joel Embiid likes to talk trash. Whether it's on the court or on social media, the Sixers' young star enjoys ruffling people's feathers and antagonizing his fellow NBA colleagues.

This year, we've seen Embiid go after Hassan Whiteside in a vicious back-and-forth on Twitter following a preseason game and his antics against the Warriors earned him a technical foul, but also the respect and admiration of Draymond Green. Lonzo and LaVar Ball have also been the targets of Embiid on social media, with his "f*ck LaVar Ball" comment on Instagram earning him a fine from the NBA.

While Embiid has begged Ben Simmons to dunk all over Lonzo and has happily antagonized LaVar, he insists he's a big fan of the Lakers' young point guard. Not only is he a fan of Lonzo, but he is the latest NBA player to voice support for what the Ball family is doing with Big Baller Brand and trying to pave their own way in the sneaker industry.

As he told ESPN's Ramona Shelbourne recently, it's all love and jokes when it comes to Lonzo Ball.

"I love Lonzo," Embiid told ESPN. "The whole situation with them, I think it's just fun. I love what he's doing, especially with his own shoe. He's staking his own place. People think I hate him, but I love him.

"I just meant it to be funny," Embiid said of his tweet about wanting Simmons to dunk on Lonzo. "Even the thing I said 'Oh please dunk on him,' I just took it from [Simmons'] sister, who said that like weeks before that."
Embiid seems to genuinely enjoy pushing other people's buttons, so I absolutely believe him here. He messes with his teammates and when he gets into it on the court with someone, like with Kevin Durant this weekend, they can usually be seen dapping each other up after the game — although, he and Whiteside probably have some real, actual animosity going on.

We'll have to see if Lonzo is as reciprocative of the love to Embiid when the two play on Wednesday night in Los Angeles, but either way, the matchup should be fun.
http://uproxx.com/dimemag/joel-embiid-lonzo-ball-love-lakers-sixers-social-media-jokes/
---
LaMelo Ball is hyping the Chinese for the BBB Shop, but Lavar doesn't want to Disclose the Address


The circus must go on. LaMelo Ball is hyped about the pop up shop in Hong Kong, but Lavar Ball doesn't want to disclose the address. These clowns don't know what the hell they're doing.
http://terezowens.com/lamelo-ball-is-hyping-the-chinese-for-the-bbb-shop-but-lavar-doesnt-want-to-disclose-the-address/
---
President Trump Personally Asked Chinese President For Help With UCLA, LiAngelo Ball Shoplifting Situation


While in Asia, Preisdent Donald Trump personally spoke to Chinese President Xi Jinping about the three UCLA basketball players currently being detained in China, according to David Nakamura of the Washington Post.

Trump was in Chinda during his Asia trip at the same time that LiAngelo Ball, Cody Riley, and Jalen Hill were arrested after they were caught shoplifting near their team hotel last week.

Via The Washington Post

President Trump personally asked his Chinese counterpart, Xi Jinping, to help resolve the case of three UCLA men's basketball players who were arrested for shoplifting while in Hangzhou for a tournament last week, people familiar with the situation said Monday.

After Trump raised the matter, Xi promised to look into the case and ensure that the players be treated fairly and expeditiously, said a U.S. official who spoke on the condition of anonymity because of the sensitivity of the situation.
ESPN Arash Markazi reported a few days ago that the players are expected be released by Chinese authorities within the next few weeks

Via ESPN

A source with firsthand knowledge of the investigation said the players could be in Hangzhou for "a week or two." The source noted that there is surveillance footage of the players shoplifting from three stores inside of a high-end shopping center, which houses Louis Vuitton, Gucci, Yves Saint Laurent and Salvatore Ferragamo stores.

LiAngelo Ball and his friends are very lucky that there are powerful people working hard behind the scenes trying to get them home.
http://brobible.com/sports/article/donald-trump-china-liangelo-ball/
---
Metta World Peace Has Signed With Stephen Jackson And Chauncey Billups' BIG3 Team


There's still seven months until the start of the second BIG3 season, as Ice Cube's 3-on-3 league wrapped its inaugural season back in August, but the fledgling hoops league is already working towards making some big additions for Year 2.

The BIG3 announced earlier this fall they would be adding an extra roster spot for a co-captain on each team, to allow teams to sign more big name players, and on Monday we got some big news regarding a new signing, as well as some old faces returning to the league.

Metta World Peace is headed to the BIG3 next season, joining the Killer 3's squad led by Stephen Jackson and Chauncey Billups.

The Killers 3s have made the first major move of the BIG3 off season with the signing of their new co-captain: Ron Artest aka Metta World Peace. The announcement marks the first of eight anticipated co-captain signings, as the league previously announced expanded rosters in 2018 with each team adding an additional co-captain. Artest, who legally changed his name to Metta World Peace will play under his former moniker, a name with a storied NBA history including a Championship title, an All-Star nod, and a Defensive Player of the Year Award. He joins Chauncey Billups and former Indiana Pacers teammate Stephen Jackson on the Killer 3s.

As the release notes, the seven other squads will announce new co-captains over the course of the offseason (and if last year's rollout of names is any indication, they will be unveiled slowly throughout the next six months). The league is hopeful to add even bigger stars, with Paul Pierce, Kevin Garnett, and Kobe Bryant as three of their dream signees.

As for the BIG3's marquee star from a year ago, who caused plenty of controversy and conversation, Allen Iverson will be back with 3's Company, but only as a coach, rather than his designation of player-coach last year that saw fans get upset when he rarely touched the floor as a player.

Of other note, DeShawn Stevenson will also be back as part of the 2018 BIG3 Draft player pool, and the winners of the inaugural BIG3 title, Trilogy, led by Kenyon Martin, Rashad McCants, and Al Harrington, will keep their entire roster together, exercising their option to do so as the reigning champs.
http://uproxx.com/dimemag/metta-world-peace-big3-signing-stephen-jackson-chauncey-billups/
---
Padres and Dodgers headed south of the border in 2018

Major League Baseball is headed south of the border in 2018. MLB announced on Monday that the San Diego Padres will take on the Los Angeles Dodgers in a three-game series in May.

"THE GAMES, WHICH WILL TAKE PLACE MAY 4-6 AT ESTADIO MONTERREY, MARK THE FIRST REGULAR-SEASON CONTESTS IN MEXICO SINCE 1999," AJ CASSAVELL OF MLB.COM REPORTED. "SAN DIEGO IS SET FOR ITS THIRD REGULAR-SEASON TRIP SOUTH OF THE BORDER, WHILE LOS ANGELES WILL BE MAKING ITS FIRST. IN 1996, THE PADRES AND METS PLAYED THREE GAMES IN MONTERREY, THE FIRST SERIES TO BE PLAYED IN MEXICO. THREE YEARS LATER, THE PADRES AND ROCKIES OPENED THE SEASON THERE."

Certainly, if baseball is looking to expand its base internationally, these two teams are good ones to have go on the road. Naturally, the locations of these two teams give each a big following among Mexican and Mexican-American fans.

This will mark MLB's first games played outside of North America since 2014. Then, the Dodgers and Arizona Diamondbacks opened the season with two games in Australia, with Los Angeles claiming both games.

San Diego will be the designated "home" team for all three games.
https://sportsnaut.com/2017/11/padres-dodgers-will-play-2018-series-monterrey-mexico/
---
Bill Murray Is Getting His Own Show About Minor League Baseball




Bill Murray lives a life that most of us can only dream of. He's stolen random people's french fries without any repercussions, thrown a fan's phone off of a roof, and once crashed a White House press briefing without getting tackled by any members of the Secret Service. It's Bill Murray's world and we're all just living in it.

Basically everything Murray does is entertaining, and I have a feeling his upcoming show about minor league baseball will be no exception. Variety just announced that the actor has teamed up with his brother— Brian Doyle-Murray— for a 10-episode series called Extra Innings documenting a trip they took this summer where the siblings visited a number of stadiums across the country. Each episode will be about eight minutes long and will air exclusively on Facebook starting November 20th.

Murray is a staple at Chicago Cubs games and a part owner of multiple minor league teams, and there's no doubting his passion for the sport will translate to the screen:

The show is "a little something to fill a baseball fan's off-season hole in the heart," according to Bill Murray. Added Brian Doyle-Murray: "Doing this project was more fun than a bench-clearing brawl. And like a baseball bench-clearing brawl, no one got hurt!"

This is far from the first time Murray has collaborated with his brother. The two have acted together in a number of films, and over the summer, they announced they are planning on opening a Caddyshack-themed restaurant in their hometown just outside of Chicago that is slated to open this December.

http://brobible.com/sports/article/bill-murray-baseball-show-facebook/
---
Carlos Beltran announces retirement after 20 seasons

After 20 seasons, Carlos Beltrán is walking away from Major League Baseball. And my goodness, what a career it has been.

20 years, 7 teams, 9 All-Star appearances, and finally … one World Series ring.



Seven seasons with the Kansas City Royals. Seven seasons with the New York Mets. Three seasons with the New York Yankees. Four more between St. Louis and Houston -- the latter of which produced his only World Series championship. And, parts of one season between Texas and San Francisco.

But after 20 seasons in the majors, it's time. Moreover, as he approaches his 41st birthday, it's time.

Of course, now there's always the question of what's next. But for Beltrán, one thing must be certain — the Hall of Fame beckons.

https://thesportspost.com/mlb-carlos-beltran-announces-retirement/
---
Brian Cashman does not dismiss Carlos Beltran as potential manager

Could the New York Yankees turn to a freshly-retired player to manage their ballclub? General manager Brian Cashman isn't outright saying no.

Longtime MLB outfielder Carlos Beltran announced his retirement on Monday, and he said he would be interested in talking to the Yankees — where he played from 2014 to 2016 — about their vacant managerial position.

The 40-year-old Beltran has no coaching experience whatsoever, but Cashman didn't outright dismiss Beltran's managerial credentials when asked on Monday.

"I am aware of his interest in managing in the future," Cashman said, via Andrew Marchand of ESPN. "I'll leave it at that for right now.

"I've had a number of dialogues with Carlos and I that I would consider friendly. I think we have a personal and professional relationship. I know he has aspirations to manage. I'm not going to talk about who our potential candidates until we present those candidates to the media conference calls after the interviews go through."

Beltran has weighed in on other managerial vacancies, but it would be quite the surprise for him to get anywhere near this job. The Yankees are tough to manage, and the glare of the media is intense — Cashman may want to go with a more proven hand.
http://larrybrownsports.com/baseball/brian-cashman-dismiss-carlos-beltran-potential-manager/409229
---
Cody Bellinger is Your National League Rookie of the Year

If you're weren't surprised by Aaron Judge claiming AL Rookie of the Year honors, you should hardly be surprised by this. Cody Bellinger of the Los Angeles Dodgers is your NL Rookie of the Year.



Oh, and this decision was also unanimous. The Dodgers' phenom is capable of doing it all. And, he would prove just that in 2017. Now sure, he didn't lead the NL in any particular category. However, he would mash just the same. a .267/.352/.581 (.933 OPS) was just part of the story. 39 home runs and some ability on the bases—10 swipes—is another.

The Dodgers, of course, could not finish the job in the World Series. But, there's plenty to like about this club going forward.

And like with Judge and his Yankees, Bellinger figures to play a crucial for the Dodgers for years to come.
https://thesportspost.com/mlb-cody-bellinger-nl-rookie-of-the-year/
---
Kansas City Royals Manager Ned Yost Almost Died After A Fall That Broke His Pelvis



So, I saw this story last week and it was more of a "nothing to see here" type deal. Royals manager Ned Yost fell out of a tree and broke his pelvis. It was originally reported simply as just that. Could've written a blog and made some jokes about what the hell he was doing up in a tree in the first place, but it really wasn't much of a story. Good thing no jokes were made, because apparently he almost died.

https://www.barstoolsports.com/baseball/kansas-city-royals-manager-ned-yost-almost-died-after-a-fall-that-broke-his-pelvis
---
Cards, Giants have 'most intense' interest in Stanton

A handful of teams are expected to make a play for Miami Marlins slugger Giancarlo Stanton this winter, but two appear to have emerged as the most desperate.

According to longtime MLB reporter Peter Gammons, the St. Louis Cardinals and San Francisco Giants have been the most dedicated in trying to acquire Stanton.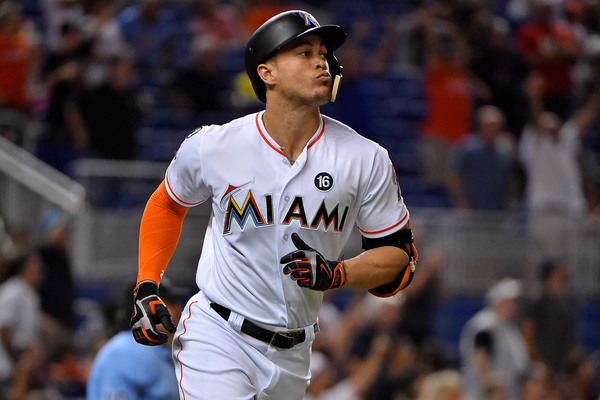 As Gammons notes, Stanton will have to sign off on any trade. In addition to being owed $295 million over the next 10 years, the 28-year-old also has a full no-trade clause in his contract. There have been rumblings that he would prefer to play for a west coast team, which could mean he would block a deal to St. Louis.

Bob Nightengale of USA Today reported last week that it would be a "stunning upset" if Stanton ended up anywhere but San Francisco or St. Louis. The Cardinals seem like the most likely trade partner, as they have several top pitching prospects in their farm system.

The Boston Red Sox are another team to watch, though the latest we heard makes it seem like they would prefer to explore other options.
http://larrybrownsports.com/baseball/cardinals-giants-most-intense-interest-giancarlo-stanton/409091
---
T.I. - Sosa's Alleged Skin Bleaching Is 'Self-Hate'
Sammy Sosa hates himself and that's why he's turning himself whiter ... that's according to T.I. who went in on the ex-MLB star when we got him out at LAX.
Sammy's complexion has very obviously changed over the years. We can only find one interview where he addressed it -- from 2009 -- saying the lightening was an unexpected result of a skin softening cream.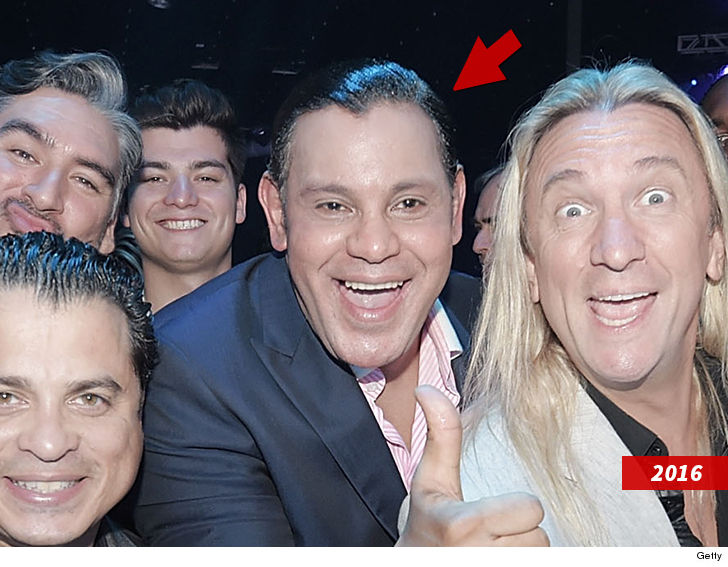 But T.I. ain't buyin' Sammy's excuse -- shaking his head and saying it was more about "self-hate" than moisturizing.
If you don't know what Tip means, he's referring to the idea that black people who bleach their skin are doing it to fit in with a European beauty standard and are selling out their race, something a lot of black people think is despicable.
Then again, it's his life ...
http://www.tmz.com/2017/11/13/t-i-sammy-sosa-t-i-mlb-skin-bleaching/
---
Conor McGregor Explained Why He Attacked The Referee After Climbing Into The Cage At Bellator 187

In case you somehow missed it, "The Notorious One" Conor McGregor more than lived up to his name when he jumped into the cage to celebrate what he believed to be his teammate Charlie Ward's knockout victory over John Redmond at Bellator 187.

Not everyone was so sure that Ward had actually won, however.



The fight was eventually called a knockout win for Ward once order was somewhat restored (McGregor later slapped a commissioner outside the cage).

Redmond, however, wasn't so sure that the fight would have been over if McGregor hadn't jumped in and wreaked absolute havoc, according to an interview he did with MMA Fighting.



After initially leaving the cage, McGregor did an about turn and marched back to the stage shouting, "that was a f*cking stoppage", suggesting that there was a debate as to whether the fight would enter the second round.

Redmond insisted that [referee Marc] Goddard wanted the fight to continue, but the Mohegan Sun commission, who oversaw Bellator 187, decided that the fight should not go on. For Redmond, the "circus" that McGregor created in the ring forced the commission to put an end to the fight as quickly as possible.

"I think there was a lot of panic in the ring as soon as he got in there. I think everybody was just concerned with getting him out of there as quickly as possible," Redmond said.

"Marc Goddard was going to let the fight go into the second, but then the commission seemed to overrule his decision. I think that decision was swayed because of the circus and madness that was going down at the time. It was just a mad scene. I've never seen anything like it."

McGregor, who already had one recent run-in with referee Marc Goddard when Goddard tossed Conor from ringside at UFC Gdansk, finally explained in a now-deleted tweet, why he went after Goddard inside the cage. It lines up pretty well with what Redmond believed was the case with the fight.

"Bloke KO'd on the floor bout a minute straight and ref trying to say fights not over conor. that's when I lost it. Fuck yous all," tweeted McGregor.

Mike Mazzulli, the president of the Association of Boxing Commissions and Combative Sports (ABC), issued a statement over the weekend that he had been in contact with the UFC, reports MMA Fighting…

While the Mohegan Tribe Department of Athletic Regulation (MTDAR) was regulating Bellator 187 in Dublin, Ireland, on November 10, 2017, the following events took place during the Ward vs Redmond bout.

Mr. Conor McGregor who was a spectator at the time, disrupted the event by scaling the cage prior to the conclusion of the bout. Mr. McGregor's conduct jeopardized the health and safety of the bout participants by delaying necessary medical attention to the fighters that were injured during the round.

In addition, Mr. McGregor assaulted Referee Mark [sic] Goddard and a Bellator staff.

The MTDAR has been in consultation with the upper management of the UFC regarding Mr. McGregor's inappropriate and unacceptable behavior.

The MTDAR has also contacted members of the Association of Boxing Commissioners that have licensed Mr. McGregor in their jurisdictions to inform them of Mr. McGregor's behavior.
As far as any actual punishment being doled out to McGregor, that would have to come from a commission that licenses the UFC lightweight champion.

Stay tuned.
http://brobible.com/sports/article/conor-mcgregor-why-attacked-referee-bellator/
---
Conor McGregor Has Been Barred From Fighting At UFC 219 For Attacking A Ref


Conor McGregor's last fight was technically against Floyd Mayweather in August, but the UFC champion returned to the cage last week after he decided it would be a good idea to shove a ref and slap a commissioner overseeing a fight between Charlie Ward and John Redmond at Bellator 187 in Dublin. McGregor took to Twitter to try and defend his actions, but it appears the Association of Boxing Commissions didn't buy his explanation.

After the incident, ABC president Mike Mazzulli promised there would be repercussions, and today he lived up to his word when he announced McGregor will not be fighting at UFC 219, which is scheduled for December 30th. The UFC apparently agreed to pull McGregor from the fight almost immediately after the incident occurred but waited a few days to make it official.

Mazzulli explained his rationale in a statement, saying:

"The bottom line is that he was unprofessional, disrespectful, and it was not acceptable in my eyes in any situation. I don't care if it was anyone else jumping in the cage, we don't do that as a professional. Mr. McGregor is not bigger than MMA. I had executives from the UFC contact me within two hours after what occurred. They basically said to me that it's completely unacceptable in their eyes, and they will be doing something. They did inform me that he was set to be on the December 30th card, and he will not be on it."

Earlier this month, Dana White said he expected McGregor to return to the Octagon by the end of the year, and all signs pointed to the Irishman taking on interim lightweight champion Tony Ferguson in the main event. Today's announcement is the first time that the hypothetical matchup was actually confirmed, but now it looks like we'll have to wait until UFC 220 (at the very minimum) before McGregor returns to the sport.

McGregor hasn't responded to the news, but given his reputation for running his mouth, I imagine will get a colorful response pretty soon.
http://brobible.com/sports/article/conor-mcgregor-banned-ufc-219/
---
Oscar De La Hoya Reveals He's Secretly Been Training To Fight Conor McGregor



Conor McGregor may have another massive boxing superfight on the horizon.

With no one chomping at the bit to watch McGregor fight Paulie Malignaggi, it seemed like there weren't a lot of viable options left for the Irish UFC superstar in the boxing ring. But that was before Oscar De La Hoya went on DashRadio and challenged Conor to a fight.

"You know I'm competitive," De La Hoya said (via The Mac Life). "You know I still have it in me. I've been secretly training. Secretly training. I'm faster than ever, and stronger than ever. I know I could take out Conor McGregor in two rounds. I'll come back for that fight. Two rounds. Just one more. I'm calling him out."

"Two rounds. That's all I need. That's all I'm going to say."

The relationship between McGregor and De La Hoya went sour leading up to the Mayweather fight, with De La Hoya calling the match up a circus that was bad for the sport. Then Mayweather vs. McGregor grabbed a date two weeks before De La Hoya's big Canelo vs. Golovkin fight, and that only increased the tension. In the aftermath of the Mayweather fight, McGregor was screaming "F**k Oscar De La Hoya!" into cameras.



But just like Floyd Mayweather, Oscar has no interest in meeting McGregor in the Octagon.

"Hey, let's get it straight," he said. "In the cage, he would freakin' destroy me. He would destroy me. No, [we have to fight] in the ring."

The UFC isn't going to be happy that McGregor has another lucrative boxing option. The MMA promotion has been trying to get Conor back into the cage for UFC 219 on December 30th, but have been unable to come to terms with their star, who may have gotten a taste for boxing superfight money. With Oscar in the wings, McGregor will have even more leverage than ever to try and get another zero added to his UFC pay.

http://uproxx.com/sports/oscar-de-la-hoya-conor-mcgregor-fight-secret-training/2/
---
With Anderson Silva Out Of UFC Shanghai, Michael Bisping Will Now Step In On Short Notice To Face Kelvin Gastelum




UFC®, the world's premier Mixed Martial Arts (MMA) organization, announced that the number 2-ranked UFC contender Michael Bisping (31-8, fighting out of Manchester, England) is confirmed to replace Anderson Silva, who has been removed from the Shanghai event following a potential USADA anti-doping policy violation. UFC FIGHT NIGHT; SHANGHAI: BISPING vs. GASTELUM presented by General Tire takes place at the Mercedes-Benz Arena, Shanghai on November 25, 2017.

http://www.ufc.com/news/UFC-Legend-Michael-Bisping-Replaces-Anderson-Silva
---
Triple H And Jinder Mahal Will Face Off In 'The Biggest Match In India's History'


Is India ready? Is Jinder Mahal ready? Those are the questions that Triple H posed on Twitter when he issued a challenge for a match against Mahal when WWE goes on tour there in December. This is coming on the heels of Mahal losing the WWE Championship to AJ Styles this past week on Smackdown, which provided Smackdown with an increase in TV ratings.

There are two WWE Raw live events in New Delhi, India at the Indira Gandhi Indoor Stadium on Friday, December 8 and Saturday, December 9. Mahal is working the shows along with the Singh Brothers because they are of Indian descent even though they are Smackdown wrestlers. It's easy to see why WWE would make an exception. The match between Triple H and Mahal was agreed upon for the December 9 show.

Here is the challenge tweet from Triple H in which he called it the "Biggest Match in India's History." That tweet is followed by the reply tweet from Mahal.



No word yet on who Mahal will face on the December 8 show. For people thinking that it may be new WWE Champion AJ Styles, he hasn't been advertised for the India shows, so it seems unlikely at this point.

As for who wins this match in India, I think Mahal will go over and I doubt Triple H has a problem putting him over. It's a nice treat for the fans in India to see a legend like Triple H in action.

http://uproxx.com/prowrestling/triple-h-jinder-mahal-wwe-india-match/
---
Brock Lesnar Once Suplexed A Kansas City Chiefs Player During An NFL Preseason Game



NFL scrimmages are hell. They're in the middle of the summer and there's nothing like being in football pads and heat. So it's not a surprise that many fights happen at these camps, almost always between teammates. These fights are all generally benign, unless they involve current WWE Universal Champion Brock Lesnar, then it's a whole different ballgame.

The resume for Lesnar is well known: five-time WWE champ, won the UFC heavyweight title during his self-imposed exodus from pro wrestling, and multiple amateur wrestling accolades spanning from high school to college. Needless to say, one would think that trying to take him on in any kind of fight would require a lot of bravery, courage or stupidity — and perhaps a mix of all three.



CBS Sports NFL Analyst Nate Burleson tells a beautifully animated story of the 2004 Minnesota Vikings training camp and one of their big additions to the team: Brock Lesnar. Burleson describes Lesnar as a guy who came into training camp eager to learn and put his time into the playbook as much as in the weight room. However, Lesnar's most memorable moment as a Viking was due to a training camp fight during a scrimmage with the Kansas City Chiefs.

" A scuffle breaks out after practice," Burleson says. "Daunte Culpepper gets shoved in the back and identifies the guy. Brock comes over to him, picks him up off the ground and asks him who did it. Smoke is coming out of Brock's nostrils, he's clenching those cinder block fists of his. So when Lesnar finally got his hands on this dude, he gave a grown man a full blown suplex."

Needless to say that despite the suplex, Lesnar never ended up making the team that season. The consensus opinion is that Lesnar could have had a successful NFL career if he'd been willing to put in the work for another year or two, but he wasn't willing to pass up UFC money to make a practice squad (or NFL Europe) salary. The NFL dreams that Lesnar had may have faded quickly, but not without giving us one hell of a story first.

http://uproxx.com/prowrestling/brock-lesnar-suplexed-chiefs-player-nfl-nate-burleson/
---
Jack Swagger Will Be Making The Leap To MMA With Bellator



Jack Swagger has been biding his time and not diving in to anything too quickly since he was granted his release from WWE. He recently told us that he was in no rush to sign any long-term contracts or become too ensconced in the independent wrestling scene just yet.

That doesn't mean he's not a staunch supporter of alternatives to WWE; in fact, he recently put out a call for fans to stand up to WWE by patronizing the indies. But now we might finally know why Swagger was biding his time, or at least one of the reasons he's been tied up in outside ventures: Jack Swagger will be an MMA fighter.

The champion amateur wrestler and former WWE World Heavyweight Champion has talked before about the possibility of stepping into the cage, much like CM Punk, Brock Lesnar, Bobby Lashely, and even Batista have done before him. Now it looks like it's going to become a reality.

Swagger appeared on Ariel Helwani's "MMA Hour" on Monday and announced that he has signed with Bellator and will be fighting in the heavyweight division. Bellator shared this video of Swagger shortly afterward.



Bellator whiffed on signing Ryback following the Big Guy's departure for WWE, but it looks like they haven't missed out on Swagger. For those unfamiliar with Bellator, they've been signing a slew of huge MMA names this year, and will be presenting a Grand Prix heavyweight tournament in January. That tournament will feature stars including Matt Mitrione, Frank Mir, Rampage Jackson, King Mo, Chael Sonnen, Ryan Bader, and Fedor Emelianenko.

So Swagger is certainly going to be in good company in terms of star power, and has had a longstanding interest in MMA (as well as a long friendship with Sonnen and other fighters). This is one future endeavor where we'll all be wishing him the very best of luck.

http://uproxx.com/prowrestling/jack-swagger-mma-debut-signs-bellator/
---
Paul Heyman Trash Talked A Fan Marriage Proposal During Raw



There have been few performers in pro wrestling history as consistently bulletproof on the microphone as former ECW mastermind and current beast advocate Paul Heyman. The late, great Bobby "The Brain" Heenan might have been the best all-around performer of all time, and Ric Flair is on pretty much everyone's minds right now, but Heyman has always been right there with them in a league of his own as a talker.

Heyman's role, as it has been for the past few years, is to be the mouthpiece for Brock Lesnar, a part-time attraction for WWE and the current Universal Champion. The formula is simple, and nearly always entertaining: during Lesnar's rare appearances on weekly WWE television, he will look amused and bounce in place as Heyman extolls his many virtues. If it ain't broke …

But on Monday night's episode of Raw, someone tried to throw a monkey wrench into the foolproof machine of the Paul Heyman-Brock Lesnar hype promo. A fan inexplicably chose this mid-Raw lengthy promo to propose to their significant other, who apparently must have accepted. The crowd began looking to the side of the ring opposite the entrance ramp and broke into an extended chant of "SHE SAID YES!" The ovation was sufficient enough to stop Heyman in his tracks.

And then he responded. And it was a lesson to all that you never poke a bear with a stick, and you never, EVER interrupt or try to hijack a Paul Heyman promo. Not for any reason.



We must address a few things. First of all, no, it wasn't necessarily Heyman's best retort or comeback or fan diss ever. Secondly, god bless Paul Heyman for never pulling focus from what he's trying to accomplish. Not only when he's trying to shame someone for proposing, he still manages to make it all about Brock Lesnar and Lesnar's match at Survivor Series. Thirdly, Heyman SO BADLY wanted to do a bunch of cusses, but understood he was on live television.

But let us all back in the glory of Paul Heyman, now and forever.

http://uproxx.com/prowrestling/paul-heyman-wedding-proposal-promo-wwe-raw/
---



Triple H Returned To WWE And Joined The Raw Survivor Series Team

Monday night's go-home episode of WWE Raw before Survivor Series was already a little bit loopy by the time it got to the third hour, but it still managed to have one big surprise up its sleeve.

Everyone prior to Monday's show was expecting a return or two. Rumors swirled that Paige would be making a comeback on the show (she didn't), and we knew a few hours ahead of showtime that Roman Reigns would be coming back for the long-awaited Shield reunion. (He did.)

One of the top matches at Sunday's Survivor Series pay-per-view will be a traditional 5-on-5 elimination tag team match, with Team Raw going up against Team Smackdown for the right to … uh … I guess not invade the other show any more? Anyway, the most lackluster member of Team Raw (in fans' opinions) was son of Raw General Manager Kurt Angle, Jason Jordan. Many assumed he would be replaced prior to the PPV by the returning Roman Reigns. They were wrong!

Jordan was in competition on Monday's episode of Raw against Bray Wyatt. Although he emerged victorious in the bout, Wyatt viciously attacked Jordan's knee after the match. Jordan pleaded backstage with Angle not to replace him at Survivor Series, but Angle was ordered by Stephanie McMahon to make the call.

Angle came to the ring and said it was the hardest thing he'd ever have to do. Jordan once again came to the ring and pleaded his case, and Angle stalled. That's when Triple H returned to Raw for the first time since WrestleMania 33 in April (he's been on some live events since then) and took matters into his own hands.



Yes, Triple H will join Kurt Angle, Finn Bálor, Braun Strowman, and Samoa Joe on Team Raw at Survivor Series. They will take on Team Smackdown, consisting of Shane McMahon, John Cena, Randy Orton, Bobby Roode, and Shinsuke Nakamura.

http://uproxx.com/prowrestling/triple-h-wwe-raw-return-survivor-series/
---



WWE Raw Results 11/13/17

Here are your quick and dirty, editorial-free WWE Raw results for November 13, 2017. The show was headlined by a "monster vs. machine" showdown between Braun Strowman and Kane, as well as the in-ring reunion of The Shield in six-man action.

Be back here tomorrow for the complete Best and Worst of Raw column.

WWE Raw Results:

– Raw opened with Stephanie McMahon chastising Kurt Angle, demanding Shane McMahon's head on a plate and threatening to fire him, before being interrupted by The Shield. A returning Roman Reigns challenged the New Day to a match at Survivor Series.

1. Triple Threat Match: Bayley defeated Mickie James and Dana Brooke. Asuka, Nia Jax, Alicia Fox and Sasha Banks were at ringside. Bayley pinned James with a Bayley-to-Belly to win the match and become the fifth member of Raw's women's Survivor Series team.

2. Enzo Amore and Drew Gulak defeated Kalisto and Akira Tozawa. Amore pinned Tozawa with JawdonZo.

– The Bar were guests on Miz TV. This was just to add hype to the six-man tag for later in the night.

3. Jason Jordan defeated Bray Wyatt. Jordan defeated the returning Wyatt with a roll-up. After the match, Wyatt attacked Jordan and injured his leg.

– In a promo featuring the decimation of a fan wedding proposal, Paul Heyman put over AJ Styles but said Brock Lesnar would defeat him at Survivor Series.

4. The Shield defeated The Miz and The Bar. The Shield won the match with a spear and a triple powerbomb on The Miz.

– Jason Jordan begged Kurt Angle to not take him off of the Survivor Series team due to his injury. Angle hesitated to make the announcement, so Triple H returned, joined Team Raw, and Pedigreed Jordan.

5. Finn Bálor and Samoa Joe defeated Luke Gallows and Karl Anderson. Bálor pinned Anderson after a Coup de Grace.

6. Braun Strowman vs. Kane ended in a No Contest when Braun powerslammed Kane through the ring and neither man recovered.

http://uproxx.com/prowrestling/wwe-raw-results-november-13-2017/
---
Patton Kizzire Held Off A Furious Rickie Fowler Charge To Secure His First TOUR Win



Big time congrats to 31-year-old Patton Kizzire, locking up his first PGA Tour win in Mexico yesterday. The 2008 Auburn grad outlasted Rickie Fowler in a 36-hole Sunday grind, fending off a late charge to win by 1 after a clutch par from an awkward spot on the 72nd. Fowler mounted a run with birdies at the 13th, 16th and 17th, then Kizzire found himself with a weird stance on the 18th.



A choked up, armsy 8-iron and two putts from there after a Fowler par earned Kizzire the W. Good on ya.

Kizzire's Zurich Classic teammate is Jason Dufner, so you know he's cool.

In a golf world oft filled with the Jordan Spieths and Justin Thomases of the world locking up majors and POY awards seemingly minutes after popping out the womb, it's nice to see a guy like Kizzire come along the old fashioned way. He made it through Web Q-School in December 2014, was that tour's money leader for much of the 2015 season and secured his first win there before graduating to the PGA Tour.

After an up-and-down szn which included everything from top-5 finishes to several missed cuts, Kizzire began trending in the right direction heading into Mayakoba.
https://www.barstoolsports.com/boston/patton-kizzire-held-off-a-furious-rickie-fowler-charge-to-secure-his-first-tour-win
---
Cristiano Ronaldo Announces Birth of New Daughter


Soccer superstar Cristiano Ronaldo shared the pic on Sunday of new baby Alana Martina shortly after she was delivered. He said both baby and girlfriend Georgina Rodriguez are doing great and, "We are all very happy!" The two have been together since November 2016. Ronaldo has three other children, a 7-year-old son and 3-month-old twins. Let's see how long Ronaldo can stay loyal to his new baby momma.-TO
http://terezowens.com/cristiano-ronaldo-announces-birth-of-new-daughter/
---
Adidas Recruits 21 Savage, Playboi Carti, And Young Thug To Promote Its 'Crazy' Sneaker Relaunch




Adidas Originals are returning to one of the brand's signature basketball/streetwear lines of sneakers with some intriguing new faces. Rather than a more athlete-centric campaign, Adidas has tapped 21 Savage, Playboi Carti, and Young Thug as the new faces of its Crazy line, along with some updated designs for a more comfort-focused sneaker culture.

The Crazy ADV and Crazy 8 ADV PK are modern-day updates on some last-generation designs, featuring premium nubuck, a sockfit neoprene interior, and a concealed lacing system on the ADV, and a similarly retooled construction on the Crazy 8 that introduces Primeknit, textured stripes, and vacuum-coated structural overlays along with the same concealed lacing system.

To promote the new line, Adidas is turning to some of the most recognizable new faces in hip-hop instead of NBA players, presumably to highlight the shoes' new street-ready, comfort-oriented designs. While the Crazy ADV and Crazy 8 ADV are built on basketball silhouettes, the popularity of the "athleisure" aesthetic has opened up new avenues for formerly sporty styles to crossover to everyday wear. Who better to underline the "cool" factor of the updated designs than the de facto arbiters of cool in a now-hip-hop-centric world than some of the rappers who push the boundaries of the genre and fashion? The three rappers are known
for their outrageous and distinctive styles in both their rap and sartorial sensibilities — especially Young Thug, who regularly throws the internet for a loop with his individualistic expression and risk-taking.

The Adidas Originals Crazy ADV and Crazy 8 ADV PK are now available at Adidas.com. Check out photos of the shoes and 21 Savage, Playboi Carti, and Young Thug below.

http://uproxx.com/realtalk/adidas-21-savage-playboi-carti-young-thug-crazy/
---
Katie Nolan Will Be One Of The Stars Of ESPN's New Snapchat 'SportsCenter'


ESPN has been hit by the cord cutting phenomenon really hard, as cuts have ravaged the Worldwide Leader in Sports recently. There's even another round of cuts that is reportedly coming sometime in the next month or so. This round is reportedly going to be focused on the network's flagship program, SportsCenter.

Apparently, ESPN plans on expanding SportsCenter in a unique way despite these cuts. According to Variety, ESPN and Snapchat have agreed to a deal for a truncated version of the show that will air twice a day during the week (5 a.m. and 5 p.m.) and once a day at 5 a.m. on weekends. It will be somewhere between 3-5 minutes long and include a number of recognizable ESPN personalities, most notably Katie Nolan.

The first show will be hosted by Katie Nolan, the Emmy-winning sports personality who joined ESPN last month from Fox Sports. Other hosts will include "SportsCenter" anchor Elle Duncan, ESPN NBA commentator Cassidy Hubbarth, ESPN Radio host Jason Fitz, and comedian Cy Amundson. (Jac Collinsworth, recently tapped for ESPN's "Sunday NFL Countdown" as a features reporter, had been slated to be part of the initial roster but for now he is focusing on other projects.)

The shows will have one host and will be "very personality driven," according to ESPN's Glenn Jacobs (no, not that Glenn Jacobs). The focus of these shows will be the help take ESPN's most well-known program and package it in a way that younger sports fans can enjoy.

"SportsCenter" on Snapchat will include highlights, but ESPN says it will focus just as much — if not more — on buzzy topics about stuff off the field, court, or rink. It also will widen the lens of sports it covers, expanding beyond the central focus on the big four American pro sports leagues by TV's "SportsCenter."

It's certainly an ambitious attempt at repackaging one of the network's cornerstones, and it will be interesting to see how it evolves after it launches.
http://uproxx.com/sports/katie-nolan-espn-sportscenter-snapchat-details/
---
This Streaker In Buffalo Ran For More Yards Than The Bills Did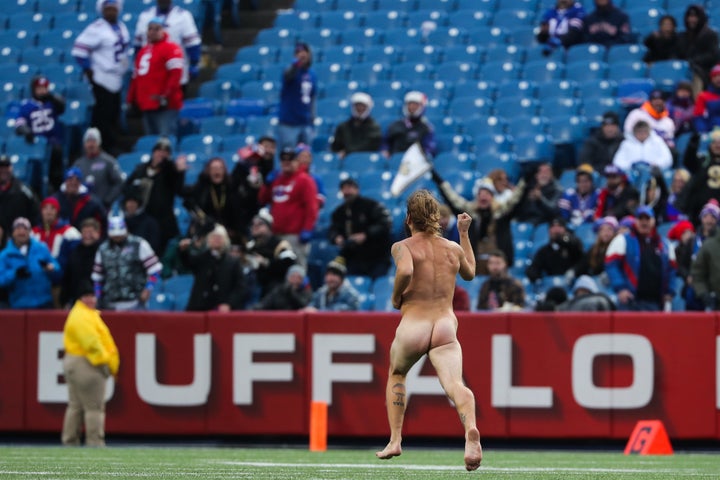 The Buffalo Bills found the answer to their anemic rushing attack on Sunday ― but he lacked a uniform, or any other clothing for that matter.

A streaker who invaded the field literally rushed for more yards than the entire Bills team during their 47-10 home loss to the New Orleans Saints.

Let's take a look at the stats: Five Bills players carried a total of 15 times for 69 yards.

According to the Buffalo News, the streaker sprinted from end zone to end zone ― 100 yards.

He was eventually stopped by security after he slipped on a cutback move in an attempt to run across the field yet again. He was escorted off with a yellow security jacket to cover what needed to be covered.

Here's some relatively SFW highlights of his naked dash.

https://www.huffingtonpost.com/entry/streaker-buffalo-bills_us_5a098f08e4b01d21c83fe023?section=us_weird-news
---
The Most Bills Mafia Headline Ever "Orchard Park Police Report Man Set On Fire, Pedestrians Hit On Bills Game Day"
https://www.barstoolsports.com/chicago/the-most-bills-mafia-headline-ever-orchard-park-police-report-man-set-on-fire-pedestrians-hit-on-bills-game-day
---
Australian Rules Football x Soccer Hybrid Game



Trying to follow what's happening here reminds me of the first time I tried to watch a Rugby match without someone explaining what was happening. This footage comes from the 2017 International Rules Series, a tournament between Australia and Ireland which kicked off yesterday (November 12) and runs through this coming Saturday (November 18).

The International Rules Series happens every couple of years and the 'International Rules' refers to the game itself. It is a hybrid between Australian Rules Football, a game I already don't understand, and Soccer. I couldn't tell you why anything is happening in this video but I'll be damned if I didn't watch every second of it because it's enthralling:



More specifically, International Rules is a hybrid between Australian Rules Football and Gaelic Football. This is the 20th time this tournament has taken place but I'd never heard of it until this morning when a buddy sent me the clip above which I believe he found on Reddit, but I could be wrong about that, I just later saw this video there as well.

I really wish I had a firm grasp of Australian Rules Football because I feel like that'd help me see when the Gaelic Football elements stop and start. If you're interested in going deep down the rabbit hole, you can find an explanation of all the rules for this

International Rules sport by

clicking here

to head on over to

Wikipedia.

It bums me out a little bit that we don't have random ass professional sports tournaments like this here in America, with our top athletes competing in events outside of their purview.

http://brobible.com/sports/article/international-rules-australia-ireland/
---
Poker Player Flops A Straight But His Opponent Absolutely Destroys Him In Excruciating Hand



There's a lesson to be learned here. When you are playing in high-stakes poker tournaments and go to the flop with a couple of trash cards in your hand you need to remember that you started soft even if you hit a great flop. Germany's Ole Schemion called Spain's Marti Roca $10K raise to see the flop. The two were seated together on Day 3 of a World Series of Poker Europe (WSOPE) event.

Marti Roca at least had decent enough cards to warrant a raise if the table was soft. He had 10-J of spades. Ole Schemion called the $10K raise with 5-6 offsuit and when both players flopped a straight Ole Schemion was dead by the turn. This one's hard to watch, but it's definitely not a bad beat. This is an example of a player willing to put a lot of money into the pot without knowing where he stands against his opponent:



This guy was willing to go all in with the lowest possible straight on the board. After his opponent bet into him. He didn't give himself any chances to walk away. Ole Schemion thought for sure that he had Marti Roca trapped and this happened because he bet/called in a way that never gleaned any information from his opponent. Going all-in when there's a better hand on the board without even testing your opponent is foolish. Bet big, let him come back at you, make the decision then.

Don't go all-in when you've got the lowest possible straight AFTER you've seen your opponent bet into and call a bet. At this point, all you know is the person across the felt also has a strong hand.

http://brobible.com/sports/article/poker-player-wsope-destroyed-straight-flop/
---
Sledgehammer Announces Big Changes To 'Call of Duty: WW2' Following Online Issues




Call of Duty: WW2 only came out two weeks ago, but performance issues with online and multiplayer gaming is souring the game's launch. The online issues have become such a stumbling block that the game's developer, Sledgehammer, has addressed the taxing situation. On Monday morning, Sledgehammer posted a blog post apologizing and vowing to fix the matter.

"It's been a whirlwind since launch," the post said. "We're seeing millions of fans play every day. However, we also know we've had issues, there's frustration. We recognize that and we hear you." Sledgehammer said their "highest priority is to deliver the best online experience possible" and added, "We're not there yet, and we won't rest until we are." The developer assured gamers that their "entire team is working around the clock" to correct the issues.

Sledgehammer revealed that an update issued last week caused problems with online performance:

"While our previous Game Update which released early Friday solved several critical needs, unfortunately it also had an adverse effect on server performance. As a result, we moved to P2P (listen) servers. Overall, the game is stable, however we know that P2P brings things like Host Migrations and other issues that make for inconsistent gameplay experiences. Our objective to return to dedicated servers is our highest priority."

Sledgehammer and Activision are already testing dedicated servers in "limited markets" and hope to expand once they've successfully tested them. Sledgehammer said they identified the root cause of an issue causing disconnects from the server, lost stats, and post-match lobby freezes, and will issue a worldwide patch for Xbox One and PS4 on Monday night to fix these problems.

Sledgehammer confirmed that Call of Duty: WWII's Headquarters mode is not working correctly. The HQ mode is a social space where a multitude of online players can gather, but last week they made it a solo experience. "HQ is best enjoyed with a thriving, fully populated social community interacting together," Sledgehammer said. "So hang in there while we address the most pressing concerns first." Until Headquarters is fixed, you can still invite friends into the community space.

Sledgehammer also assured PC gamers that they haven't forgotten about them:

"We also want to reinforce our commitment to PC fans. We have the next PC Title Update ready to go, but we believe we need to work through the issues noted above first – many of which also affect PC players. For this reason, we'll wait a bit longer before deploying the patch to the PC in order to ensure everything is the way it needs to be first."

Sledgehammer said they are listening to all feedback on their Twitter, Facebook and on the official Call of Duty: WWII Reddit as well as with Activision Support on Twitter and the support website. "This is only the beginning, so thank you for playing," the blog stated. "We won't rest until we resolve everything we can for the community."

http://brobible.com/culture/article/sledgehammer-call-of-duty-ww2-issues/
---
---